(1st UPDATE) Infighting heats up between the Pacquiao and Cusi factions during the PDP-Laban national council meeting in Cebu City
President Rodrigo Duterte called on his allies in ruling party PDP-Laban to "stand together and remain united" as factions within the party clash just a year before the 2022 presidential polls.
Duterte's brief message as PDP-Laban chair was played after a heated exchange among members during the party's first national council meeting held in Cebu City on Monday, May 31. Several PDP-Laban members also attended via teleconferencing app Zoom.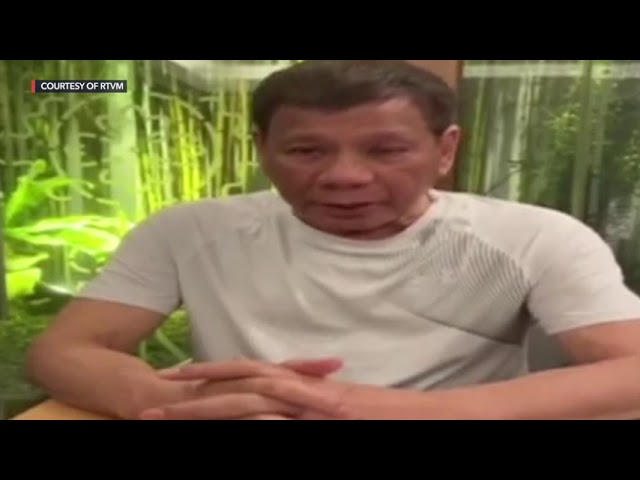 "Again, I call on all of our party mates to stand together and remain united, not by personal interest but by our principles and values as we chart the future of our party and the rest of the nation. Congratulations at mabuhay ang PDP-Laban (and long live PDP-Laban)," said Duterte.
The President wore a plain white shirt for the video, which ran for just around a minute.
PDP-Laban's national council meeting pushed through on Monday despite attempts of acting party president and Senator Manny Pacquiao to stop it from happening.
The boxing icon turned senator claimed party vice chairman Alfonso Cusi – who is also Duterte's energy secretary – had no authority to convene the national council.
But Pacquiao had to stand down after Presidential Spokesperson Harry Roque said no less than Duterte himself ordered Cusi to call for the meeting.
The battle of the Pacquiao, Cusi factions
The squabble between the Pacquiao and Cusi factions in PDP-Laban was very much evident during the proceedings.
Minutes before Duterte's message was played on-screen, Negros Oriental 3rd District Representative Arnie Teves tried to raise a point of order several times. But Cusi, who was presiding over the proceedings, kept on ignoring him.
"Mr. Chairman, why are you muting me when I am raising a point of order?" Teves can be heard saying.
Teves was only recognized after the PDP-Laban members adopted the motion of Eastern Samar Governor Ben Evardone to adopt their agenda for the day.
Teves then reiterated Pacquiao's argument that the National Council should not be meeting since the acting PDP-Laban president did not call for it.
Teves also claimed he was "bypassed" by the party as its supposed secretary-general. Last March 13, Teves had posted a picture of Pacquiao administering his oath as PDP-Laban secretary-general.
Also present in Teves' photo was Senator Koko Pimentel, former PDP-Laban president and now executive vice chair.
But party vice president for external affairs Raul Lambino, who was moderating the National Council meeting, debunked Teves' claim.
Lambino said the ruling party has yet to elect a new secretary-general after the man who previously held the post, Davao del Norte 1st District Representative Pantaleon Alvarez, bolted PDP-Laban in November 2020.
PDP-Laban's acting deputy secretary-general Melvin Matibag was subsequently elected as interim secretary-general.
PDP-Laban executive director Ron Munsayac, however, insisted the meeting in Cebu City violated the party's internal rules. Munsayac is allied with Pacquiao.
Munsayac told the Cusi faction to "cease and desist from pursuing and implementing their baseless, divisive, and unauthorized quasi-secret plan."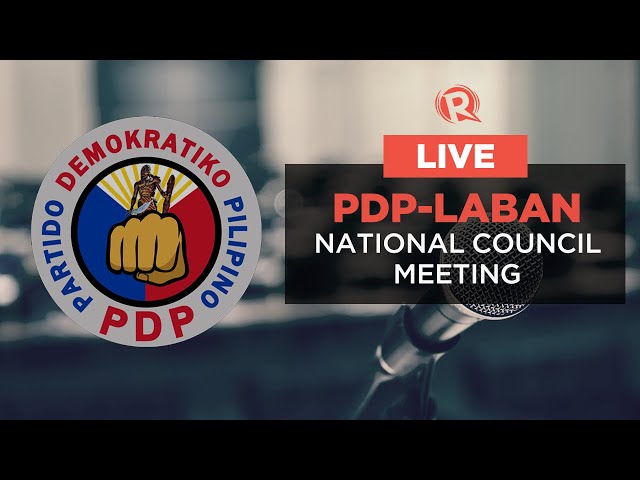 This is not the first time that factions within Duterte's party have clashed in recent months.
In March, Pacquiao warned PDP-Laban members to stop their "unauthorized" political moves after several party officers and members – Cusi included – signed a resolution calling on Duterte to run for vice president in 2022.
PDP-Laban's Bulacan chapter also issued a statement in early May slamming Pacquiao when the latter said in a media interview that he found Duterte's response to the Chinese militarization in the West Philippine Sea "lacking."
These developments are reminiscent of the party dynamics in 2018 to 2019, when PDP-Laban struggled for stability and survival following infighting among factions and the external threat from presidential daughter Sara Duterte's Hugpong ng Pagbabago.
Duterte allies present
Key PDP-Laban stalwarts – among them members of Duterte's Cabinet – were present during the party's National Council meeting either in person or via Zoom.
Among those seated beside Cusi on stage were Cabinet Secretary Karlo Nograles, Cebu Governor Gwendolyn Garcia, and Mandaue City Mayor Jonas Cortes.
Finance Secretary Carlos Dominguez III and Budget Secretary Wendell Avisado as well as Senators Ronald Dela Rosa and Francis Tolentino were also present via Zoom
Several mayors, governors, and House members who are part of PDP-Laban joined the National Council meeting remotely.
House Speaker Lord Allan Velasco, PDP-Laban executive vice president, was also in attendance via Zoom. The Marinduque congressman is a close ally of Davao City Mayor Sara Duterte.
She may end up going head to head against Pacquiao should both of them pursue their rumored presidential bids in 2022.
Most of the House members who joined PDP-Laban's national council meeting on Monday are known allies of Velasco and Sara Duterte. – Rappler.com