President Duterte and other PDP-Laban members float the presidential bid of Senator Bong Go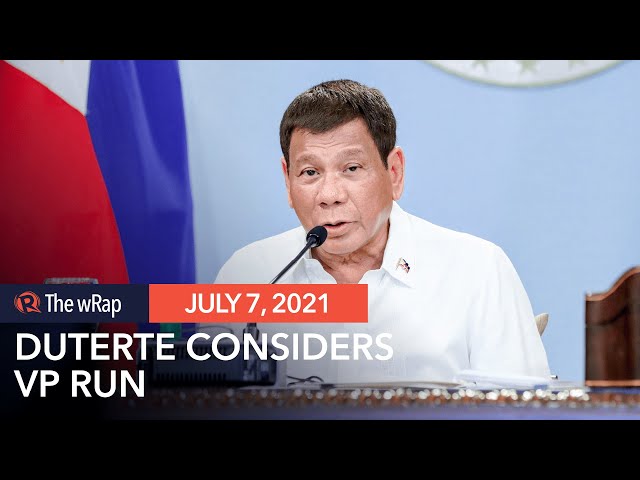 President Rodrigo Duterte told his national political party to choose a winnable presidential candidate to ensure that he will not be isolated if he is elected vice president.
In the same meeting, he endorsed his longtime aide, Senator Bong Go, as a possible presidential bet on Wednesday, July 7.
"I am seriously thinking of running for vice president. If I run for vice president and the elected president is not a friend, the situation would arise where I would remain an inutile thing there," Duterte said during his meeting with PDP-Laban officers.
"Ito ang dilemma ko (This is my dilemma). The president who will win must be a friend of mine whom I can work with," added Duterte.
Duterte himself had relegated Vice President Leni Robredo to the background for the most part of his presidency. He initially appointed her as housing czar but just a few months into the job, he barred her from attending Cabinet meetings, prompting Robredo to resign.
The 2022 elections was the main agenda in the meeting with PDP-Laban, which notably did not include party stalwart Senator Aquilino "Koko" Pimentel III whose father, Aquilino Pimentel Jr., founded the party. Party president Senator Manny Pacquiao is in the United States for his boxing match against Errol Spence Jr.
'Bong Go ready any time'
Just a few sentences after saying he wants PDP-Laban to choose a "viable" presidential candidate, Duterte appeared to endorse Go as the party's presidential bet. Go is currently PDP-Laban auditor.
"Bong Go is ready anytime. He's being humble. Sige Bong, magsalita ka huwag ka mahiya (Okay Bong, go ahead and speak, don't be shy)," said the President.
Go then addressed the room, and by extension the public since the meeting was aired on television on Wednesday.
"Consider me last. I am not interested to run for the presidency dahil alam ko mahirap talaga 'yung trabaho (because I know the job is hard)," said Go.
"'Yung tira na lang po yung akin, kung wala na kayong mahanap (I'll make do with the scraps, if you can't find anyone else). I leave my fate to God. I leave my fate to the Dutertes," he continued.
Sounds familiar? That's because Duterte used almost exactly the same line in 2015, when he was being coy about his presidential bid.
"'Pag wala na kayo mapili o 'di tawagin 'nyo ako (If you have no other choice then call me) and let us talk about the presidency," said Duterte back in June 2015.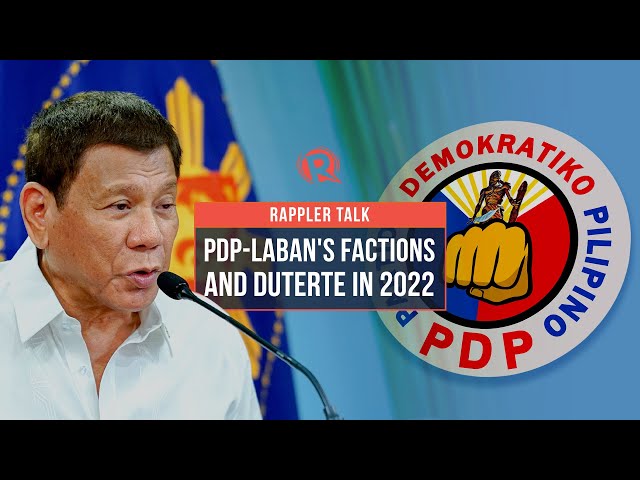 After Go spoke, PDP-Laban members expressed support for Go's candidacy, including Sulu Governor Sakur Tan, Senator Ronald dela Rosa, and Presidential Assistant for the Visayas Michael Dino.
Speaker Lord Allan Velasco, present via Zoom, asked Duterte and other PDP-Laban members to finalize their presidential, vice presidential, and senatorial candidates soon.
Duterte's meeting with his party mates comes weeks before PDP-Laban's national assembly on July 17. The President said he had the assembly in his calendar, indicating he may attend. Another "consultation" meeting, however, would be held before the July gathering, said Duterte.
Meanwhile, other national political parties are seeking an alliance with Hugpong ng Pagbabago, the regional party founded by Duterte's daughter Davao City Mayor Sara Duterte, touted as a strong contender for the presidency in 2022.
The younger Duterte has not yet announced her decision on whether to run for president next year. – Rappler.com