WHAT YOU NEED TO KNOW
During election season in the Philippines, opinions are a dime a dozen. Everyone has something to say – from which president-vice president tandem makes the most sense, to what floundering political parties should do to survive. And as we inch closer to that fateful day in May 2022, the debates are sure to get louder.
On Rappler's #PHVote Hot Takes, Rappler's editors and reporters cut through the chatter with quick and nuanced analyses as events unfold in real time. Tried and tested in election coverages, they can offer valuable context and tidbits you won't find on your social media feeds – so you can make more informed decisions before heading to the polls.
Bookmark and refresh this page for searing opinions, fiery exchanges, and burning questions.
LATEST UPDATES
Why we shouldn't just rely on surveys
[OPINION] Suntok sa buwan: The premonitions of a Pacquiao presidency
[OPINION] Putting the cart before the horse: Predicaments of political parties
In most working democracies, political parties provide platforms of government; they likewise provide platforms for the choice of potential candidates by means of primaries, conventions or consultations. Once they elect their standard bearers, the campaign then begins to win adherents among the electorate.

In our country's political landscape, we seem to have perfected the art of putting the cart before the horse, so to speak. Candidates do not emerge from an agreed pre-ordained process of selection organized by the political parties. Rather, for the most part it is a case of personalities that "parachute" into political organizations which can then serve as their electoral vehicles. Staged by so-called campaign strategies, pollsters, and a mixed bag of allies, they seem to arrive in the "last two minutes" of the electoral season.

[OPINION] Still early in the game
Several candidates for president and many local candidates have already filed their candidacies, generating a sense of immediacy to electoral politics. In fact, it is still early in the game.
The three candidates (Lacson, Pacquiao, and Moreno) who have already proclaimed their candidacies are the outliers in the game. The main protagonists, Duterte's candidate and Vice President Leni Robredo have not yet announced. Who actually files between now and October 8 will introduce some clarity but substitutions can still be made until November 15.
[OPINION] What nuisance candidates tell us about our political landscape
About Vico Sotto's running mate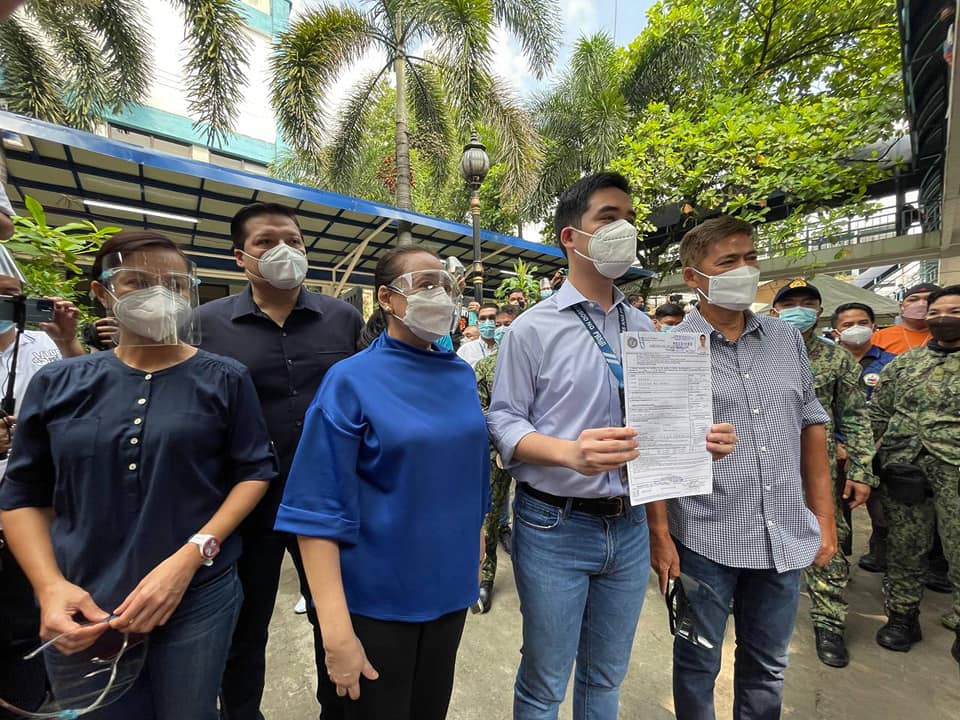 On the first day of filing of certificates of candidacies, I shared with the younger reporters some trivia on Aksyon Demokratiko's vice mayoral bet in Pasig City.
Don't forget, I said, that Dodot Jaworski is the nephew of Senator Bong Revilla. His mother is the senator's older sister. (So that makes him the nephew and cousin of several more important elected officials in Cavite.) 
I thought we all should also be reminded: he himself was a former councilor of San Juan, a one-term congressman of Pasig, the son of a former senator, and the son-in-law of the more political side of the Cojuangcos.
You can take that context any way you want, but it's a context that election watchers shouldn't set aside just because you like his standard bearer, Vico Sotto (himself a scion of a political dynasty spanning generations).
This is not to be fussy about the tandem or any political camp. This is more of a reminder to us – whether journalists, poll watchdogs, or simply stakeholders in elections and governance. If we're supposed to be in the business of dynasty watching and noting degrees of political separation, let's do it across the board.  
Mahaba pa ang panahon ng kampanya. 
A mad, near-dystopian scramble
Robredo's agony in the garden
Pardon the Biblical reference, but this must be Gethsemane for Vice President Leni Robredo and her supporters – where one prays, ponders, wrestles with inner demons, and swims in self-doubt as one prepares to take that leap of faith (or not).
This occurred to me shortly after Robredo's Rappler Talk with our reporter Mara Cepeda on Friday, September 3. Some of those who watched the interview said her pointed answers indicated she was inclined to run for president. Others believed the opposite, that the interview showed she was hoping she would not have to run.
A columnist messaged us his reaction after the interview. Has Robredo ever considered, he asked, that her wish for a united opposition, reiterated in the Rappler Talk, might be easier and faster to build the earlier she declared?
A lot of what-ifs for the unique situation the Vice President has put herself in. Some would argue that, in this modern world, building an army won't require much time. But others say, the longer she holds out, the more doubt is seeded, weakening her base.
But is Robredo the only one who is undecided? Who can claim to have very firm, unbending plans at this point?
I hazard a guess that this will be a down-to-the-wire presidential race. Prepare for a fast ride full of bumps and surprises. 
Will PDP-Laban splinter… again?
It's very typical of political parties to split and splinter as elections near, and as new coalitions emerge to boost their chosen presidential candidates' chances of winning. This is old stuff that political veterans are used to witnessing. Political observers are now wondering how long before the dominant administration party PDP-Laban goes this predictable route. 
History is always instructive. The original Partido Demokratiko Pilipinas (PDP) was founded in February 1982 (pre-EDSA) by progressive and anti-Marcos politician Aquilino "Nene" Pimentel Jr., along with other political leaders from Mindanao and Cebu City. PDP later merged with Ninoy Aquino's Lakas ng Bayan (or Laban, which was dissolved after Ninoy's assassination) to become PDP-Laban. It then aligned with Doy Laurel's United Nationalist Democratic Organization (UNIDO). Remember, it was UNIDO that brought together various opposition groups to fight the dictator Ferdinand Marcos. After the 1986 EDSA uprising that resulted in a Cory Aquino presidency, UNIDO lost political clout, while PDP-Laban got divided between Nene Pimentel and Peping Cojuangco Jr loyalists. Peping joined forces with Ramon Mitra Jr to form what would become a behemoth Laban ng Demokratikong Pilipino (LDP), while Pimentel stayed with PDP-Laban. Another PDP-Laban stalwart, Jojo Binay, would later resign from the party to create his own United Nationalist Alliance as a vehicle for his failed presidential bid in 2016. 
LDP itself would later be rocked by factionalism as members fought over which presidential candidate to support. If you recall in 1991, after the LDP national convention that nominated Mitra as its presidential candidate, Fidel V. Ramos jumped ship and formed his own Partido Lakas ng Tao. Special operations in the House of Representatives hurt Mitra's candidacy and Ramos emerged victorious in 1992.

PDP-Laban has somehow survived past political tremors and now has Duterte as its national chairman, Senator Manny Pacquiao as party president, and Koko Pimentel III as executive vice chairman. Monday night's verbal attacks by Duterte aimed at Pacquiao signal all too clearly and loudly that all is not well in the administration party. Many are predicting that Pacman would be ousted, if not pushed to the ropes. Duterte is also putting Pacquiao in his place this early, with about 10 months to go before elections in May 2022. In so many words, Duterte's message to Pacquiao is this: It is not for you to criticize or hurl allegations of corruption against the administration. Name names or I will campaign against you. Will PDP-Laban old hands take that sitting down especially if Pacquiao had poured in lots of money to fund the party's candidates? Politics has never been about utang na loob (debt of gratitude), it's always been about winning. But does Koko Pimentel have the stomach for a tough fight in a party that his own father built?