Manila Mayor Isko Moreno is not even an official nominee of 1Sambayan for president, but he is performing well in pre-election polls
The 1Sambayan opposition coalition which has taken the mission of building a unified force against the administration in the 2022 national elections is torn between two tough choices.
Standing in its way of building a consolidated group is choosing between Vice President Leni Robredo and Manila Mayor Isko Moreno.
Robredo has always adhered to 1Sambayan's push for a unified opposition, while Moreno months ago begged off from overtures to be among the group's nominees. The Manila Mayor though is now a strong contender for Malacañang. 
1Sambayan convenor Etta Rosales said in a press briefing on Monday, September 20, that the coalition was "divided" between Moreno and Robredo. She added that Robredo had a "strong" support among coalition members so far. 
1Sambayan aimed to endorse a single slate of national candidates for the opposition, believing only a united ticket has a chance to defeat President Rodrigo Duterte and his allies in 2022.
"It's also divided. Pero malakas 'yung mga pro-VPL, Vice President Leni, pero meron ding Isko na lumalabas doon. Kaya it's going to be a matter of days na lamang na ginagawa ito," Rosales said. 
(It's also divided. But there is a strong support among the pro-VPL, Vice President Leni, but there are also those backing Isko. That's why it's going to be a matter of days before we finish the process.)
Rosales said 1Sambayan would announce the presidential candidate it would be endorsing within the month. The clock is ticking, as the filing of candidacies is set on October 1 to 8.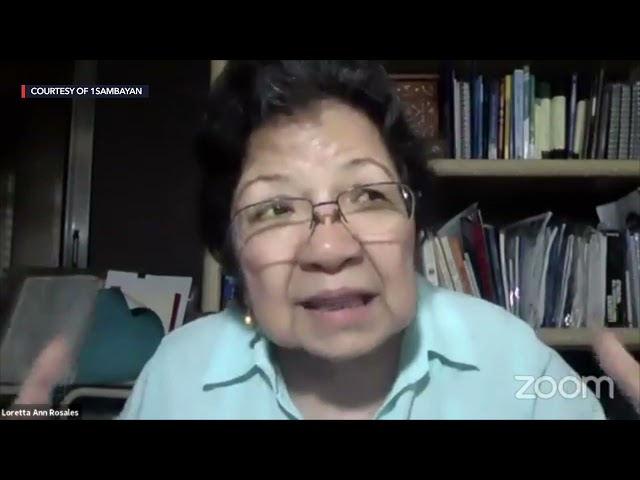 That Philippine opposition leader Robredo is among 1Sambayan's top choices is not surprising. The chair of the once-ruling Liberal Party (LP) was among the only two politicians out of six nominated by 1Sambayan who agreed to be part of the selection process. The other 1Sambayan nominee was former senator Antonio Trillanes IV.
Convenors wanted to nominate Moreno too, but he asked that his name be taken out of 1Sambayan's list in June.
Sources within the coalition told Rappler, however, that convenors remained in talks with Moreno. 
The Manila mayor is neither an administration nor an opposition-allied politician, but has so far been presenting himself as a unifying candidate.
Moreno has robust numbers in pre-election surveys, with the latest Pulse Asia poll putting him (14%) behind the frontrunner, the president's daughter and Davao City Mayor Sara Duterte (28%).
In contrast, Robredo's lackluster preference ratings has her stuck in sixth place in the same survey with 6%. 
But the Vice President, is no stranger to being an underdog. She initially had a 1% rating in the 2016 vice presidential race. In the end, she emerged victorious in the six-way battle where she was the only woman candidate. 
Robredo has been taking pains to build a broader opposition coalition, spending the past weeks meeting with other potential contenders like Moreno and boxer turned senator Manny Pacquiao, who already announced his presidential bid on Sunday, September 19.
The Vice President said two things would finally push her to run for president: if she is chosen as the standard-bearer of a united opposition or the presidential bid of her rival and the late dictator Ferdinand Marcos's son, Bongbong.
But where does this leave Trillanes?
Technically speaking, 1Sambayan's nominees for president are only Robredo and Trillanes. The former senator earlier said he would run for president if Robredo opts out of the race.
He continues to be among 1Sambayan's choices for its presidential candidate.
Trillanes, however, got disdained upon learning the Vice President has been meeting with other possible presidential candidates like senators Panfilo Lacson and Richard Gordon, whom he described as "enablers" of Duterte. 
Trillanes had warned Robredo he and his Magdalo party would drop their alliance with LP if she gives way to Lacson. No such scenario has happened so far.
1Sambayan convenors are also backing the Vice President's own efforts to forge a united opposition in 2022. – Rappler.com