(1st UPDATE) Presidential candidate Leody de Guzman says farmers group organizer Nanie Abela, who was right beside him during the incident, was grazed by a bullet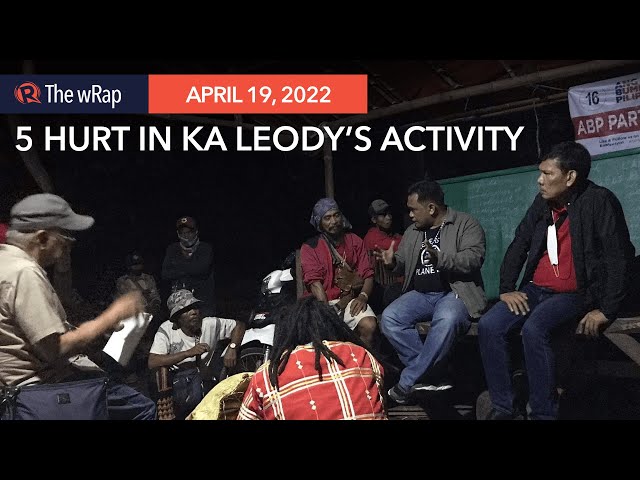 MANILA, Philippines – Five people were hurt after gunshots were fired during an activity of presidential candidate Leody de Guzman with Lumad farmers in Bukidnon, the Partido Lakas ng Masa (PLM) said on Tuesday, April 19.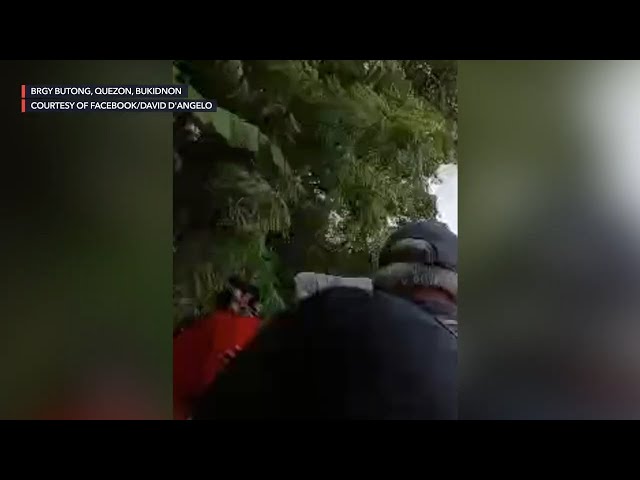 De Guzman was in Barangay Butong in Quezon, Bukidnon, with PLM senatorial bets Roy Cabonegro and David D'Angelo, to amplify the Manobo-Pulangiyon tribe's land grab complaint.
De Guzman said that he and the senatorial bets were safe but farmers group organizer Nanie Abela, who was right beside him, and a leader of the Manobo-Pulangiyon tribe were grazed by bullets.
Laban ng Masa (LNM) spokesperson Leomar Doctolero posted a photo of the two injured and said, "Ka Nanie is fine!"
Laban ng Masa spokesperson Leomar Doctolero shares a photo of the two who were injured in the incident.

"Ka Nanie is fine," the Laban ng Masa spokesperson says. 📸 Leomar Doctolero pic.twitter.com/8Wu2JGTo6T

— Jairo Bolledo (@jairojourno) April 19, 2022
Abela and the other wounded were rushed to a hospital in Maramag town, Bukidnon. PLM-Mindanao coordinator Roldan Gonzales identified the others as Bae Charita Delsocorro, Datu Didlusan Arroyo, Orlando Lingaolingao, and Eger Dabatian.
Local police confirmed to Rappler that they received a report that gunshots were heard in the area. Quezon town police added that they already sent a team to investigate the report.
D'Angelo captured the incident as he was doing a Facebook Live of the event. The first gunshot was heard nearly 16 minutes into his livestream. A succession of shots followed.
Before the incident, D'Angelo showed people alongside a white flag planted in a field which, he said, symbolized the IPs' peaceful claim over their land.
De Guzman's camp said that a group of 50 men fired shots at the presidential candidate's group and the Lumad farmers. They were within a property of more than 900 hectares reportedly being administered by Quezon town Mayor Pablo Lorenzo III in Sitio Kiantig, Barangay San Jose.
The Manobos have asserted that the property in Quezon town is part of their ancestral domain.
Close call
De Guzman said soldiers and police who were stationed only 100 meters from where they were witnessed the entire incident at 11:30 am.
"Siyempre, natakot ako. Bigla na lang natumba 'yung nasa katabi ko (Of course, I got scared. The person beside me suddenly fell to the ground,)" De Guzman told Rappler.
PLM-Mindanao coordinator Roldan Gonzales said he immediately dragged De Guzman to the ground as soon as he saw Abela wounded.
"Ka Leody was tall and I was afraid the gunmen would turn their attention to him," Gonzales said.
De Guzman said that the gunfire continued for about 10 minutes as he and the Manobo farmers laid on the ground for cover. He said after the gunfire stopped, he and the rest of his party and Lumad farmers stood and got out of the contested land.
"Hindi pala uso ang negosasyon dito. Putukan kaagad pala (It seems that negotiations are not in vogue her. They just fire at will)," De Guzman said.
De Guzman said he went to Sitio Kiantig to help the Lumad farmers negotiate for their piece of land they claimed from the Kiantig Pineapple company reportedly managed by Mayor Lorenzo.
He said they were talking with the Lumad leaders who were setting up a tent when gunfire rang out.
Gonzales, who was with De Guzman, said: "I saw a man armed with a shotgun come straight [at] us. I thought he wanted to negotiate."
Instead, the gunman fired his shotgun and hit Abela who was beside De Guzman, Gonzales said.
The land in Sitio Kiantig is contested by the Manobo-Pulangihon and Kiantig Development Corporation which owns the Kiantig Pineapple Company.
The Lumad claim that their families were forced out of their community near the banks of the Pulangi River from the contested land.
Prior to the incident, De Guzman had a consultation with the IP leaders in Bukidnon as part of his campaign activities in Mindanao.
The indigenous families were among the IPs who were driven away from their ancestral lands in 2017. Close to a thousand members of the Manobo-Pulangihon tribe have been living in the backstreets of Quezon town.
Malacañang condemned the incident and called for a through probe.
"Violence has no place in any civilized society and we condemn the incident in Bukidnon where gunshots were allegedly fired against the camp of Ka Leody de Guzman. We urge the local authorities to conduct a thorough investigation and prosecute those behind this dastardly act," said Acting Presidential Spokesperson Martin Andanar. – Rappler.com
Froilan Gallardo is a Mindanao-based journalist and an awardee of the Aries Rufo Journalism Fellowship.