(1st UPDATE) Analyst Inday Espina-Varona says that when it comes to PDP-Laban's party politics, 'lahat tatango sa gusto ni President Duterte'
'In the Running' is Rappler's daily wrap of the filing of candidacies for the 2022 elections, with senior reporter Pia Ranada, regional coordinator Inday Espina-Varona, and reporters in the field. This article is based on the show's October 4 episode about Day 4 of COC filing.
At this stage in the filing of candidacy for the pivotal 2022 elections, it seems it is still all about one man – Rodrigo Duterte.
In Day 4 of COC filing, Monday, October 4, we find traces of the powerful president in the messaging of presidential aspirant Isko Moreno and most especially, in the ruling party PDP-Laban's search for their standard bearer.
Senator Bong Go is out because he already filed his candidacy for vice president, and presidential daughter Mayor Sara Duterte said through a spokesperson she has no plans of joining PDP-Laban now or in the future.
But PDP-Laban Cusi faction has expressed openness to having a non partymate as a standard bearer.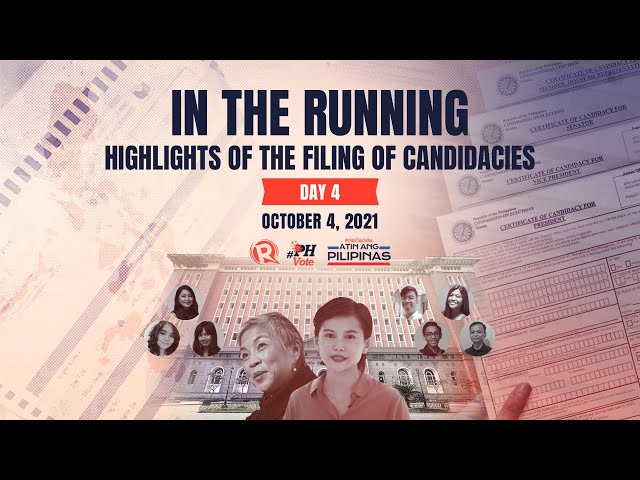 It's something which will not sit well with the Pimentel/Pacquiao faction or anybody who takes party politics seriously because, as senior reporter Pia Ranada pointed out, it basically "flouted" party process. (The party nominated Go for president and Duterte for vice president.)
"What [the Cusi faction] is now saying, that's the party process now, that even if we don't have another meeting with all our party members ostensibily because we do not have time anymore, President Duterte as the party chairman, and as president, has the power to pick anyone he wants," said senior reporter Bea Cupin, who is assigned to cover the PDP-Laban Cusi faction for the campaign.
Veteran journalist Inday Espina–Varona, the regional head of Rappler, said the Cusi faction's responses to recent developments were "not surprising, because their answers actually show why."
"Lahat iaasa mo kay President Duterte. Lahat tatango sa gusto ni President Duterte. Processes and all – basta gusto ng Presidente, 'yun na 'yun, and that's been happening for the last six years," said Varona.
(Everything depends on President Duterte. Everyone says yes to President Duterte. Processes and all – whatever the president wants, that's it, and that's been happening for the last six years.)
Duterte even figures in the messaging of Moreno, as Ranada points out that the mayor of Manila still makes calculated statements in order not to alienate the president's supporters.
Moreno went ahead and said he will jail officials who committed corruption in the pandemic anomalies, even though that is the courts' job not the president's.
But when it comes to the drug charges against opposition senator Leila de Lima, he defers to what the courts will do, even if as president, he can arguably ask the prosecutors to withdraw charges (the only private complainants in the case is the Duterte-allied Volunteers Against Crime and Corruption), or promise an immediate pardon.
"Interesting to see if he will change that stance [on De Lima], maybe it's a strategy to also not alienate Duterte supporters who still form part of the voting public," said Ranada.
When Moreno filed his COC on Monday, he played up his roots in the Visayas – where his mother and father come from. This, according to Ranada, sends a message that he is not just another politician from imperial Manila.
That's also a Duterte line.
Varona said that the rise of social media, and the number of young registered voters, might have potentially "dissipated the intense regionalism that we've seen in previous elections."
For more discussion, watch the full episode, where our Comelec reporter Dwight De Leon talks about the fascinating story of an obscure party that has two presidential bets, a tale that can rival that of the PDP-Laban warring factions.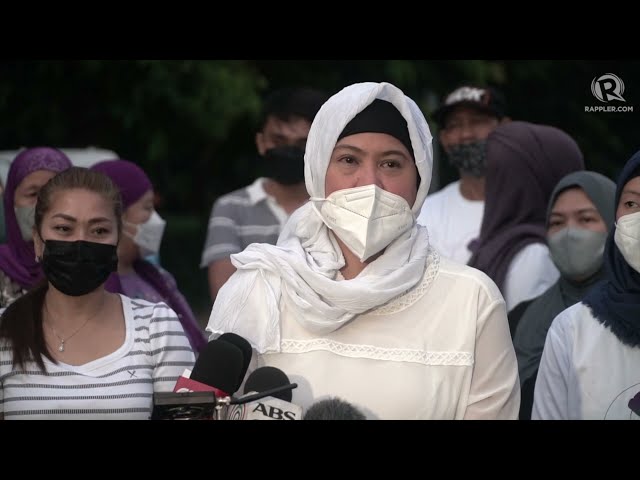 Watch 'In the Running' at 7 pm from October 1 to 8, on Rappler's YouTube, Facebook, and Twitter channels.The recorded version of the show is available right after its live airing.
Watch previous In the Running episodes:
– Rappler.com