Rappler's reporters and resident election analyst walk you through the highlights of day 1 of COC filing and alert you about what to watch out for in the lead up to 2022
In the Running is Rappler's daily wrap of the filing of candidacies for the 2022 elections, with senior reporter Pia Ranada, regional coordinator Inday Espina-Varona, and reporters in the field. This article is based on the show's October 1 episode about Day 1 of COC filing.
There were no loud parades and send-offs on Friday, October 1, as the filing of certificates of candidacy (COCs) began at the Sofitel tent and in local Commission on Elections (Comelec) offices around the country. Instead, everyone – from 2022 hopefuls to the media covering the filing of COCs – were masked, wore face shields, and did their best to distance themselves from each other.
Welcome to Philippine elections during the COVID-19 pandemic.
Watch the October 1 episode of In the Running below.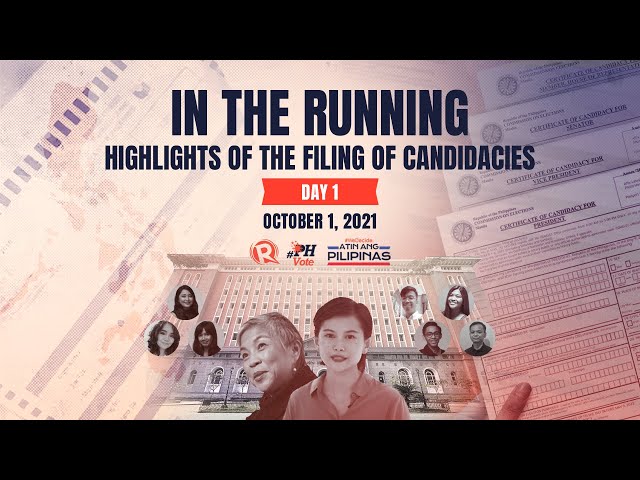 Surprise! A running mate
That senator and retired boxer Manny Pacquiao was the first among the presidential candidates to file his candidacy wasn't a surprise for reporters covering him – but the identity of the man who stood beside him, in a red version of his trademark floral button-down shirt, was. 
Deputy Speaker and Buhay Representative Lito Atienza, according to Rappler reporter Aika Rey, had, until Friday morning, only been known as one of Pacquiao's political advisers. Unification talks with the opposition – or personalities who were aligning themselves against President Rodrigo Duterte – after all, continued until the last minute. Pacquiao and Atienza finalized their plans only the night before filing their COCs. 
The two, noted Rappler's regional coordinator Inday Espina-Varona, are both "socially conservative," with similar antagonistic stances toward anti-discrimination legislation, the Reproductive Health Bill, and the LGBTQ+ community. The two differ only on the death penalty (Atienza is against it, Pacquiao is for it).
They also share deep personal ties – Atienza helped "stablize" Pacquiao during a difficult phase of his life. It was also the former Manila mayor who helped pull the champion boxer out of his gambling addiction. 
Atienza as Pacquiao's running mate, said senior reporter Pia Ranada, adds another interesting layer to the 2022 race: among Pacquiao's chief rivals for the presidency is Isko Moreno, the incumbent Manila mayor who started his political career when Atienza was still mayor of the Philippine capital.
Familiar names in the Senate
Former senators Loren Legarda and Chiz Escudero and reelectionist Risa Hontiveros were the first Senate front-runners to file their candidacies. Legarda currently represents Antique in the House, while Escudero is the incumbent governor of Sorsogon. 
All three enjoy high name recall – advantages that reflect on the latest surveys, said Rappler reporter Mara Cepeda. But of the three, Hontiveros' numbers are the least comfortable.
The former Akbayan representative is just outside the so-called "Magic 12" based on the latest surveys, although Cepeda noted those same early surveys included personalities who've since announced plans to seek the presidency.
But it's the opposition's unity – or lack of it – that Hontiveros should be worried about, said Varona. "Until they [unite], it's going to be a hard, tough climb for [Hontiveros]," she said. 
Local races, COVID-19 in everyone's minds
Around the Philippines, both re-electionists and new faces in local politics also started filing their certificates.
In Pasig, millennial mayor Vico Sotto filed for re-election alongside a running mate, former representative Robert Jaworski Jr – a huge move for the first-term mayor, who, in 2019, ran as an independent candidate without a running mate, said Rappler's Jairo Bolledo. 
In Ilocos Sur, it's Singson versus Singson for the highest posts in the province. Abigail Binay, the daughter of a former vice president, is seeking her third term as Makati mayor – thereby extending the Binay family's hold on political power. 
Local races, said Varona, are especially important because of the role political dynasties play in the national races. Local races, said Ranada, also indicate shifts in alliances, from the incumbent to other leading bets in national posts.
At the Sofitel tent, it wasn't just the familiar faces who made headlines. Day 1 of the filing of COCs also saw lesser-known personalities – from a medical doctor, a security guard, to a "pandemic warfare mitigator" – make their pitch for 2022. 
And while it's easy to dismiss candidates without known backers in politics, Rappler Comelec reporter Dwight de Leon said their candidacies "also give you an idea of how much the pandemic [has] affected all of us." 
Comelec was also quick to remind voters to rethink their notion of a nuisance candidate. "Comelec has already said that we should give these people a fighting chance because this is what democracy is like. We're giving these people a chance to still serve the government if they want to," said De Leon. 
And that's Day 1 of this exercise in democracy. – Rappler.com
Watch In the Running at 7 pm from October 1 to 8, on Rappler's YouTube, Facebook, and Twitter channels. The recorded version of the show is available right after its live airing.