Samira Gutoc and Jinggoy Estrada will again try to get Senate seats. Here are the highlights of day 3 of COC filing for the 2022 elections.
'In the Running' is Rappler's daily wrap of the filing of candidacies for the 2022 elections, with senior reporter Pia Ranada, regional coordinator Inday Espina-Varona, and reporters in the field. This article is based on the show's October 3 episode about Day 3 of COC filing.
The third day of the filing of the certificates of candidacy (COCs) for the 2022 elections ended without the presence of known leading contenders for the presidency.
But Sunday, October 3, was not without buzz from camps of high-profile names floated – including those of Vice President Leni Robredo and Davao City Mayor Sara Duterte.
Robredo continues her efforts for a united opposition, while Sebastian Duterte said it would take a miracle to change the decision of his sister, who already filed her candidacy for Davao City mayor.
All eyes will be on Sofitel in Manila in the next five days.
Watch the October 3 episode of In the Running below.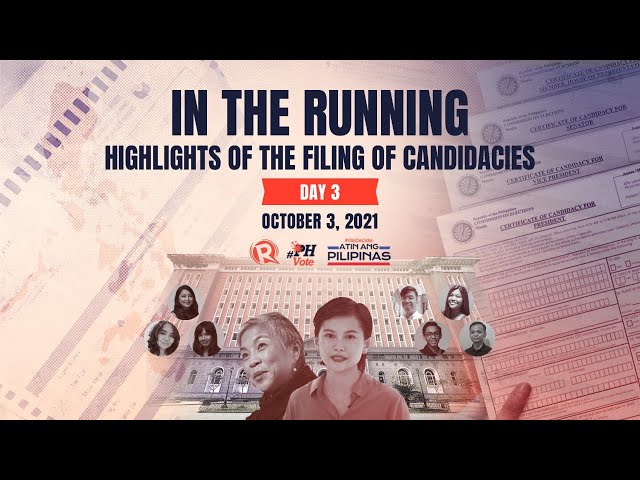 VP choice a big factor for Robredo 2022 bid
Robredo's spokesperson, Barry Gutierrez, asked for patience as supporters again called on her to run. He said the Vice President will announce her decision before the end of COC filing on Friday, October 8.
But what is taking her so long? Rappler reporter Mara Cepeda said one factor is the state of her home province, Camarines Sur, where Robredo has allies wishing she'll run for governor.
Another big factor is the choice of vice president.
Rappler's regional head Inday Espina Varona said it's a challenge that Robredo has many supporters who are not open to the idea of a running mate who was not part of the opposition from the start.
"The question na kailangan sagutin ni [Robredo] (The question Robredo has to answer) is, in a world where there is no strong opposition for vice president, is the united opposition willing to take a step back and accept a not very ideal running mate for her?" Varona said.
Robredo recently met with presidential aspirant Senator Panfilo Lacson and his running mate, Senate President Vicente Sotto III, but no details of the meeting were revealed.
Will Sara Duterte heed father's wish?
Sebastian, Sara's younger brother, said that it would take a miracle for his sister to change her mind.
Rappler's Mindanao coordinator Herbie Gomez said people do not believe this anymore, especially given the Duterte patriarch's track record of bluffing.
"I think everybody's thinking that this is part of a zarzuela or a repeat of 2016," he said. "The right hand is doing something, the left is doing another."
Varona, however, pointed out that there are a lot of instances that show that the father and daughter do not always see eye to eye, and that Sara is really not known to bluff.
But she is also known to accede to her father. The choice of vice president might also be important for the presidential daughter.
"Siguro sa cariño or when [Sara] eventually sees [Rodrigo Duterte]'s future, in terms of accountability, [what] is at stake, then she might just bite the bullet when that time comes," Varona said.
Samira Gutoc, Jinggoy Estrada try again for Senate seat
Two individuals who failed to get a Senate seat in 2019 are trying again – former senator Jinggoy Estrada and Samira Gutoc.
Estrada joins his brother JV Ejercito in the Senate race for the 2022 polls. He also faces a P183-million plunder case over the multibillion-peso pork barrel scam.
Why are people accused of corruption still allowed to run and still enjoy popularity? According to Varona, "it says a lot about patronage and celebrity politics… no doubt that the Estradas are experts at patronage politics."
"I'm afraid na it's really doesn't matter who the president is, we're really going to continue this cycle for a longer time," she said.
Gutoc, whom Rappler reporter Pia Ranada described as "few of the well-known senatorial bets who is Muslim, a woman, and from Mindanao," is running under presidential aspirant Manila Mayor Isko Moreno's Aksyon Demokratiko.
During the COC filing, Gutoc said she owed a lot to Robredo and the Liberal Party. She ran in 2019 under the opposition coalition Otso Diretso.
Rappler reporter Dwight de Leon noted that there were political movements that led to Gutoc's filing of COC under Moreno's party.
"My question is if VP Robredo runs, who will be the best presidential bet for her?" De Leon said, referring to Gutoc. "That would be one difficult question for her to answer because for one, she's supporting Isko but she believes in the principles and ideals that Robredo holds."
But Varona thinks Gutoc will not back out of Aksyon, and that she knows the Vice President will understand.
"She probably feels her constituents – especially at a time when so many of our Muslim Filipino brothers and sisters really need help in terms of rehabilitation," Varona said.
"She probably thinks that the cost is too high for her to get dragged in internal politics," she added. – Rappler.com
Watch 'In the Running' at 7 pm from October 1 to 8, on Rappler's YouTube, Facebook, and Twitter channels. The recorded version of the show is available right after its live airing.
Watch previous In the Running episodes: