The Manila mayor votes at the Magat Salamat Elementary School in the heart of Tondo
MANILA, Philippines – Manila Mayor Isko Moreno cast his vote on Monday, May 9, in Magat Salamat Elementary School, in the heart of Tondo where he made his name and fortune.
Moreno arrived in his his voting precinct at around 11 am.
His voting precinct is just a few minutes walk away from the venue of his miting de avance last Saturday, May 7, where he gave a rousing speech before thousands of exuberant supporters.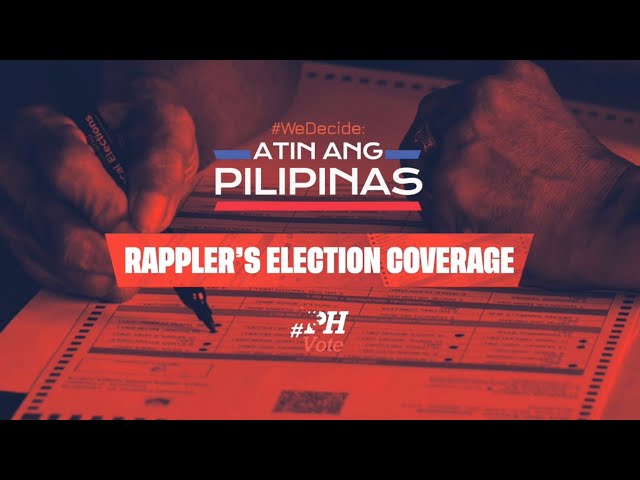 Before voting, Moreno first offered prayers in nearby Tondo Church, a tradition he has observed before any major political event.
Looking fresh in a white polo shirt, denim pants, and his usual Adidas Superstar sneakers, Moreno was met by cheers and screams by fellow Manileño voters.
He did not wait long to enter the school. He skipped lines and headed straight to the third floor classroom where he was set to vote.
The walk up was arduous because of the crush of people who wanted to take selfies with him or touch him.
Moreno voted fairly quickly as television cameras and smart phones recorded or streamed his every move inside the classroom labeled Room 303.
After submitting his ballot, he gamely flashed the "two joints" sign as well as inked pointer finger to cameramen.
"Isko! Isko! Isko!" chanted the crowd after he emerged from the classroom.
Ever hopeful
In the school courtyard after voting, he told reporters: "We do our best. God will do the rest."
Moreno said he would head to City Hall after voting.
"Office nang saglit, titira pa ako ng trabaho, sayang naman. Tapos pamilya ko mamaya," he said.
(I will stay in the office for a bit, get some work done because it would be a waste not to. Then I'll be with my family.)
He would spend the rest of the day "logtu" (tulog or sleeping), he said.
Moreno says he gets his confidence from the thought that voters may want an alternative to politicians with famous surnames or who belong to more established political parties, like top contenders Ferdinand Marcos Jr. and Leni Robredo.
"Some people were left behind because of the fight between the reds and yellows. At least they have another option," he said in Filipino.
Submitting his ballot for the nationwide count starts a day that will no doubt be one of nerves for Moreno and all other presidential bets.
Most eyes are on presidential race front-runner Ferdinand Marcos Jr. and survey second-placer Vice President Leni Robredo. Moreno was a far fourth-placer in the latest surveys but he believes in a "silent majority" who may decide to choose him out of exasperation with the two leading candidates and their supporters.
He has been hopeful that, while mammoth rallies and key endorsements of local officials, political groups, and celebrities for Marcos and Robredo projected the strength of their campaigns, it would be he who will be declared victorious in the presidential race. – Rappler.com