Manila Mayor Isko Moreno warns that, should Ferdinand Marcos Jr or Leni Robredo win the May 2022 elections, the other side will attempt to remove the winner from power
LINGAYEN, Philippines – Presidential candidate Manila Mayor Isko Moreno on Saturday, April 30, urged Filipinos to choose him if they want "peace of mind."
Moreno, in an ambush interview, warned the Philippines can not endure another six years of clashes between the "red" and "yellow-pink" camps.
Rival presidential aspirant Ferdinand Marcos Jr. sports the color red. Robredo's trademark color is pink but Moreno consistently adds yellow, the color of the late Presidents Corazon and Benigno Aquino, to disparage the race's second-strongest contender.
"I've been trying to send you the message, hindi matatapos ang away ng pula at dilaw sinuman ang iboto niyo sa pagitan nila," the Manila mayor said. (If you elect either of them, you will never see an end to clashes between red and yellow.)
He cited the April 28 face off at the high-end Rockwell Center in Makati City between Marcos and Robredo supporters, calling it a 'trailer' of things to come. Loud chants of "BBM" (Marcos' moniker) and "Leni" had filled the mall even as security guards tried to appeal for calm.
Both sides, Moreno said, will continue to clash and attempt to remove the other from power.
The actor-turned politician said that while he criticizes his rivals, he does not consider them enemies, only fellow competitors.
Moreno also promised he would not 'chase after his fellow competitors' if he becomes president.
"Kita niyo stress sa ordinaryong Pilipino. Samahan niyo ako. I will give peace of mind. Walang away, walang gantihan, focus lang tayo sa problema." (You'll see stress disappear. Join me. I will give peace of mind. No conflict, no revenge; we'll just focus on problems.)
All three top contenders – Marcos, Robredo, and Moreno – have pledged unity as an outcome of victory.
Robredo has promised Filipinos that she will be "president of all colors" and her camp has rolled out a new logo in the campaign homestretch, shifting from trademark pink to all hues of the 2022 elections.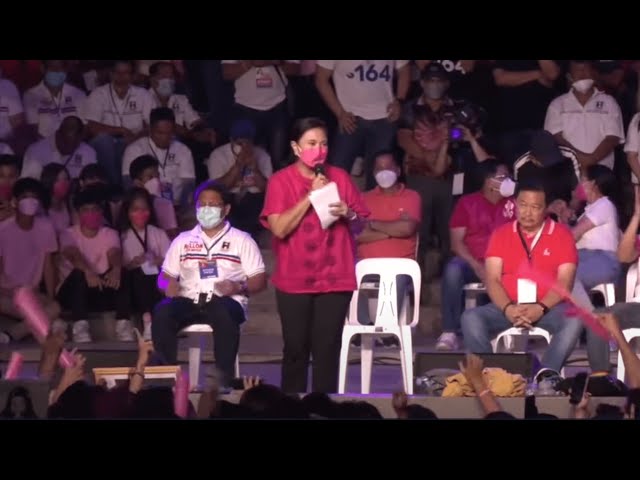 Cooking 'political Bulalo'
With only barely a week left until May 9, election day, Moreno returned to vote-rich Pangasinan to secure more votes.
Jesting with some reporters, he said his search for votes is like making the famous slow-cook Filipino beef dish 'bulalo'.
Moreno said he hopes this latest visit can soften voters in Pangasinan, which is part of the Ilocos region acknowledged as Marcos' bailiwick. Pangasinan has almost 2.1 million voters, the third largest among provinces in the country.
The Manila mayor was not sure if he would still barnstorm other areas in the region, noting he has sorties scheduled in other parts of the country.
Moreno said he is hoping for an endorsement from the powerful sect Iglesia ni Cristo (INC), adding that he always asked for support from the powerful religious group in previous elections.
"I will need all the help I can get. Kailangan ko lahat ng tulong," he said. – Rappler.com
Ahikam Pasion is a Luzon-based journalist and an awardee of the Aries Rufo Journalism Fellowship.