Isko Moreno seeks to counter the 'imperial Manila' narrative by reaching out to Filipinos from the southern regions through the story of his own parents
Isko Moreno, Manila-born and bred, highlighted his late parents' Visayas roots in his first speech as an official presidential aspirant, as much a tribute to the couple who raised him as it was a way to reach out to Filipinos from the southern regions of the country.
"Salamat sa nanay at tatay ko, salamat kay Joaquin at Chayong, isang Antiqueño, isang Waray-Waray. Nagtungo sa Maynila, tumusok ng poste ng bahay sa may lupa ng may lupa at ako ang naging bunga," said Moreno on Monday, October 4, right after filing his certificate of candidacy for president before the Commission on Elections.
(Thank you to my mother and father, thank you to Joaquin and Chayong, an Antiqueño, a Waray-Waray. They went to Manila to put up posts of their house on land owned by others and I was the fruit.)
Joaquin, who worked as a stevedore in Tondo before he passed away while Moreno was still in showbiz, comes from Antique. Moreno's mother, Rosario or "Nanay Chayong," hails from Allen, Northern Samar. She passed away almost exactly a year ago. To make ends meet, Chayong worked as a laundrywoman and garlic peeler.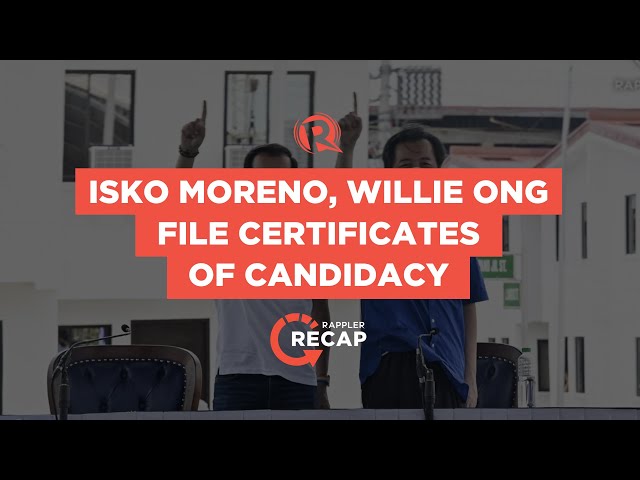 Manila as microcosm of Philippines
One of the messages Moreno sought to impart was that the story of Joaquin and Chayong, and by extension his story, is the story of all Filipinos.
He likened his parents to millions of Filipinos who, suffering from a lack of opportunities in the provinces, tried their luck in the capital and somehow got by despite hardships.
For this reason, said Moreno, Manila is a "mirror" of the Philippines.
"Salamat sa mga taga-Tondo na mukha ng Pilipinas, na aking pinagsimulan. Salamat sa mga taga-Maynila na salamin ng bansa na nagbigay ng pagkakataon sa isang batang katulad ko na pamunuan ang mahigit kumulang dalawang milyong mamamayan sa ating lungsod," said Moreno.
(Thank you to the people of Tondo, the face of the Philippines, where I come from. Thank you to the people of Manila, a mirror of the country which gave a chance to a kid like me to govern its more or less two million citizens.)
Moreno's messaging can be seen as an appeal to people from the Visayas and Mindanao who might be tempted to see his presidential bid as just another continuation of "imperial Manila."
He began his speech by addressing himself to Filipinos "from Batanes to Tawi-Tawi."
One perceived weakness in his tandem with doctor Willie Ong is that neither of them come from Visayas nor Mindanao. As a strategy, it's been common for political tandems to be composed of candidates from different regions as a way to woo support from as geographically diverse a swathe of voters as possible.
But the first senatorial candidate to join Moreno's slate is Mindanao civic leader Samira Gutoc, known for her Marawi advocacies and anti-discrimination stance.
Since he declared his presidential bid, Moreno has branded himself as the "unifying" presidential bet who seeks to heal divisions that emerged during the Duterte administration. – Rappler.com