Isko Moreno used the Mandanas ruling to fund housing, schools, and hospitals in Manila. He wants to replicate the strategy on a national scale.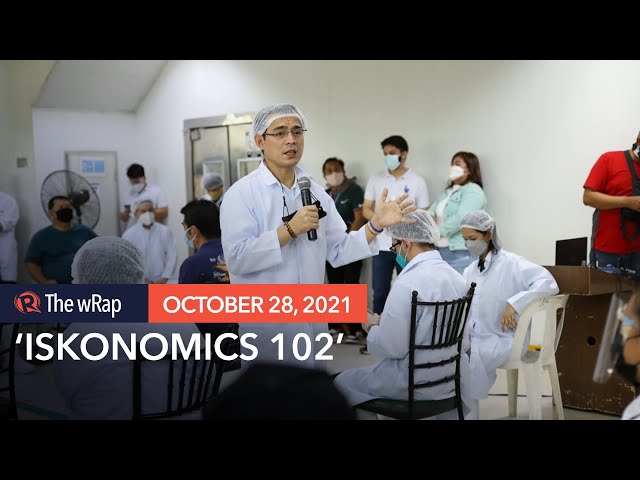 Presidential bet Isko Moreno promised to help local governments use their larger share in national government taxes provided under the Mandanas ruling to help small businesses recover amid the COVID-19 pandemic.
Moreno explained his proposal in a dialogue with workers in Pampanga, his third major stop after visiting Lipa City in Batangas and Tarlac earlier this month.
The Manila mayor, running mate Willie Ong, and his three senatorial bets went to the Pampanga's Best plant in San Fernando City on Thursday, October 28.
Before workers of the plant, Moreno explained how the Mandanas ruling can help revive local economies, and in turn, the national economy still reeling from the pandemic.
"Sa Mandanas ruling, we will adopt the same creative financial engineering na ginawa natin sa Maynila kung saan bibigyan natin ng direksyon 'yung mga lokal na pamahalaan kung paano nila i-allot 'yung X na pera na galing sa Mandanas ruling para ipautang sa mga SMEs ng ating bansa," said Moreno.
(In the Mandanas ruling, we will adopt the same creative financial engineering that we used in Manila wherein we give direction to local governments on how they can allot X amount of money from the Mandanas ruling as loans for small and medium enterprises in our country.)
What's the Mandanas ruling?
Moreno knows of what he speaks.
The mayor used the Mandanas ruling to secure funding to build the schools, hospitals, and in-city housing that has impressed many in Manila and beyond. His latest proposal is thus an offshoot of his declaration at his presidential bid launch that he "does not run on promises, but on prototypes."
The Mandanas ruling is a 2018 Supreme Court decision that declared that all local governments are entitled to not just a share of internal revenue taxes which were being given to them by the national government, but a share of all national taxes.
This means all local governments, starting in 2022, should see a roughly 50% increase in their budgets.
Moreno was able to get a certification from the budget department that his local government is assured of getting billions due to the Mandanas ruling.
He used this certification to secure loans from the Development Bank of the Philippines and the Land Bank of the Philippines to build several in-city housing projects, 10-story public schools, and hospitals, even amid a pandemic.
"It provided thousands and thousands of jobs. During a pandemic, the people were given livelihood," said Moreno about the impact of his strategy.
The buildings Manila constructed under Moreno's watch are the following:
Basecommunity housing project – turned over to occupants in August
Tondominium 1 and 2 housing project – under construction
Binondominium 1 and 2 – under construction
Pedro Gil Residences – under construction
San Sebastian Residences – under construction
Manila COVID-19 Field Hospital – started operations in June
Bagong Ospital ng Maynila – operational by December
President Corazon C. Aquino General Hospital – started construction last October 18
New buildings for Rosauro Almario Elementary School, Dr. Carlos Albert High School, and Manila Science High School
The same financing strategy can be used by local governments to provide loans for small businesses that form the backbone of the economy yet continue to suffer from the pandemic, said the 47-year-old presidential bet.
In a press release, Moreno's team explained that part of the plan is to get the trade department, agriculture department, Land Bank, and DBP to partner with LGUs to "draw up a plan on how to help MSMEs (micro, small, and medium enterprises) to re-start their business."
Moreno would also encourage local governments to do what he did – use the Mandanas ruling to build schools, hospitals, and housing.
'Iskonomics'
Moreno likened his plan to the Marshall Plan designed to help Western Europe recover from World War II. The Marshall Plan, a program of the United States, provided over $15 billion to European countries for the reconstruction of industries and infrastructure, remove trade barriers, and enliven commerce between those countries and America.
He branded his Mandanas ruling plan "Iskonomics 102," saying Iskonomics 101 is his plan to slash oil and electricity taxes in half if he becomes president.
Moreno said he would keep his platform focused on "lives and livelihood" and leave the "highfalutin Powerpoint presentations" to others.
Duterte's devolution EO
Moreno's plan could jive with the national government's push to fully devolve government services to LGUs.
Back in June, President Rodrigo Duterte issued Executive Order No. 138 telling national government agencies to fully transfer the task of delivering basic services to local governments by the year 2024 because of the bigger tax share of LGUs due to the Mandanas ruling.
This means tha the national government expects LGUs to use their bigger budgets to take on tasks they used to rely on the national government for.
Some of the projects Moreno proposes, using the Mandanas ruling, fall under government programs and services to be devolved to local governments like housing, healthcare, education support, and investment support services. – Rappler.com