The Manila Mayor takes a jab at Vice President Leni Robredo and the Liberal Party, claiming all they've done is fight President Duterte
MANILA, Philippines – Manila Mayor and presidential aspirant Isko Moreno appealed to voters to stop taking their chances on the same political elites in 2022 and even likened himself to Ramon Magsaysay, who he said was the last president who truly came from poverty.
Speaking before a large crowd in Talavera, Nueva Ecija, on Wednesday, December 1, Moreno described voting politicians with famous surnames as "madness."
"Huwag kayong aasa na may bagong mangyayari bukas kung ang ginawa mo ngayon ay katulad ng kahapon," said the Manila chief.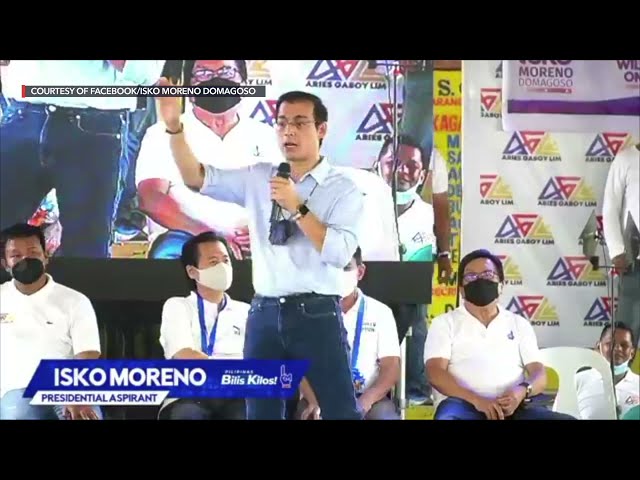 "Pareho pa rin ang resulta noon, 'pag sila pa rin alam 'nyo na ang finals, tama mali? Sa akin, magbabakasakali pa kayo. Sa kanila, tiyak na – tiyak nang walang mangyayari…. Kaya nga ganyan ang buhay 'nyo ngayon eh," he continued.
(The result will be the same, if you vote for them again, you know what the end-game will be, right or wrong? With me, you're taking a chance. With them, it's a certainty – a certainty that nothing will happen…. That's why your life is the way it is.)
He did not mention any specific political clan or politician during his roughly one-hour speech. But some of his rivals for the presidency – including Ferdinand Marcos Jr. and Vice President Leni Robredo – either come from famous political families or big established political parties.
Dig at Robredo
Moreno made a dig at Robredo as he asked voters to do something else differently in next year's polls: vote an existing president-VP tandem into office, specifically him and his running mate doctor Willie Ong.
"Pakisuyo, huwag 'nyo kami paghihiwalayin ha. Alam 'nyo bakit? Mapagod na kayo sa away ng pangulo at pangalawang pangulo. Hindi ba kayo napapagod?" said Moreno.
(I'm requesting, please don't separate us. You know why? Aren't you tired of the fighting between the president and vice president?)
"Pansin 'nyo, anong ginawa nila? Inaway lang nang inaway si Presidente, pinaglingkuran 'yung partido nila," he added, continuing the pro-Duterte bent of his recent remarks.
(What did they do? They just kept on attacking the President, serving their party.)
Though he did not mention Robredo or the Liberal Party by name, there can be little doubt who he was referring to.
Filipinos have typically not followed the tandems offered by politicians, choosing to elect a vice president who is not the party mate of the candidate who wins as president. The last time a tandem was voted into office was in 2004, when the tandem of Gloria Macapagal-Arroyo and Noli de Castro won their respective bids.
Moreno also criticized the country's party system, telling his audience to be suspicious of political parties because all they do is make promises during elections.
"Kung makapangako sa tao, wagas. Nung manalo na, ang inunawa 'yung partido nila eh sinasabi ko sa inyo, mag-iingat kayo diyan sa partido. 'Yang partido, 'pag halalan lang 'yan. Pagkatapos, sila-sila lang nagpapartihan," said the presidential bet.
(When they make promises to the people, they go all-out. But when they won, they served only their party so I'm telling all of you to be careful with these parties. Those parties are just for elections. Afterwards, they divide the loot amongst themselves.)
Ironically, Moreno is himself the president of a national political party, Aksyon Demokratiko. He had joined the party only two months before the October filing of candidacies for the 2022 elections, making it apparent that it was for his eventual presidential bid.
'My Guy' and Isko
To complete his projection as an "alternative" candidate to political elites that have only let ordinary Filipinos down, Moreno called upon a revered image – the late Ramon Magsaysay, 7th president of the Philippines, who was hugely popular with the masses and was endearingly called "My Guy" and "Man of the Masses."
"Magkakaroon kayo talaga ng gobyernong may tainga. Huling nagkaroon ng tunay na mahirap na presidente, inabot ng nanay at tatay ko, mga lolo at lola ko. Panahon ni Magsaysay, 47 years old. Ako po, 47 din. 'Di ko alam. 'Di ko alam kung tadhana ko ito," said Moreno.
(You will have a government that listens. The last time there was a truly poor president, it was during the time of my mother and father, my grandfather and grandmother. It was the time of Magsaysay, 47 years old. I am also 47. I don't know if this will be my destiny.)
Magsaysay was 46 years old when he took his oath as Philippine president. He was the son of a blacksmith and school teacher. He was known for his advocacy for the common Filipino and is remembered for being the first chief executive to regularly wear a barong to official functions. He died in a plane crash before he could complete his term as president.
Moreno attracted a crowd so large in Talavera that participants occupied two large covered courts and areas beyond. Members of his campaign team estimate there were 2,000 attendees though Rappler is unable to verify this figure.
The mayor had easy rapport with his audience, frequently making them laugh and drawing applause. He regaled them with stories from his childhood, starting when he was a garbage collector to when he "promoted" himself to "side-car boy" when he was in elementary school.
He said his impoverished past helped him become a good mayor since it gave him street smarts to haggle with, for instance, suppliers of milk powder for Manila's senior citizens.
"'Pag galing ka talaga sa hirap, marunong ka tumawad (When you're poor, you're good at haggling)," said Moreno.
"Mahirap maging mahirap (It's hard to be poor)," he said, to sounds of approval from his audience, before expounding on how political elites "in their palaces" are removed from the realities of ordinary Filipinos. – Rappler.com