This is AI generated summarization, which may have errors. For context, always refer to the full article.
Senator Kiko Pangilinan hopes he and Senate President Tito Sotto would be able to reconcile somehow
Opposition senator Francis "Kiko" Pangilinan admitted it was tough for him to run for vice president in the 2022 polls, as it means he would have to slug it out against a member of his own family: Senate President Vicente "Tito" Sotto III.
"Mahirap, mabigat, dahil siyempre pamilya…Mas malapit, mas masakit," Pangilinan said in a Rappler Talk interview on Monday, October 11. 
(It's hard, it's heavy because of course we're talking about family here. The closer it is, the more painful.)
Pangilinan is the running mate of Vice President Leni Robredo, while Sotto is the vice presidential bet of Senator Panfilo Lacson, another presidential aspirant.
The late Elaine Gamboa-Cuneta, the mother of Pangilinan's wife Sharon Cuneta, is the sister of Helen Gamboa-Sotto, wife of the Senate President.
Because the Pangilinans and Sottos are close, it was such a tough decision for Pangilinan to accept Robredo's offer to become her running mate. 
It was one of the reasons why Pangilinan turned emotional when he delivered his first speech as a vice presidential bet on October 8.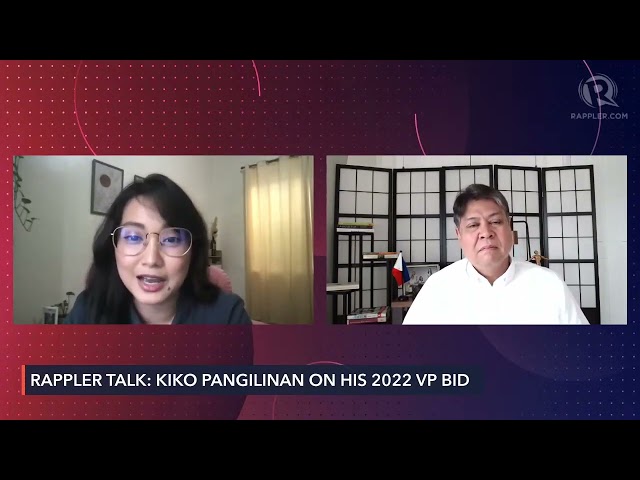 It was a last-minute decision that had to be done after the Vice President's unity talks with other presidential contenders went nowhere. Pangilinan had to forego his Senate reelection bid.
Pangilinan was even helping Robredo set up meetings with the likes of the Lacson-Sotto tandem, reelectionist senator Richard Gordon, and Senator Grace Poe in a bid to forge a broader opposition alliance in the 2022 elections.
But in the end, no compromise could be reached. Robredo was left with no choice but to turn to her own allies in the once-ruling Liberal Party (LP), where Robredo is chairperson and Pangilinan is president.
Robredo asked Pangilinan to become her running mate on October 5. He spent the next hours discussing the offer with his wife Sharon, who was in New York at the time.
Cuneta admitted she finds herself "in the midst of two rocks" in her life, but Pangilinan said his wife also understood why he had to step up.
Despite her struggles to come to terms with the situation, Cuneta's Instagram feed was recently filled with posts in support of the Robredo-Pangilinan tandem.
Pangilinan formally accepted Robredo's offer on October 6. He went to the Office of the Vice President to tell Robredo he would become her running mate in 2022. 
Kiko calls Tito
Pangilinan then called Sotto on October 7, the same day Robredo announced her candidacy.
His vice presidential bid was not supposed to be officially announced until the morning of October 8, but the media got wind of it by mid-morning of October 7.
Pangilinan did not divulge specific details of his conversations with the Senate President, but hinted that the discussion had been difficult between the two of them.
He hopes he and Sotto would be able to reconcile somehow.
"All families have their share of differences and conflicts. Ours would be – we're not exempted from that. 'Yun nga lang ang kaibahan, public lang at alam ng marami. And I hope maayos," said Pangilinan. (The only difference is that ours are out in public and everyone knows what's going on. And I hope we'd be able to fix this.)
"I hope eventually, like all other families that go through these conflicts, that we will be able to see a reconciliation in the future and a resolution," he added.
Pangilinan said food security, controlling the pandemic, and addressing corruption will be part of his platform in 2022. He is running under LP, while Robredo is seeking the presidency as an independent candidate. – Rappler.com