De Guzman, who says he is not only seeking a regime change but a system change, runs on a pro-worker agenda
Veteran labor leader Leody De Guzman filed on Wednesday, October 6, his certificate of candidacy (COC) for Philippine president, running under his party Partido Lakas ng Masa (PLM).
De Guzman ran for the Senate in 2019 under a historic unified ticket of warring unions, but he ranked only 38th in the Senate's battle for 12.
De Guzman, who said he is not only seeking a regime change but a system change, runs on a pro-worker agenda – to raise minimum wages and abolish contractualization completely.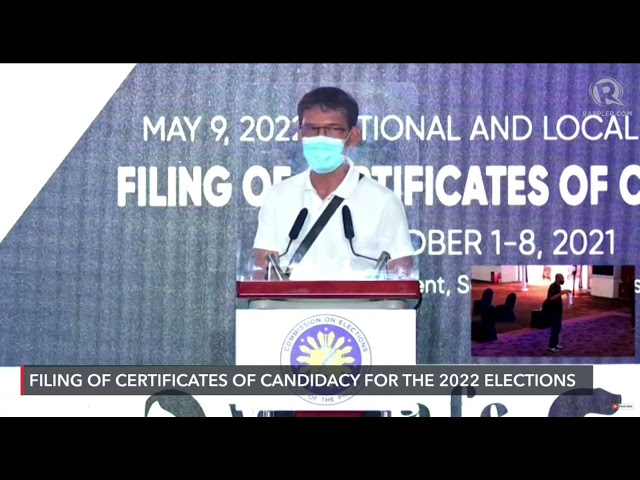 He has been pushing for a bill that would get rid of the middleman – a third party agency that can sub-contract, which for him makes contractualization legal. Current bills to end contractualization still allow subcontracting. This practice is allowed by the Labor Code.
De Guzman shuns the elite, saying in 2019 that the Liberal Party are elites and the Duterte regime is a tyrant.
De Guzman, with scarce resources, will bank on the dreamed labor vote. The workforce is composed of around 50 million Filipinos, but only around 1 million are organized.
Lawyer Luke Espiritu, president of the Bukluran ng Manggagawang Pilipino (BMP), also filed his COC for senator under PLM. De Guzman is chairman of BMP.
PLM will also run in the party-list race for seats in the House of Representatives, and filed its COC on Wednesday through its five nominees.
Unionist Baldwin Sykimte, chairman of the Kapisanan ng mga Manggagawa sa Governmentment Owned and Controlled Corporations and Financials Institutions (KAMAGGFI), is the first nominee.
Veteran activist and Sanlakas national chair Lidy Nacpil is the second nominee.
Oriang women's group president Flora "Tita Flor" Asiddao-Santos is the third nominee.
Manny Toribio, president of the Kongreso ng Pagkakaisa ng Maralitang Lungsod-National Capital Region-Rizal (KPML-NCRR), is the fourth nominee.
PLM secretary general Julius Panday is the fifth nominee.
The Laban ng Masa coalition, of which PLM is a member, earlier pushed for former Akbayan representative Walden Bello to be its standard bearer. In a Facebook post, Bello said Laban ng Masa sought a meeting with Vice President Leni Robredo "for nearly three months to talk about possibilities, but she and her people won't even give us the time of day."
"Then when Laban ng Masa finally leaves the reception room in frustration and designates Leody de Guzman, a worker, as its presidential candidate, Leni's people make the incredible assertion that we are 'dividing the opposition' by not supporting her undeclared and probably never to be declared candidacy!" Bello said.
The Makabayan coalition has also expressed reservations on 1Sambayan's nomination of Robredo as president, saying it's premature to do so when talks are still ongoing to find a common candidate. – Rappler.com