(UPDATED) The coalition aims to endorse a single slate of national candidates to rival the Duterte administration bets in 2022
The opposition coalition 1Sambayan is choosing among six politicians its candidates for president and vice president in the 2022 Philippine elections.
It announced the list of nominees for the two highest positions in the country on Saturday, June 12, the Philippines' Independence Day:
Human rights lawyer Chel Diokno
Senator Grace Poe
Batangas Representative Vilma Santos-Recto
Vice President Leni Robredo
Former senator Antonio Trillanes IV
CIBAC Representative Eddie Villanueva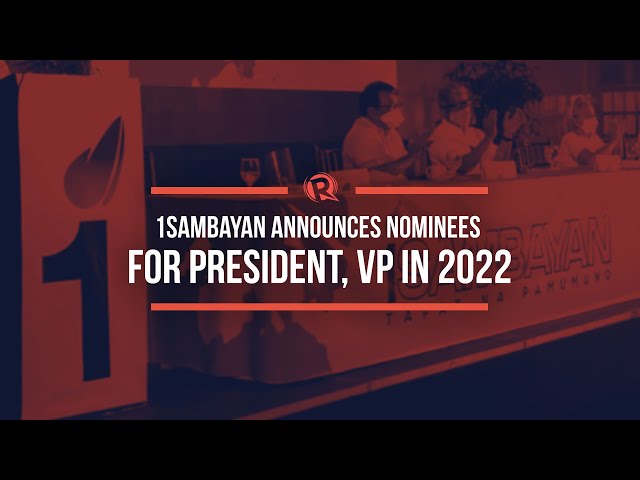 Former foreign secretary Albert del Rosario, 1Sambayan co-convenor, said "there may be additions" to this list.
After the coalition announced the names, however, Poe clarified that she isn't seeking the presidency in 2022, while Recto said she has "no plans for 2022."
The list released on Saturday was the result of a months of consultations between parties and personalities who had agreed on the common goal of challenging whoever President Rodrigo Duterte would be endorsing as his successor. Along the way, some who were originally on the long list eventually decided they wouldn't join 1Sambayan's selection process.
1Sambayan postponed the announcement of its nominees for senator, originally scheduled on Saturday. Convenors said they would release the senatorial list in a few weeks.
Get to know the six nominees for president and vice president on 1Sambayan's list.
---
Chel Diokno, human rights lawyer
Years in government service:
Positions held:

General counsel, Senate blue ribbon committee (2001 to 2004)
Special counsel, Development Bank of the Philippines (2004 to 2006)
Home province or city:

San Juan City, Metro Manila
Controversies:

Ran for senator under the banner of the opposition Otso Diretso in the 2019 elections, but lost
Faced inciting to sedition complaint, together with other opposition figures, related to an alleged plot to oust President Duterte through "Project Sodoma," but was eventually cleared by the Department of Justice
Achievements:

Veteran litigator of cases related to free speech
One of the country's foremost human rights lawyers
Strongly criticized Duterte's war on drugs and other policies that violated human rights

Represented victims of drug war killings and indigenous groups against martial law in Mindanao, among others
One of the lawyers who appeared in the Senate with self-confessed Davao Death Squad member and retired cop Arturo Lascañas

Chairperson, Free Legal Assistance Group (FLAG)

Handled cases and represented families of those who died in the 1987 MV Doña Paz tragedy and witnesses in the kidnapping case against retired army major general Jovito Palparan, among others

Counsel of journalists and opposition lawmakers in a petition filed before the Supreme Court against the anti-terror law
Founding dean, De La Salle University College of Law
One of the private prosecutors in the impeachment trial of former president Joseph Estrada
Served as counsel for Jun Lozada, whistleblower in the controversial ZTE-NBN broadband deal under the Arroyo administration
Statements and actions on the pandemic, West Philippine Sea, and social inequality:

Consistently condemned China and Duterte's handling of Chinese aggression in the West Philippine Sea
Condemned the mishandling of the coronavirus pandemic, including the incidents of human rights violations by state forces in the implementation of community quarantine guidelines
---
Grace Poe, senator
Years in government service:
Positions held:

Chairperson, Movie and Television Review Classification Board (October 2010 to October 2012)
Senator (16th-17th Congress, 2013 to 2019)
Senator (18th-19th Congress, 2019 to present)
Home province or city:

San Juan City, Metro Manila
Controversies:

Issue on whether she was qualified to run for office because of her citizenship

Renounced Filipino citizenship and became a naturalized US citizen in 2001, 10 years after marrying Neil Llamanzares, a dual citizen of the United States and the Philippines
Filed for dual citizenship in 2006; renounced US citizenship in 2010
The SC ruled that Poe is a natural-born Filipino by "upholding the use of circumstantial evidence and presumptions."

Received flak from netizens over a photo op of her praying in a church during her presidential run, saying this was an attempt to appeal to religious voters
Achievements:

Enacted at least 48 laws, including the:

Free Mobile Disaster Alerts Act (RA 10639)
Feeding program for undernourished public school children

Championed the Freedom of Information Act
First lady senator to serve as chair of the committee on public order and dangerous drugs

Expressed staunch support for amending Section 21 of the Dangerous Drugs Act to enable the government to effectively go after big-time drug pushers

Against changing the economic provisions of the Constitution, saying it should be the last resort
With the MTRCB, advocated for "intelligent media viewership" instead of "censorship"
Pushed for a bill promoting film tourism that would make the Philippines a major shooting destination for international films
Statements and actions on the pandemic, West Philippine Sea, and social inequality:
---
Vilma Santos-Recto, Batangas congresswoman
Years in government service:
Positions held:

Mayor, Lipa City in Batangas (1998 to 2007)
Governor, Province of Batangas (2007 to 2016)
Representative, Sixth District of Batangas (17th to 18th Congress, 2016 to 2022)
Controversies:

Voted in favor of the anti-terror law "with reservations." Netizens called her out as the vote seemed to go against the spirit of the human rights-centered films she starred in, including Sister Stella L and Dekada '70.
Statements and actions on the pandemic, West Philippine Sea, and social inequality:

Denounced P1,000-Commission on Human Rights budget in 2017. "With so much crime/EJK, they need more resources to these investigations. Ito ang isang ahensiya na tumutulong sa karapatang pantao (This is an agency that is helping [protect] the rights of the people)!"
Sympathized with medical workers during their distress call in August 2020: "We should not turn a deaf ear to your repeated calls for a reassessment of our national policies and programs in fighting this pandemic. We know that you will not give up unless everyone is healed. Nakikiusap po ako sa ating pamahalaan na pakinggan ang mga hinaing ng ating medical community (I am appealing to our government to listen to the concerns of our medical community)."
---
Leni Robredo, vice president
Years in government service:
Positions held:

Representative, Third District of Camarines Sur (16th Congress, 2013 to 2016)
Vice President of the Philippines (2016 to 2022)
Home province or city:

City of Naga, Camarines Sur
Controversies:

Faced with an electoral protest filed by 2016 defeated vice presidential candidate Bongbong Marcos. The Supreme Court, acting as the Presidential Electoral tribunal, unanimously dismissed the protest after four years in February 2021.
Achievements:

As vice president:

Opposed President Rodrigo Duterte's war on drugs because of the violence and high number of killings
Designated as co-chairperson of the Inter-Agency Committee on Anti-Illegal Drugs by Duterte himself in November 2019, only to be fired from the job less than a month after.
Gave the anti-illegal drug campaign a "1 out of 100" score in January 2020
Proposed reforms but were ignored by the Duterte government
Launched highly-praised programs through the Office of the Vice President and in partnership with several non-government organizations to address socio economic issues in the country


As Camarines Sur district representative:

Supported the abolition of the Priority Development Assistance Fund at the height of the pork barrel scam controversy in 2013
Voted in favor of the proposed Bangsamoro basic law (BBL); one of the legislators who called for the swift passage of the law that would "fulfill the promise of change in Mindanao in the form of a just and lasting peace"
Pushed for bills seeking to ensure government transparency, combat social inequity, end hunger, and suppor overseas Filipino workers
Statements and actions on the pandemic, West Philippine Sea, and social inequality:

Spearheaded programs related to COVID-19 response, including:
Consistently condemned China for encroachment on Philippine waters
Consistently called out the Duterte government for favoring China amid heightened tension in the West Philippine Sea
---
Antonio Trillanes IV, former senator
Years in government service:

8 years in active military service, 12 years in government
Positions held:

Senator (14th-15th Congress, 2007 to 2013)
Senator (16th-17th Congress, 2013 to 2019)
Home province or city:

Caloocan City, Metro Manila
Controversies:

Faced coup d'etat charges under the Arroyo administration

Arrested in July 2003 after leading over 300 junior officers of the Armed Forces of the Philippines in taking over Oakwood Premier in Makati City to protest alleged corruption in the Arroyo administration and other anomalies within the military.
Faced second rebellion charges in November 2007 after walking out of a hearing in Makati City and taking over the Manila Peninsula with other members of the Magdalo group
Granted amnesty in January 2011 following a general amnesty proclamation for mutineers signed by then-president Benigno Aquino III in October 2010.

Ran for vice president but lost during the 2016 national elections
One of the fierce critics of Duterte and his administration

Launched anti-Duterte television advertisement during the 2016 campaign period, earning the ire of many Duterte supporters
Arrested in 2018 after Duterte revoked the amnesty granted to him for the failed coup attempts. He posted bail and was released.
Faced sedition charges and other complaints in relation to the Bikoy videos, which tagged key members of the President's circle as alleged members of drug syndicates, and other remarks against Duterte

Convicted of libel in May 2021 for accusing former Makati mayor Junjun Binay of buying off Court of Appeals justices in 2015. No jail time was imposed.
Says he will run for president if Robredo decides not to run
Achievements:

Won the 2007 senatorial elections while detained
Considered one of the most productive members of the Senate, filing more than 200 bills in 2018
Consistently opposed the Duterte administration's flagship program, the war on drugs

Submitted a communication before the International Criminal Court, calling the court to hold Duterte and other officials accountable for drug-related killings
Statements and actions on the pandemic, West Philippine Sea, and social inequality:

Led backchannel talks with Chinese officials to de-escalate tension in Scarborough Shoal in 2012, as instructed by then-president Benigno Aquino III
Said that the ongoing tension in the West Philippine Sea must be resolved through:

Bilateral negotiations (both front channel and backchannel)
Multilateral negotiations with claimant states
Increased international pressure through media
Lobby for passage of ASEAN and United Nations statements

Called out the Duterte administration for flawed handling of the coronavirus pandemic

Published proposals on how to contain the virus and address the impact of the pandemic on Filipinos and the economy
---
Eddie Villanueva, CIBAC party list representative
Years in government service:
Positions held:

Citizens' Battle Against Corruption Partylist Representative (18th Congress, 2019 to 2022)
Controversies:

Ran for president in 2004 and 2010, and senator in 2013, but lost.
Some Christian denominations did not support his 2004 presidential run because of the principle of separation of Church and State. But he said that he respects all religions and would not impose his beliefs.
Achievements (most important policies/legislation/advocacy):
Statements and actions on the pandemic, West Philippine Sea, and social inequality:
– with additional research by interns Jana Cruz and Therese Litonjua / Rappler.com