This is AI generated summarization, which may have errors. For context, always refer to the full article.
(3rd UPDATE) PDP-Laban declares all national positions vacant, effectively ousting Senator Manny Pacquiao as party president. But the Cusi faction claims it is not an 'ouster.'
Members of ruling party PDP-Laban ousted Senator Manny Pacquiao as party president, as they declared positions of officers vacant during a national assembly on Saturday, July 17.
The group led by the party vice chairman, Energy Secretary Alfonso Cusi, announced the vacancies of all national officer positions and committee chairs during the party assembly in Clark, Pampanga. This effectively means removing Pacquiao from his position as party president.
Cusi was later elected party president, in place of Pacquiao.
Pacquiao, in response, hit the Cusi faction for prioritizing politics over the coronavirus, considering the entry of the Delta variant of COVID-19 into the Philippines.
"Nakakalungkot na nakapasok na ang Delta variant sa Pilipinas at kapag hindi maagapan, marami ang maaaring mahawa. Ito dapat ang prayoridad ng ating gobyerno," said Pacquiao. (It's unfortunate that the Delta variant has entered the Philippines, and if we fail to act quickly, many people can contract it. This should be our government's priority.)
"Kung sa tingin nila Cusi at iba pa na mas importante ang politika sa ngayon, bahala na sila. Sa huli, isa lang naman ang tanong na dapat sagutin: Sino ba ang sasamahan ng taumbayan?" said Pacquiao. (If Cusi and the others think that politics is more important now, so be it. In the end, only one question needs to be answered: Whom will the people side with?)
President Rodrigo Duterte, in a speech during the PDP-Laban national assembly on Saturday, criticized Pacquiao's nomination as party president. He said party stalwart Senator Aquilino "Koko" Pimentel III violated PDP-Laban rules by naming Pacquiao as acting president in December 2020.
It was first time the first time Duterte mentioned Pimentel, son of party cofounder Nene Pimentel, in the context of the PDP-Laban rift.
"May I just remind Koko that this party, PDP, was asleep for a hundred years. It only woke up during the election when I ran for the presidency under the ticket," Duterte said in a mix of English and Filipino.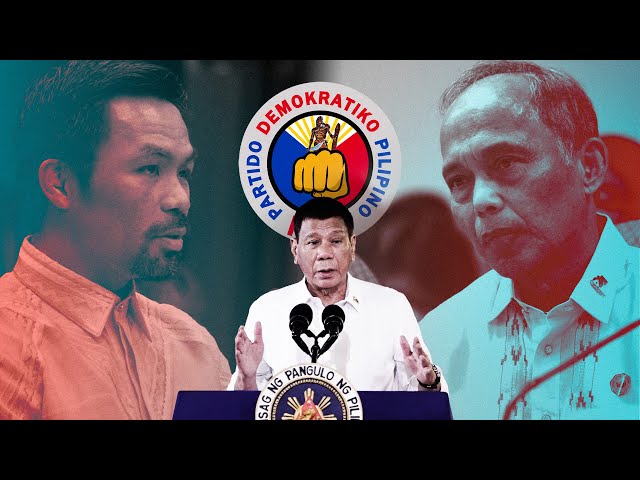 This ends a chapter in a bitter feud within the ruling party, as the Philippines prepares to elect Duterte's successor in May 2022. Pacquiao is touted as one of the leading bets for president, seen as a challenger to Duterte's daughter Sara, who is leading a recent presidential survey.
The declaration of the vacancy of officer positions was made before the election of a new set of officers. The group is waiting for Duterte, party chairman, to arrive in order to begin the elections.
Cusi has long declined to use the term "oust" to describe what was expected to happen at the Saturday meeting, insisting that the election of new officers is being done in accordance with party rules.
To downplay the move against Pacquiao, Cusi and other party officials have said in previous remarks that the election of new officers happens regularly. However, elections have not taken place since 2016 or five years ago.
Pacquiao, currently in the United States for his boxing match with Errol Spence Jr., does not recognize the ongoing meeting.
There have long been some members in the party who never recognized Pacquiao as party president.
It was Pimentel who had given his post of party president to Pacquiao in December 2020.
But the faction led by Cusi and National Transmission Corporation president Melvin Matibag (party secretary general) felt it was unfair for Pimentel to just appoint Pacquiao without going through the process.
"The late Ka Nene Pimentel cofounded this party, and we honor his memory," said Cusi during the party's national council meeting on Friday, referring to Pimentel's father.
"However, we should all be reminded that no one is above our constitution no matter how long you have been with this party," he continued.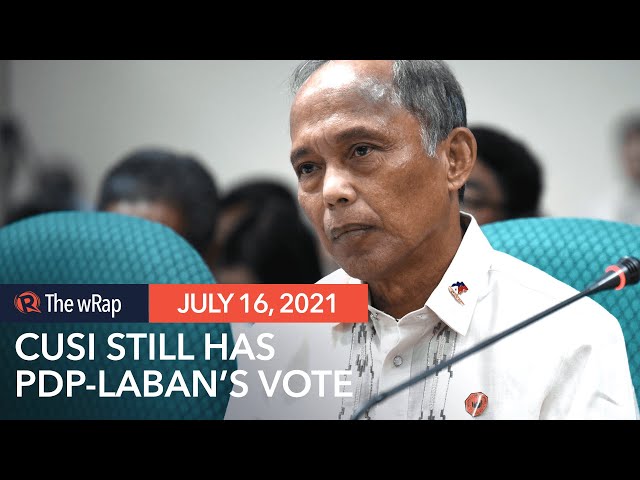 While Malacañang has said Duterte acknowledges and respects that PDP-Laban is the "party of the Pimentels," the President, who is the party chairman, presided over the Cusi-led group's national assembly on Saturday.
He has also recognized past meetings and resolutions adopted by the group yet rejected by Pimentel and Pacquiao's group, including the call to run for vice president in 2022.
The lines drawn may very well be connected to elections next year. Pacquiao is believed to be eyeing a presidential bid. The Cusi-led group in PDP-Laban, meanwhile, has given Duterte free rein to choose his standard-bearer, whether or not he or she is a party member. This has angered Pimentel, who maintains PDP-Laban must endorse one of its own as the party's presidential bet. – Rappler.com