Acting Mayor Mike Rama previously served as Cebu City mayor from 2010 to 2016
Acting Cebu City Mayor Michael "Mike" Rama filed his certificate of candidacy (COC) for mayor of Cebu City on Friday, October 8.
Rama, head of local party PDP-Barug, is running with Cebu City Councilor Raymond Garcia as his vice mayor.

His entire city council and congressional slate filed with him, with the exception of Councilor Joel Garganera, who filed his COC earlier in the day.
Rama previously served two terms as mayor from 2010 to 2016. He lost his reelection bid in 2016 to Tomas Osmeña and was suspended three months before the end of his term.

He told reporters after his filing that his priority if elected mayor would be fixing the city's drainages.

"We have to improve drainage systems because that has been always the outcry because when I left city hall," Rama said. "I left P1.5 billion for drainage. Suddenly, the assumption of my opponent, that it's not there. But thank God there is still P1 billion. We will focus on drainage," he added.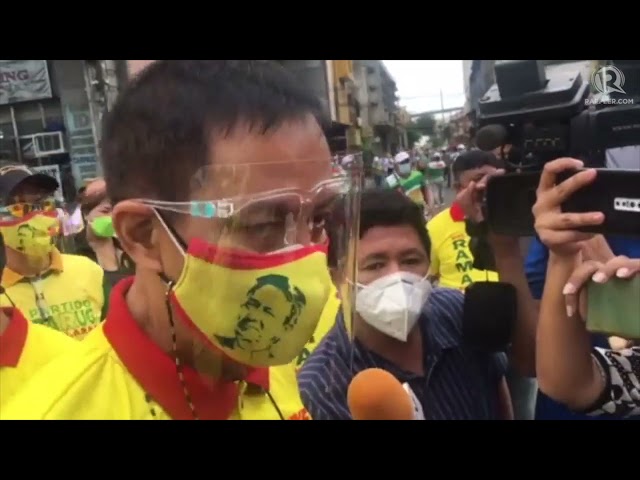 Rama was an ally and served as the vice mayor of Osmeña before the two had a falling out around 2015, mainly over how the former managed the affairs of the South Road Properties, a pet project of Osmeña.

The Partido Demokratiko Pilipino–Lakas ng Bayan affiliated Barug launched its slate with allies Kusug and Marino Tuesday, October 5.

Presidential Spokesperson Harry Roque guested at the slate launch to deliver an endorsement "on behalf of the President."

The city's own Emergency Operations Center later issued a show-cause order the event organizers and the venue for supposed violations of health protocols.
Rama's rival for mayor Margot Osmeña filed her candidacy on Thursday, October 7, while her husband Tomas Osmeña filed his COC for 2nd District representative.
For this election, Rama has the advantage of being allied with the Duterte administration and being active in the local pandemic response, having served as acting mayor during the medical leaves of Mayor Edgar Labella. – Rappler.com