This is AI generated summarization, which may have errors. For context, always refer to the full article.
(1st UPDATE) While the Makabayan bloc has always won seats in the House of Representatives despite red-tagging across presidencies, it has not won a senatorial seat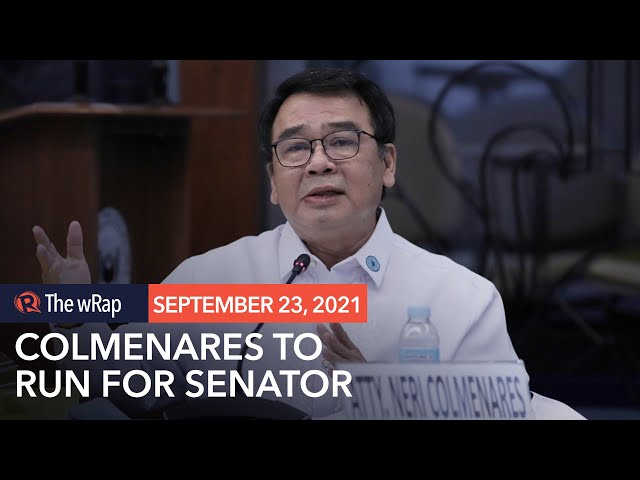 As the Left endures successive blows from the Duterte government, one of their most prominent leaders, former congressman Neri Colmenares, will try again for the Senate in 2022.
"I will be running for senator in 2022. Sana po maisama ako sa inyong listahan (I hope you can include me in your list)," Colmenares said on Twitter on Thursday, September 23.
This would be Colmenares' third senatorial bid. He ranked 24th in the 2019 senatorial elections, a race for 12 that was dominated by allies of President Rodrigo Duterte, and an unprecedented polls where not a single opposition candidate scored a legislative seat. He also ran for the Senate in 2016 but lost.
Colmenares is the chairperson of the progressive partylist Bayan Muna, and also of the National Union of Peoples' Lawyers (NUPL), both of which – along with other progressive groups – have been red-tagged in recent years.
Activists based in the regions, the foot soldier of the national groups especially when it comes to campaigning, have been either harassed, detained, or killed.
Colmenares said these attacks on their members in the regions have had a significant impact on them, "but you need to do something, we have to persist," said Colmenares in a recent Rappler talk interview.
The government, through the National Task Force to End Local Communist Armed Conflict (NTF-ELCAC), is seeking stop the progressive Kabataan partylist from joining the 2022 race.
"Despite that we win in elections because the people believe – they look at our track record. We survive these attacks because we believe we are doing the right things, and the people believe we are needed in Congress precisely because the people believe they need to have a voice there," said Colmenares.
"We have become a respected part of Congress. They will use everything under the sun to eliminate us, pero lalabanan namin 'yan (but we will fight that)."
The recent designation as terrorists of the National Democratic Front of the Philippines (NDFP) is feared to be a signal that political dissenters, who have links to the NDFP as consultants, are next on the terror list. The constitutional challenges to the anti-terror law are still pending before the Supreme Court, with Colmenares as petitioner and counsel in one of the 37 cases filed.
Outside of the anti-terror law, Colmenares has been sued – and cleared – for kidnapping and human trafficking in another legal design to go after activists. In this design, the groups' recruitment of young members are alleged to be cases of kidnapping and human trafficking, but these cases have failed so far.
There's also a series of local court decisions nationwide clearing and freeing activists of crimes like illegal possession of firearms and explosives.
"Sabi nila ang pondo niyo kinukurakot niyo, dinadala niyo sa NPA, sabi namin go to court..Kung may dokumento silang nagsasabing nangurakot kami, e di matagal na kaming natanggal diyan, gustong gusto lang 'yan ng Malacañang kasi kami ang tinik sa lalamunan nila eh, but they can't find anything," said Colmenares.
(They say we corrupted our funds to funnel to the New Peoples' Army, we say go to court. If they have any document to show we are corrupt, we should have been removed from Congress a long time ago. That's what Malacañang wants because we are the thorn in their throats but they cannot find anything.)
And while the umbrella Makabayan bloc has always won seats in the House of Representatives despite red-tagging across presidencies, none from their bloc has ever won a Senate race. The moderate leftist group Akbayan won a senatorial seat in 2016 through Senator Risa Hontiveros.
Colmenares' pitch: "What makes us different, besides the fact that we are noisy, is that we have data and research. Because most of our staff came from the sectors. Our staff has pre-knowledge of the issues of their sectors," he said in a mix of english and filipino on Rappler Talk.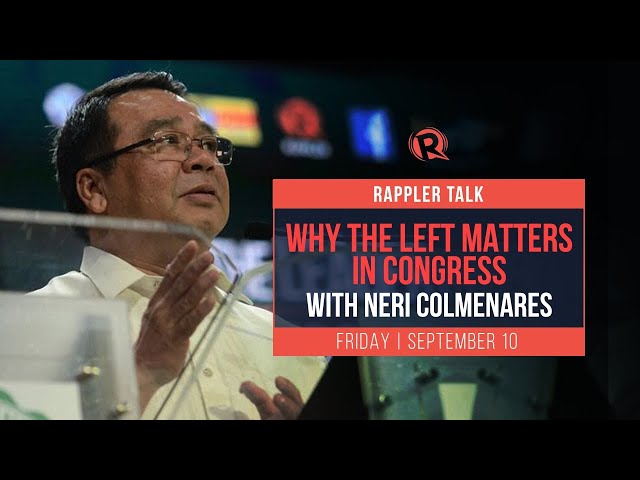 One of Colmenares' challenges in 2019, their perpetual problem, was lack of funds. The 2019 midterm election bid of the opposition as a whole was also tainted by the continued fragmentation of the Left and the liberals.
"Duterte will do everything to stay in power, including use government resources to favor [administration] bets and sabotage the opposition. Thus we have to try harder. Now, with Duterte's dwindling popularity and support, we could win this time despite lack of funds," Colmenares told Rappler in a text message.
This was what coalition 1Sambayan was supposed to address, which Colmenares supported.
Colmenares said he is "open to be part of an inclusive, unified opposition slate."
"We hope Leni, Isko, and Pacquiao can still work out a unified opposition slate to decisively defeat the looming Duterte-Marcos alliance," said Colmenares. – Rappler.com