This is AI generated summarization, which may have errors. For context, always refer to the full article.
(1st UPDATE) 'According to our records, he did not complete his degree, but was awarded a Special Diploma in Social Studies in 1978,' says Oxford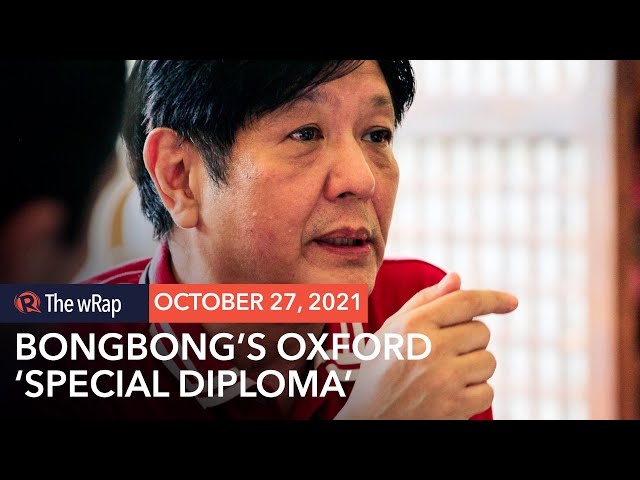 The special diploma given by the prestigious Oxford University in England to presidential aspirant Ferdinand "Bongbong" Marcos Jr in 1978 "was not a full graduate diploma," said Oxford University.
"There is no recorded link between the BA [Bachelor of Arts] and the Special Diploma, and the Special Diploma was not a full graduate Diploma," said Cathy King, private secretary to the registrar at Oxford University, in an email.
The email was sent to Filipino artist Ruston Banal who inquired with Oxford about Marcos' education there. Banal shared the email exchange with Rappler. A second source got the same email response from a different unit at Oxford on the same day on Tuesday, October 26, UK time. Rappler saw both email threads.
Rappler got the same email response from Oxford's Information Compliance Team on Wednesday, October 27.
The Oxford issue blew up recently after Marcos, son of the late Philippine dictator Ferdinand Marcos, filed his candidacy for president in the 2022 elections, and both supporters and critics argued about his education in the United Kingdom in the 70s.
Some supporters argue that a special diploma is the same as a bachelor's degree, which Filipino students in Oxford disputed by releasing a statement last week, saying "a special diploma is not a degree, and neither is it comparable, superior nor equivalent to one."
"We stand by the Degree confirmation which was issued by the University of Oxford. It is up to anyone to question or challenge this with the said university if they so please," said Marcos' lawyer Vic Rodriguez said on Saturday, October 23.
It's what Filipinos did – check with Oxford directly.
Oxford's King said in the emails: "According to our records, he did not complete his degree, but was awarded a Special Diploma in Social Studies in 1978."
A special diploma, as opposed to a BA, would not have been too big of an issue as the Constitution does not even require Philippine presidents to be college graduates. But Marcos had misrepresented his Oxford education before.
In 2015, Marcos' online resumé on the Senate website (he was senator at the time) said he had a "Bachelor of Arts (BA) degree in Political Science, Philosophy and Economics" from Oxford. A separate profile on the Senate website still has this wrong claim online.
Rappler investigated this in February to March 5, 2015, which led to the confirmation that what Marcos earned was a special diploma and not a BA degree.
In a January 2016 interview with ABS-CBN, Marcos said: "I suppose there are differences but ang ending nun (in the end) is that it's a bachelor's degree."
The resumé would afterwards be corrected. Critics ask how Marcos could have qualified to take graduate coursework at Wharton without an undergraduate degree.
King said Marcos was supposed to take his BA in Political Science, Philosophy and Economics, but did not complete it.
"The Special Diploma, which the University no longer offers, was open to both undergraduates and graduates. Non-University members could also read for it under certain circumstances," said King.
"Presidential aspirant Bongbong Marcos has always been forthright on his conferment of a special diploma in social studies by the distinguish [sic] university and has never misrepresented his Oxford education," said Rodriguez, which the archived Senate page and the 2016 interview belie.
Banal, who does image analysis for overseas organizations, was examining the authenticity of the Oxford diploma dated March 31, 2015 – after Rappler published the stories – which Marcos presents now. The diploma was signed by Ewan McKendrick, Oxford registrar.
McKendrick told Banal in an email that he has retired from Oxford and would not be able to help. Banal then emailed the current registrar, Gill Aitken CB. It was King, private secretary to the registrar, who replied to Banal. – Rappler.com