This is AI generated summarization, which may have errors. For context, always refer to the full article.
The two meet following months of tension and an ugly word war between factions of PDP-Laban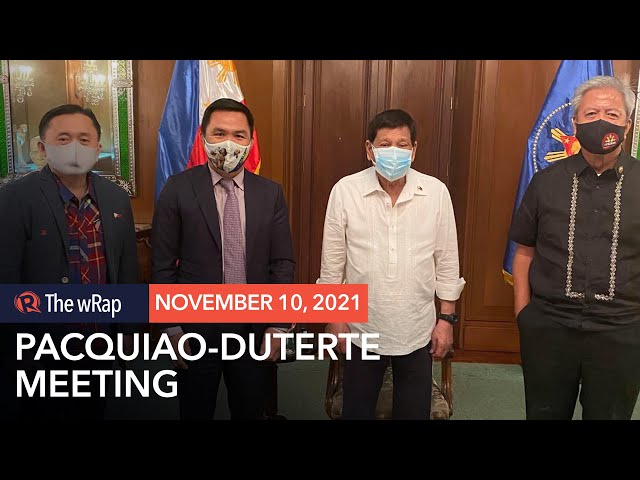 Senator Manny Pacquiao met with President Rodrigo Duterte, months after the two waged an ugly word war that divided the ruling party PDP-Laban.
Pacquiao and Duterte met reportedly on Tuesday night, November 9. Senator Bong Go and Pacman Representative Eric Pineda were also present at the quick meet initiated by Pacquiao.
According to the Pacquiao camp on Wednesday, November 10, the meeting was "between national leaders who discussed certain matters related to people's interest and Mindanao development, specifically infrastructure and [the] power industry."
Senator Aquilino "Koko" Pimentel III, chairman of the PDP-Laban faction led by Pacquiao, told Rappler that he was informed that the senator's visit was a courtesy call "between and among friends."
Asked whether Pacquiao's visit will have any implication on party matters, Pimentel answered by recalling that the Cusi camp filed the petition with the Commission on Election. "We didn't initiate it."
The other faction of PDP-Laban led by Energy Secretary Alfonso Cusi and Malacañang have yet to release more details on the meeting.
The slugfest within PDP-Laban became official when the Cusi's group held a national council meeting in late May, with Duterte's blessing. The Cusi faction wanted the other faction declared as "illegitimate" by Comelec. The election body is eyeing a decision before the year ends.
It may be recalled that the Pacquiao wing of PDP-Laban was incensed when Duterte lambasted the senator in public for his remarks on fighting corruption. At the start, Duterte did not name Pacquiao in his rants.
Pacquiao's faction of PDP-Laban also previously said that Duterte "no longer represents" the values of the party.
This development also comes as presidential daughter Sara Duterte withdrew her bid for reelection as Davao City Mayor, as well as Go hinting at possibly withdrawing his vice presidential bid. – Rappler.com