(4TH UPDATE) PROMDI standard-bearer Manny Pacquiao casts his vote in Kiamba town, Sarangani
SARANGANI, Philippines – PROMDI standard-bearer Manny Pacquiao cast his vote on Monday, May 9, concluding a demanding 90-day campaign for the presidency.
Pacquiao arrived at the Kiamba Central Elementary School in Sarangani province before noon on Monday. His home is General Santos City is a two-hour travel from Kiamba.
The world boxing champion is behind presidential front runner and dictator son Ferdinand "Bongbong" Marcos Jr. by 49 points as of the last pre-election survey.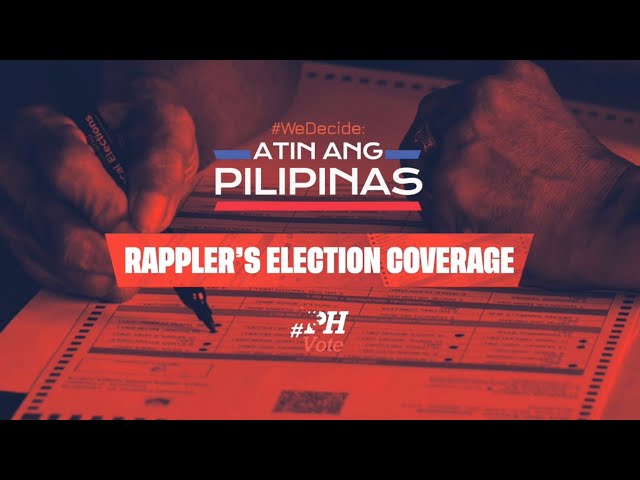 Pacquiao has repeatedly slammed Marcos Jr. and his family and cautioned against a return of martial rule under him. He warned that Filipinos will "end up regretting" voting for Marcos Jr. over corruption issues.
During the campaign, Pacquiao has consistently told the public that he will not back down from any fight. He believes that the "true" survey is on election day.
Pacquiao arrived at his clustered polling precinct past 11 am.
Before this, the queue for voting was already long. He went straight to the waiting the area, where people started crowding around to see him while some asked for photos with him.
After a while, he went directly to the voting area. Speaking to reporters, Pacquiao denied cutting the line and said that he did line up. "Pumila ako. (I lined up)," he said. Asked if there was representative who lined up on behalf of him, he said nobody did.
Inside the voting precinct, Pacquiao showed reporters he voted for himself and running mate Lito Atienza.
Pacquiao said he voted 10 senatorial candidates, including Monsour del Rosario because he is a "candidate for sports."
After voting, Pacquiao told reporters that he remained confident he could top the presidential race. He reiterated his disbelief in surveys, claiming that not enough people from Class D and E were surveyed by polling firms.
"Kung titignan mo, mind conditioning 'yan. Kung mahina loob mo, madidiscourage ka," he said. (If you think about it, this is mind conditioning. If you have a faint heart, you will get discouraged.)
Amid reports of vote counting machine glitches, Pacquiao said he had trust in the Commission of Elections (Comelec), the police, and the military. But he asked the people to continue guarding their votes. "Kung kayo may alam, magsumbong na kayo kung sino 'yung planong may mandaya kasi kung ano kahinatnan ng ating bansa tapos kayo may alam 'di ka nagsalita kayo rin ang dahilan," he said. (If you know something, complain to authorities the people who have plans to cheat because whatever happens to our country and you know something but you did not do anything, you are part of the reason that happened.)
It is still unclear where Pacquiao intends to monitor election results. He told reporters he might stay in General Santos City, but he said he will still discuss it with his team. The other option is to return to Makati City, where he lives and his campaign headquarters is located. – Rappler.com