Senator Panfilo Lacson says that for now, non-administration candidates are at least 'united' in acknowledging that they should join forces to see 'renewal' after the 2022 elections
To win against President Rodrigo Duterte's favored candidate in 2022, non-administration candidates need to agree to an "action plan" more than just unity talks, presidential hopeful Senator Panfilo Lacson said on Wednesday, August 11.
"We are now at a stage if we should talk or not. If the parameters are clear with regards to what we will talk about, why not, because, after all, it is important that non-administration candidates unite," Lacson said in a Rappler Talk on Wednesday, August 11.
He said that so far he has spoken with two other possible presidential candidates, including Vice President Leni Robredo, who had earlier rejected his unification plan
The other is senator Manny Pacquiao, who had been unseated as president of the ruling PDP-Laban as his partymates led by the new party president, Energy Secretary Alfonso Cusi, move to support another potential presidential candidate.
"The flow of the conversation was the same: How can we unite? But until we can reach something I call an action plan, nothing will happen with our talks," Lacson said.
The senator acknowledged that based on current surveys, the chances of opposition candidates, if they run on their own, are bleak.
"It is important that non-administration candidates unite so that what we had for the last six years would be replaced or see renewal. We are at least all united in this," said Lacson.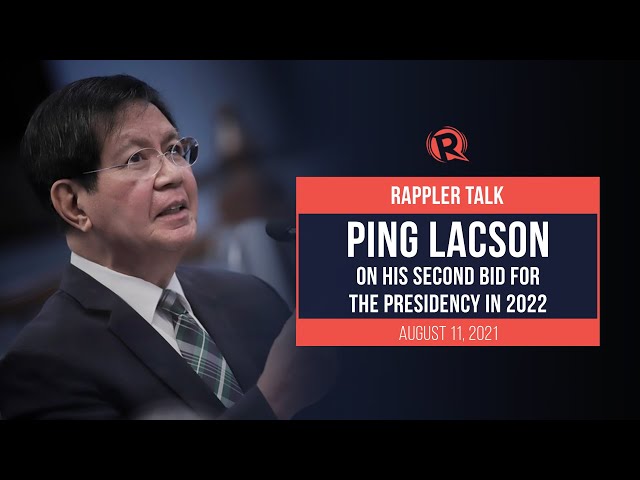 Wait and see in the opposition
Lacson is no stranger to gunning for the highest public office in the land. In 2004, he ran for president alongside the incumbent, Gloria Arroyo, and four others. He placed third.
The senator said he had the "divided opposition" problem in mind when he pitched his unification plan to Robredo, but was disappointed to face "outright" rejection.
"If that will be our basis and that we will not find a middle ground, it will be difficult to talk again, because it would be a waste of time. That is my disappointment. I hoped that her answer was, 'Okay, let's study this,'" Lacson said in Filipino.
Robredo rejected Lacson's plan because it involved opposition candidates running and then withdrawing if they trailed in the surveys, in favor of the leading opposition candidate.
Robredo disagreed with this – she said that if she would decide to run for president, she would see through her campaign until the end. The Vice President is also conducting "exploratory talks" with other political camps in a bid to forge a broad coalition to bolster the opposition candidate's chances in 2022.
Lacson hopes to speak with other non-administration candidates after they come out to the public with their 2022 election plans.
So far, Lacson and Sotto are the only potential candidates for president and vice president, respectively, who had publicly declared their intention to join the 2022 race. – Rappler.com