(3rd UPDATE) Senator Koko Pimentel says, however, that Pacquiao did not violate the PDP-Laban's constitution
PDP-Laban said on Sunday, October 3, that it had "automatically expelled" from the party its erstwhile party president, Senator Manny Pacquiao.
In a statement to media, the ruling party said the champion boxer was kicked out for filing his presidential candidacy under a different banner, the Cebu-founded Progressive Movement for the Devolution of Initiatives (PROMDI).
The day before, on October 2, PDP-Laban had said Pacquiao's filing of his candidacy under PROMDI was proof that he had "abandoned" the party. PDP-Laban secretary general Melvin Matibag had also sent reporters a portion of the party's constitution, which said "filing a certificate of candidacy for any office or position under auspices of another political party" was grounds for automatic expulsion.
Matibag on October 3 said the party's national executive committee met on October 1 – the day Pacquiao filed his candidacy. The same day, the committee approved Pacquiao's "automatic expulsion."
"I don't think if they have ever thought of the repercussions of their actions. Etong pagtalon-talon ng iba't ibang partido ni Senator Pacquiao ay talagang matagal na niyang gawain, kapag nakita na niyang hindi umaayon sa kagustuhan niya ang partido," said Matibag of Pacquiao, who had been ousted as party president by the Cusi-led faction.
(It has been Senator Pacquiao's habit of switching parties if he sees that the party isn't doing what he wants.)
Pacquiao's "automatic" removal from the party is the latest in an ongoing battle over two factions – the President Rodrigo Duterte-allied faction headed by Energy Secretary Alfonso Cusi and the faction headed by Pacquiao and Senator Koko Pimentel, son of party founder, the late Nene Pimentel.
The Cusi-led faction had recently asked the Commission on Elections (Comelec) to declare the Pacquiao and Pimentel-led faction "illegitimate." Comelec has yet to decide on the case.
Matibag said Pacquiao's supposed "biggest and obvious violation of the PDP-Laban constitution" proves that their faction "is the nuisance and illegitimate group of the PDP-Laban."
Pimentel responds
In a statement Sunday, October 3, Pimentel said that Pacquiao did not violate the PDP-Laban's constitution.
He said that the party's national executive committee passed Resolution No. 12, effectively allowing Pacquiao to use PROMDI's certificate of nomination and acceptance in filing his candidacy.
Pimentel added that this resolution supports that "everything is normal and in order per our party constitution."
"[It is] so easy to explain. Cusi+Matibag do not know the facts," Pimentel said.
"The 'issue' being propagated by Cusi+Matibag is a figment of their imagination which they want to use for their own political propaganda," the senator added.
Instead of focusing on Pacquiao, who the Cusi wing had previously ousted, Pimentel said that Matibag "has a lot of explaining to do" with the surprise filing of Senator Bong Go for vice president.
"They have filed a COC with Senator BG for VP without any formal and public nomination from their group. What is happening to their group?" said Pimentel.
"Don't they coordinate at all? Don't they observe any formalities at all? Are they a group of people who just change their minds in an instant and then that is already the group's decision?" the senator asked.
Earlier, the Pacquiao faction alleged that the Cusi wing has "another candidate" in mind for presidency, despite nominating Go.
In a statement sent to reporters on Sunday evening, October 3, Matibag confirmed they didn't know about the supposed alliance with PROMDI. "The group of [Pimentel] is a usurper, hence, whatever Resolution he says he approved is illegitimate and whatever he says on behalf of PDP-Laban is unauthorized," he said.

Matibag reiterated Pacquiao's filing of his candidacy under PROMDI despite being a PDP-Laban member "are grounds for automatic expulsion."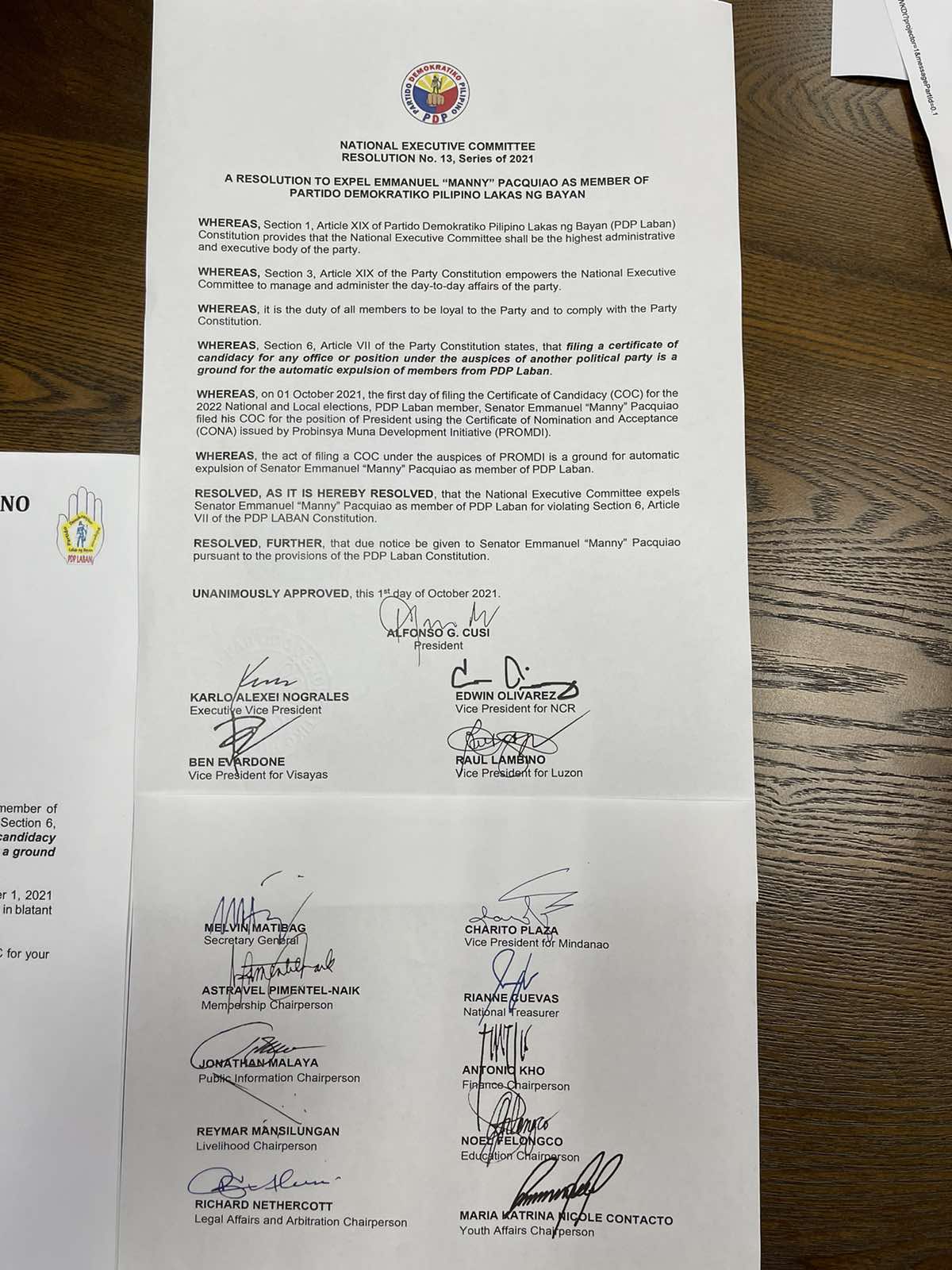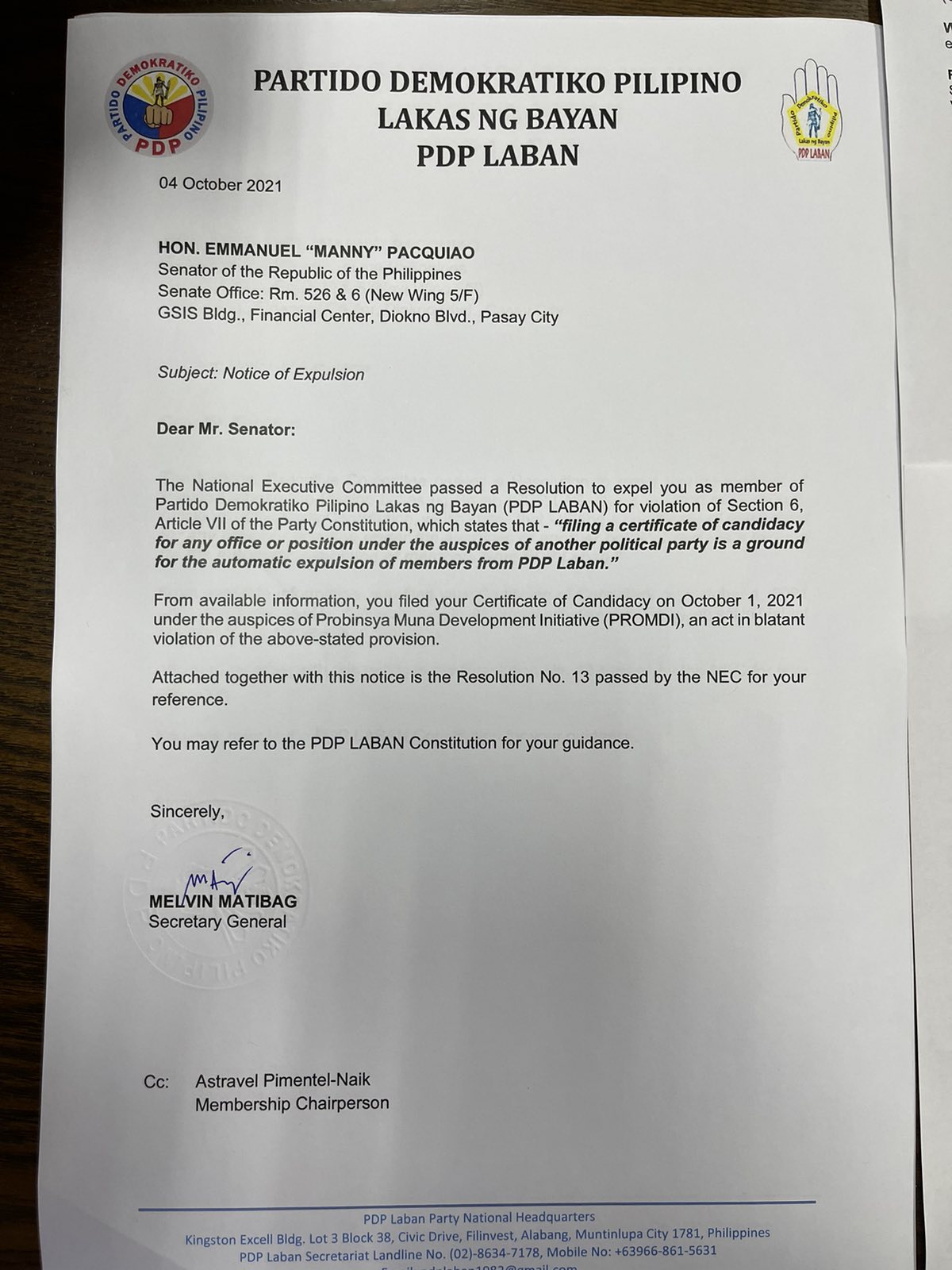 The Cusi-led faction on Monday, October 4, released a copy of the notice against Pacquiao.
The resolution, dated October 1, was signed by the group's top leaders including Cusi, Executive Vice President and Cabinet Secretary Karlo Nograles, and its Vice Presidents for NCR, Visayas, Luzon, and Mindanao – Parañaque Mayor Edwin Olivarez, Eastern Samar Governor Ben Evardone, Secretary Raul Lambino, and Philippine Economic Zone Authority chief Charito Plaza. 
2022 bets
Pacquiao is running alongside House Deputy Speaker and Buhay representative Lito Atienza.
PDP-Laban has yet to announce who it will be fielding for the presidential race, following Go's surprise filing for the vice presidency. Go had been nominated to be the party's standard bearer, a nomination he declined twice.
The ruling party was supposed to field Duterte himself as their vice president bet, but citing the "overwhelming sentiment" of voters against a vice presidential run, the President and long-time Davao mayor said he would be retiring from politics.
Duterte's daughter, incumbent Davao mayor Sara Duterte on October 2 also filed her candidacy for her third term as mayor. While this would typically mean presidential survey front-runner Sara is out of the presidential race, that isn't necessarily the case here.
In 2015, the older Duterte filed his candidacy for mayor, shutting down speculation that he would run for president. Months later, however, he withdrew that candidacy and instead filed his candidacy for president via substitution.
For the 2022 elections, substitution is allowed until November 15. – Rappler.com