'I will ask the people.... I will seek out the 2016 and 2019 allies and all my political friends,' says the Davao City mayor on how she's making her decision about the upcoming elections
Once again, another national election and the political fate of many hinge on the decision of a Davao City mayor.
Everyone – from business tycoons to political strategists – is waiting for Sara Duterte to decide on 2022: Will she run for president or vice president? If she does, who will she choose as her running mate or standard-bearer?
One major reason her impending 2022 decision has everyone on tenterhooks is because, to a large extent, it could influence the political moves of her father, President Rodrigo Duterte, the country's dominant political force.
Sara, at 43, is young for a presidential contender by Philippine standards. Like her father, her only experience in government is at the local level, but she has clocked in far less time, serving only two terms as mayor and one term as vice mayor. 
But that has done nothing to douse the hype around her possible presidential candidacy.
Five national political parties are now lining up for an alliance with her regional party, Hugpong ng Pagbabago (HNP).
Even some members of Duterte's political party PDP-Laban won't say no to endorsing her for president, even if she is a party outsider.
Politicians with 2022 ambitions are flying to Davao City to pay her court. Small groups in different parts of the country are holding rallies or putting up billboards in support of her possible presidential bid.
But what will it take to convince her to run?
People around the presidential daughter say she is genuinely hesitant to run for the highest elected office.
Former Davao del Norte governor Anthony del Rosario, who is also HNP secretary-general, says there are several reasons making Sara think twice.
"One of the things that she keeps thinking about is whether or not she wants to run for Davao City mayor. Because, initially, she wanted to finish her three terms. She would like to finish the programs or projects she started five years ago," Del Rosario told Rappler.
Both her parents, the President and Elizabeth Zimmerman, have advised her against seeking a national post. Duterte's reason: he doesn't want his daughter subjected to the character assassination and intense politicking that come with the presidency. Elizabeth's reason, according to Sara, was that she would "miss" her daughter if she left Davao City.
Seeking advice
Despite the apparent opposition of her parents, Sara wants to make up her own mind.
"I will ask the people. I want to personally hear what they have to say. I will seek out the 2016 and 2019 allies and all my political friends from 2007 until today," she told Rappler on Wednesday, July 7.
Sara has been seen meeting with both national and local politicians. The most recent meetup was with Cebu Governor Gwen Garcia on Friday, July 9. In a media interview after the meeting, she said she came to consult Cebuanos on her 2022 plans. She answered in the affirmative when asked if she was open to running for president.
"What's important now is we know the sentiments of the people and what they really want," she said in Bisaya.
On June 15, Sara attended a dinner hosted by Senator Imee Marcos. Before that, the senator and her brother Ferdinand "Bongbong" Marcos Jr. had lunch with Sara in Davao City in honor of her birthday.
According to Del Rosario, both Marcoses are being floated by some camps as possible running mates for Sara. Also being considered are House Majority Floor Leader Martin Romualdez, former defense chief Gilbert Teodoro, and Manila Mayor Isko Moreno.
In March, Sara said she had been getting monthly visits from Speaker Lord Allan Velasco and his wife Wen, convincing her to run for president. Velasco is also a member of President Duterte's political party, PDP-Laban.
Sara has asked for until the end of July to give HNP her final decision. Those running in 2022 must file their certificates of candidacy with the Commission on Elections in October.
If she decides not to run for a national post in 2022, the parties that ally with HNP could still benefit from being associated with the President's daughter. It would still allow her to wield political influence, perhaps in preparation for future elections.
HNP and Sara would then campaign for President Duterte's candidates. Duterte himself is considering running for vice president.
What does the father really want?
But what is further obfuscating the pro-Duterte political alignments is Duterte himself.
If you ask Sara, her father is against her presidential bid. He said as much in their January 8 meeting.
"Very good," he supposedly told her when she said she had no intention of seeking the presidency.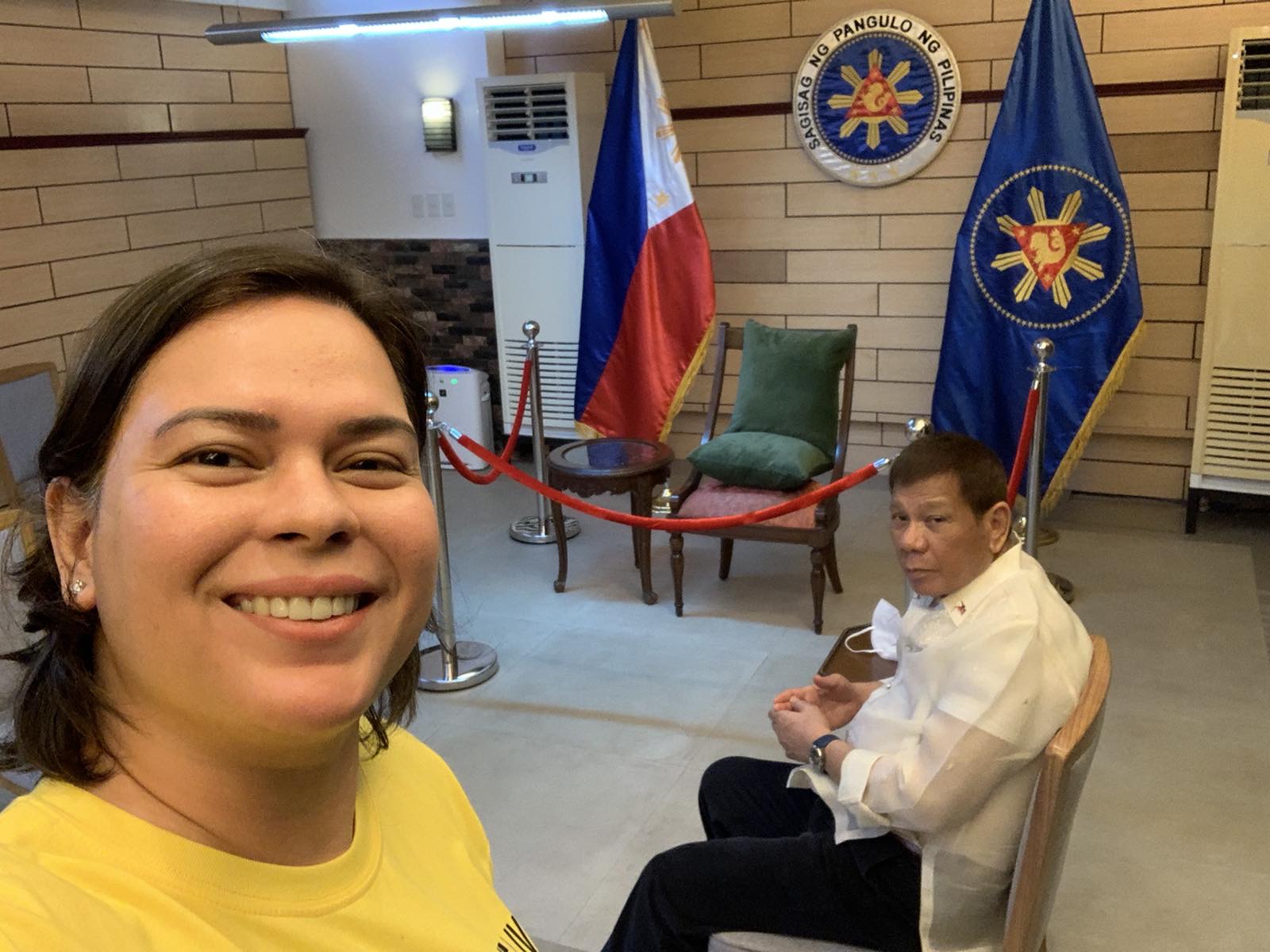 But if you ask his spokesman Harry Roque, Duterte secretly wants her to run and it's Sara who refuses.
"He really wants Sara to run, but Mayor Sara really does not want to run," said Roque on Thursday, July 8.
But Roque, too, has skin in the game. The spokesman is still harboring hopes of winning a Senate seat. He's declared he will only run for senator if Sara runs for president.
Meanwhile, Duterte is determined that an ally will succeed him so that, if he wins the vice presidency, he won't be isolated the way he isolated Vice President Leni Robredo.
If survey numbers were to be Duterte's sole consideration, Sara would be his best bet. A Pulse Asia survey in December 2020 found that 26% of Filipinos would vote Sara for president, followed by Ferdinand Marcos Jr (14%), Grace Poe (14%), Isko Moreno (12%), and Manny Pacquiao (10%).
Roque had said in late June that Duterte was considering endorsing Pacquiao, Marcos, or Moreno for president. But if Sara, his favorite child, decides to run, will Duterte put aside his qualms and campaign for her?
Factions in Duterte's circle
The specter of Sara's presidential bid is already fuelling infighting within Duterte's own national political party.
Pacquiao, PDP-Laban party president, has expelled party vice chairman and energy chief Alfonso Cusi for allowing the party to endorse even non-members like Sara for president.
It's also difficult to imagine Senator Bong Go, Duterte's longtime aide said to be eyeing a 2022 electoral bid, challenging Sara.
All this drama could be for nothing if Sara decides not to seek the presidency after all.
But until she firms up her 2022 plans, many a politician will be playing wait-and-see. – Rappler.com