(1st UPDATE) Poll workers, mostly teachers, will receive a pay bump in their honoraria, as well as communication, travel, and anti-COVID-19 allowance
Electoral boards (EB) – mostly teachers – who will man the vote in the 2022 elections will get an increase of as much as P3,000 in their honoraria and other allowances, according to a Commission on Elections (Comelec) resolution released on Friday, November 12.
The pay hike includes an additional P1,000 honoraria across the board, namely chairpersons of the electoral board, EB members, Department of Education supervisor officials (DESO), and their support staff.
All of them will also receive an additional P1,000 travel allowance – from P1,000 in 2019 to P2,000 in 2022.
Except for the EB chairperson, poll workers will also receive P500 worth of anti-COVID-19 allowance, while the DESO and support staff are entitled to an additional P500 for their communication allowance.
Medical personnel will also receive a P3,000-honorarium, as well as travel and anti-COVID-19 allowance.
The summary of the pay hike can be seen below: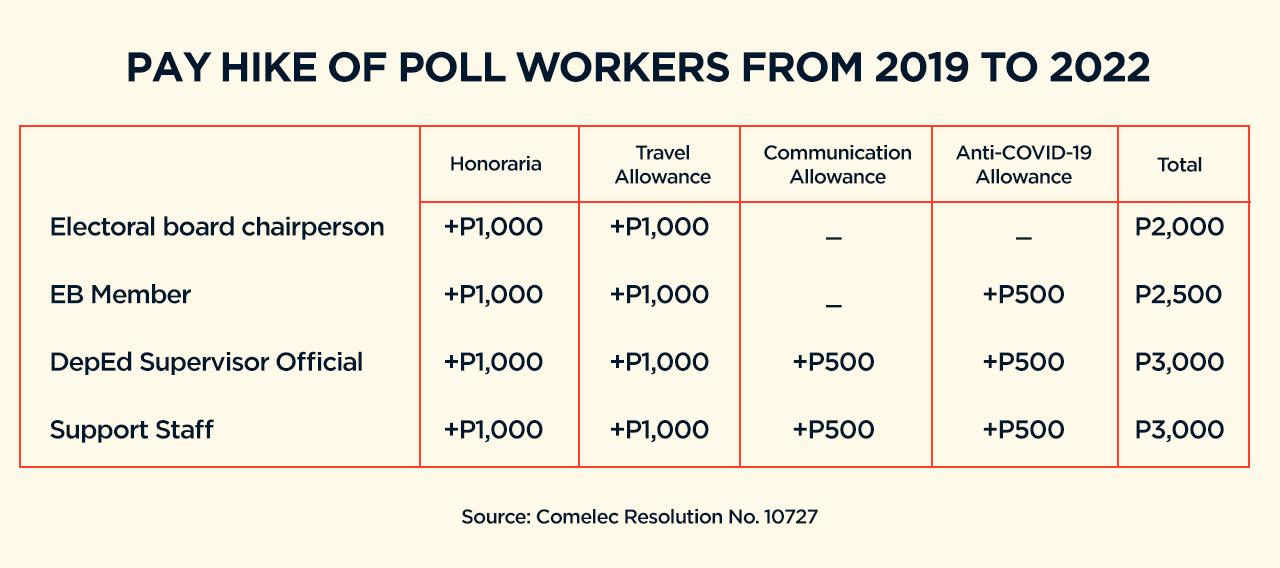 The second table below, meanwhile, compares what poll workers received in 2019, and what they will receive in 2022.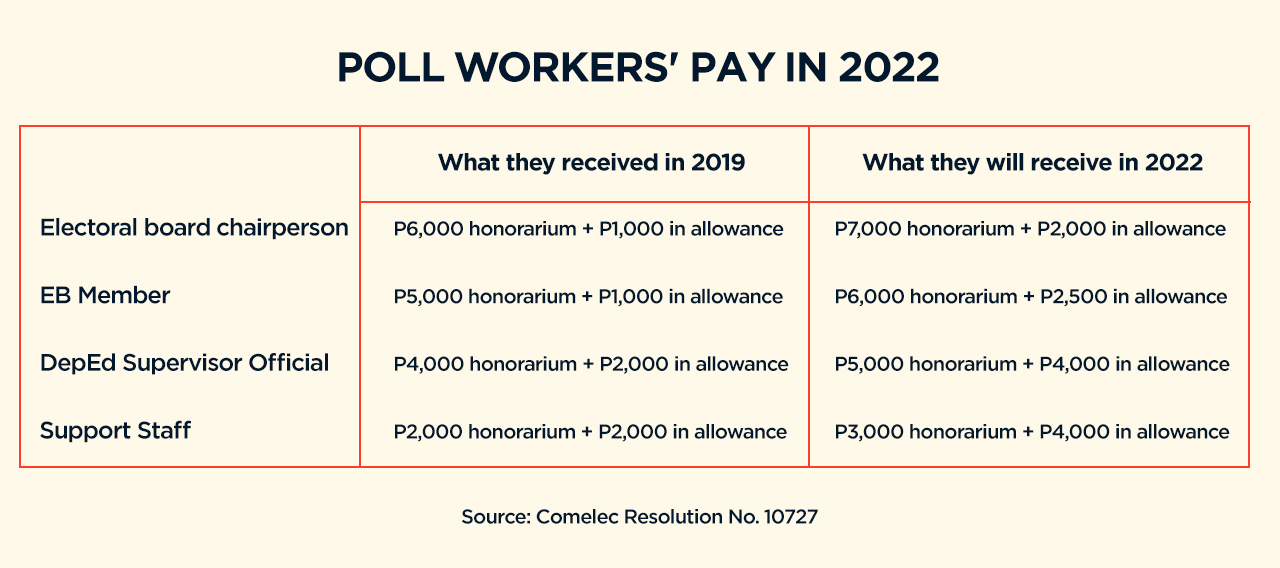 "Preference [for electoral board members] shall be given to individuals who are fully vaccinated, without comorbidities, and below 60 years old," according to Comelec Resolution 10727, which also detailed other general instructions for the electoral boards.
This is the first honoraria increase for electoral boards since the passage of Election Service Reform Act in 2016, which specified the pay of poll workers.
The law states that the poll body and the DepEd must review election workers' pay every three years.
In June, the education department said the Comelec approved its proposed P3,000 increase in honoraria alone.
But in August, the Comelec had warned that electoral boards' pay would be "one of the most affected" after the executive branch slashed the election body's proposed 2022 budget from from P41.99 billion to nearly P26.5 billion.
In September, Comelec Chairman Sheriff Abas told lawmakers the poll body was eyeing a P2,000-increase in honoraria across the board.
He also said that the executive branch rejected the poll body's request to allot funds for the hazard pay of poll workers, who would serve on election day against the backdrop of the COVID-19 pandemic.
Act Teachers Representative France Castro previously proposed a P4,000-increase in honoraria across the board due to the demands of election-day duties.
"Teachers spend an entire day during elections. They also attend trainings and webinars. They also go to the school ahead of election day to prepare the rooms and machines," Castro had said. – Rappler.com