Aside from pandemic-driven procedural changes, proposed reforms that may change the system itself could further complicate the government's preparations
A ban on face-to-face campaigns. Mail-in voting. Hybrid elections. A no-elections scenario.
Various stakeholders have proposed these changes to the way elections are held in the Philippines, as the country gears up for the 2022 elections – the first to be conducted nationwide in the middle of a global health crisis.
Nothing has been approved yet, but nothing has been ruled out either. The Commission on Elections (Comelec) and poll watchdogs are looking at the Palawan plebiscite held last March as a blueprint for next year's polls. They are also studying the experiences of countries which held large-scale voting during the pandemic.
Rappler takes a look at some of the proposed electoral reforms and their status.
Ban on face-to-face campaigns
The Comelec has been clear from the start: guidelines for in-person campaigning will be strict to avoid the possibility of campaign sorties becoming super-spreader events. How tough the guidelines will be remains a question.
There have been hints in recent months. On February 2, Comelec spokesman James Jimenez raised the possibility of prohibiting face-to-face campaigns, but then acknowledged a day later that an outright ban "might be a bridge too far," following pushback from lawmakers.
Bayan Muna Representative Carlos Zarate said a ban on face-to-face campaigning would "extremely favor rich candidates and further disenfranchise poor candidates and voters." Senator Francis Pangilinan, who heads the opposition Liberal Party, suggested allowing "small meetings of 10 to 30 people," where physical distancing could be better enforced.
Jimenez, in a Rappler Talk episode aired on May 10, acknowledged that the digital divide would make it unlikely for a ban on face-to-face campaigning to materialize. He added that reducing the allowed number of attendees in a campaign sortie would be more feasible.
"Traditionally, we usually allow as many people as possible to join a rally. That can't happen anymore. There will have to be an attendance limit," Jimenez said.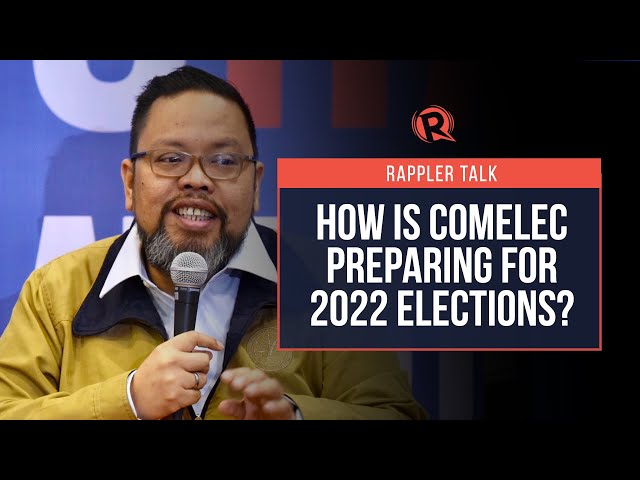 Some poll watchdogs have thumbed down an outright ban on face-to-face campaigns.
Kontra Daya said any restrictions must have a scientific basis. The Legal Network for Truthful Elections (LENTE) meanwhile pointed out that a concrete national strategy would be necessary, drawing from the experience of the Palawan plebiscite.
Mail-in voting
For the 2020 general elections, the United States heavily relied on absentee and early voting, with 101 million Americans casting their ballots before election day.

During the same period in the Philippines, Comelec Commissioner Rowena Guanzon and some lawmakers already pushed for mail-in voting for 2022. Marikina Representative Stella Quimbo and Senator Imee Marcos had sought postal voting ahead of election day for senior citizens.

Both proposals are pending at the committee level, as lawmakers are divided on the idea. Senate President Vicente Sotto III even said it was the "easiest system of voting to cheat."

Guanzon pointed out, however, that the success of a potential mail-in voting scheme would depend on the capabilities of the Philippine Postal Corporation (Phlpost).
For LENTE, it is difficult to rely on the government's postal system.
"It hurts to say this, but, unfortunately, our postal system is not good compared to the U.S. postal system. We depend more on private carriers," LENTE executive director Ona Caritos told Rappler in Filipino on April 19.
"Given the situation now in Congress, mail-in voting is unlikely to happen. The Comelec has already procured this year the materials that will be used for next year," she added.
In February, Comelec Commissioner Marlon Casquejo expressed openness to conducting voting by mail for the May 2022 elections. He also told senators that the poll body and Philpost "can do a pilot test."
There have been no updates on the planned pilot test since then, but Jimenez told Rappler in May that mail-in voting as an option is still a possibility.
"It hasn't been taken off [the table] yet," Jimenez said in a text message on May 7.
Hybrid elections
Discussions on the potential shift to hybrid elections began in 2019, following the conduct of the midterm elections. The idea meant combining the old manual process of voting, and the automated process of transmitting and canvassing the results.
Election watchdog National Movement for Free Elections and Senate President Sotto welcomed the idea in 2019. Comelec Chairman Sheriff Abas also told senators in September 2020 that he was "amenable" to the idea.
Abas, however, also said the poll body would be unable to enforce hybrid elections in 2022 if no law is passed by January 2021.
As of December 2020, the bill filed by Senator Imee Marcos was "pending second reading." Similar proposals filed in the House have not moved past the committee level.
If ever the 18th Congress passes a law on hybrid elections, Comelec Commissioner Antonio Kho Jr. hopes that it will not take effect for the 2022 polls, citing time constraints.
"What we ask Congress is that, in case a hybrid election law will be passed, there must be a provision in the law giving the Comelec the discretion to implement the hybrid election come 2025," he said in a mix of English and Filipino during an online forum on May 10.
No-elections scenario
Pampanga 2nd District Representative Mikey Arroyo drew flak in September 2020 for floating the idea of postponing the 2022 elections due to the pandemic. He later clarified that he only meant the suggestion as a "last resort."
Comelec, poll watchdogs, and various stakeholders have strongly opposed the idea of suspending May 9, 2022, polls. After all, the 1987 Constitution is clear that "unless otherwise provided by law, the regular election for President and Vice-President shall be held on the second Monday of May."
There is currently no formal push in the legislative branch to postpone the elections. Comelec also said a no-elections scenario is unlikely, but noted that the public must watch out for politicians who will lobby against the conduct of polls on May 9, 2022.
"[The public] should be worried about people pushing for a no-elections scenario. But whether or not a no-election scenario is likely to happen, we are very firmly in the 'it is unlikely to happen' category," Jimenez said.
Comelec has its work cut out
The Comelec and various stakeholders are in a race against time to get all things done before May 9, 2022, when Filipinos participate in the electoral process regardless of the threat of the pandemic.
The poll body acknowledged that preparations are happening at an unprecedented pace as a result of the burdens created by the pandemic.
"There's going to be a lot of changes, new things coming up, and everyone is just really struggling to stay on the cutting edge of everything," Jimenez said. – Rappler.com