This comes less than a year before the May 2022 elections, where Manila Mayor Isko Moreno is one of the most viable challengers to succeed President Rodrigo Duterte
In the middle of a pandemic, the Department of the Interior and Local Government (DILG) reissued a 2019 show cause order against Manila Mayor Isko Moreno for supposedly failing to pass standards on running anti-drug abuse councils.
Then, after a media firestorm, the DILG withdrew it.
Questions hound both the DILG and Moreno's camp for the ensuing drama less than a year before the May 2022 elections that will elect President Rodrigo Duterte's successor.
Moreno is seen as a possible challenger to the administration's 2022 bets, even placing second to Sara Duterte and President Rodrigo Duterte himself in surveys on possible presidential and vice presidential candidates.
The DILG, on the other hand, is a department that has been used in the past for political purposes given its supervision of local governments and their chief executives.
Pressing question for DILG
First, how could the DILG have mistakenly sent out the show cause order two years after it was first issued?
The show cause order, dated July 9, was issued by Interior Undersecretary Ricojudge Echiverri.
Echiverri is the son of former Caloocan mayor Enrico "Recom" Echiverri. In 2019, he filed administrative complaints against 25 mayors for failing to establish anti-drug abuse councils, a DILG requirement. He was interior assistant secretary back then.
Even the DILG spokesperson is clueless about Echiverri's order.
"I honestly do not know because his (Echiverri's) office was the one who issued it," spokesperson Jonathan Malaya told Rappler on Friday, August 6.
Rappler has sought Echiverri's side on the matter. We will update this article when he responds.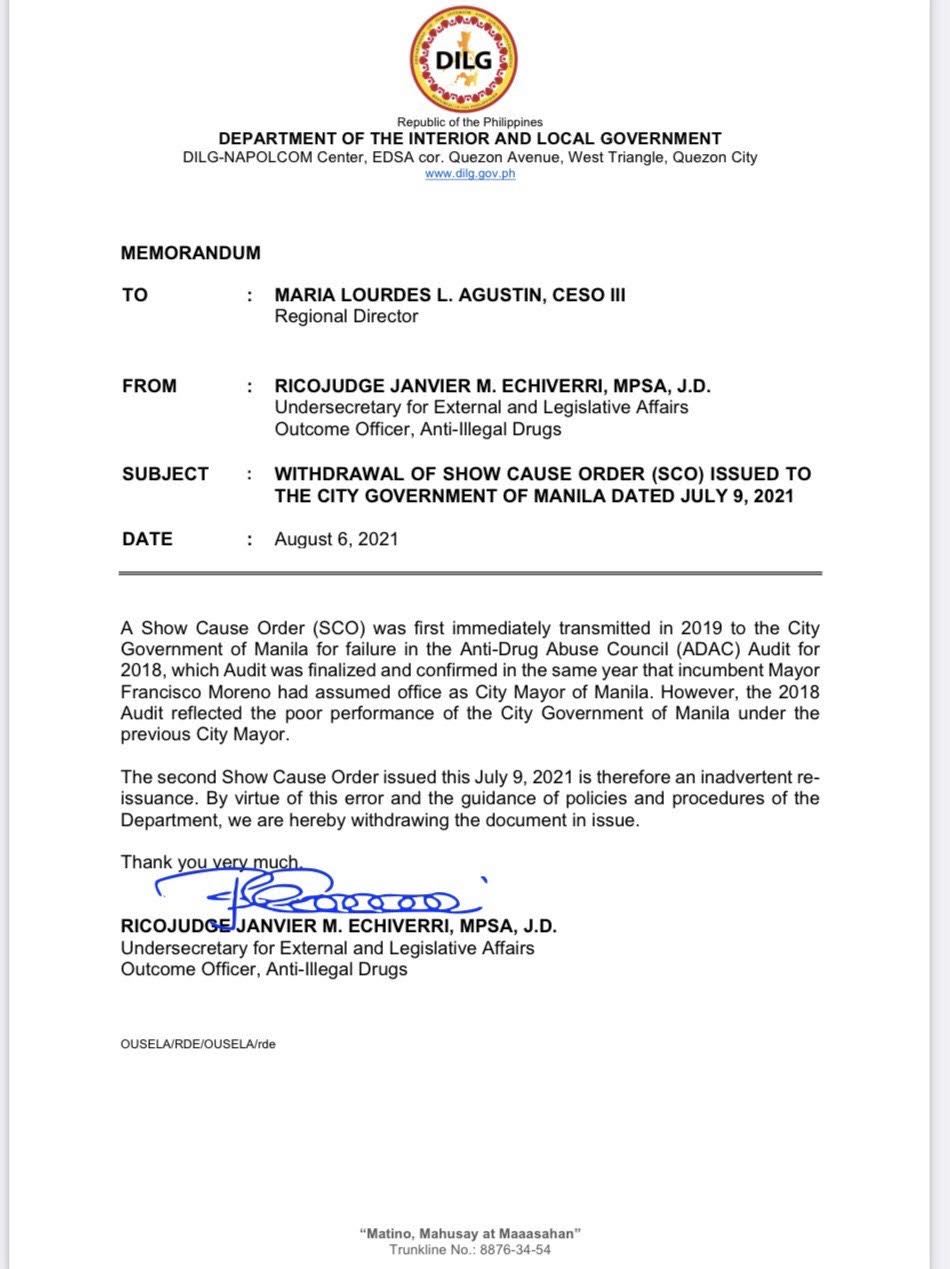 The newly issued show cause order is the same one Moreno's camp had responded to in 2019, which said the city government performed poorly in the anti-drug abuse council audit under the term of Joseph Estrada.
Rappler published an article on December 17, 2019, about the Moreno camp's response.
Back then, Moreno's chief of staff Cesar Chavez said Moreno should not be held liable for failures during his predecessor's term. Echiverri then said while that may be the case, show cause orders are issued to institutions like Manila City Hall, not to personalities – and as mayor, Moreno must still respond to the order.
In the reissued show cause order sent to Rappler by Chavez on Thursday evening, Moreno was again asked to respond within 10 days to explain why he should not be held administratively liable.
First thing the next day, Friday, Echiverri withdrew the show cause order, saying it was an "error" to issue it.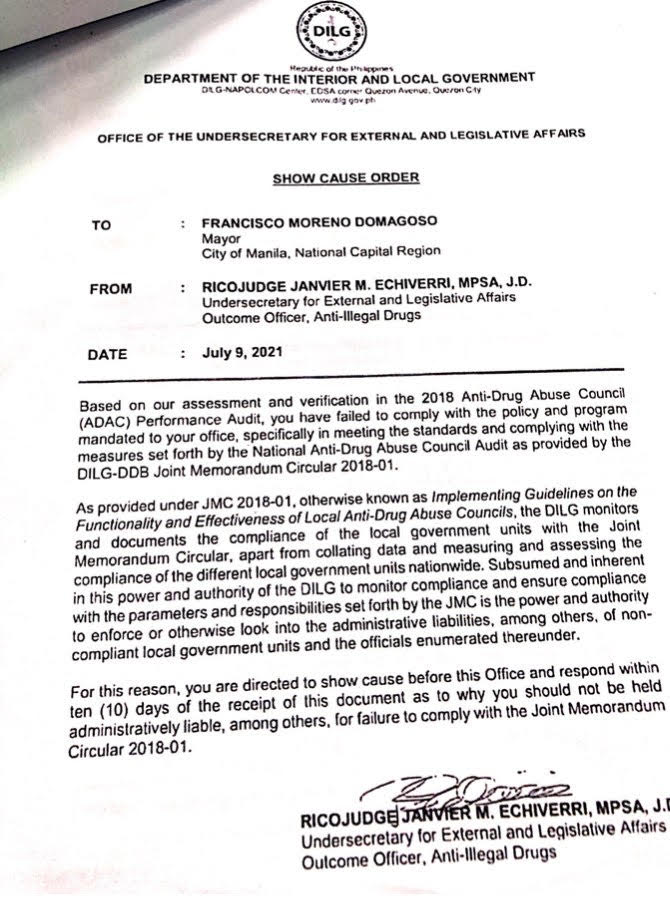 Timing of release
Though a copy of the show cause order circulated in various media outlets on Thursday night, it turned out Manila City Hall already had a copy a week before.
Chavez told Rappler they had received a copy on July 29. The documents were then referred to the city's legal office the next day.
The reporters who tweeted about the show cause order said they had obtained it from a "source."
The question for Moreno's camp and City Hall is, were they surprised that the show cause order was only written about by media on Thursday night? Who leaked it to reporters a full week after they had received a copy and right smack on a day when Moreno was crying politics in relation to crowd chaos in his city's vaccination sites?
The document's publicization came after an entire day dominated by news of crowds swarming Metro Manila vaccine sites, including the City of Manila, a phenomenon which Moreno alluded to as possibly being influenced by politics.
On that day, Moreno said in a command conference with Manila police that "agitators" caused crowd chaos in one of the vaccine sites.
"Mukhang napasok na tayo ng mga bata ng mga politiko. Ako, may duda ako, may idea na ako eh, kung kaninong batang iyong mga agitator," he told the cops, as can be seen in a video of the meeting.
(It seems the players of politics intervened. Me, I have an idea who those agitators answer to.)
"May sumigaw pa daw eh, 'Ayun o, may tao sa loob!' Paano magkakaroon ng tao sa mall? O, kaya sumugod 'yung mga tao. So alam natin may agitator, alam na natin may pulitika ito," continued the mayor.
(Someone even shouted, 'Look, there are people inside!' How can there be people in the mall? That's why the crowd surged. So we know there is an agitator, we know there is politics here.)
Later Thursday night, Moreno reposted a news report about the show cause order, with the caption, "Wow Galing ha! Sunod sunod na! #AlamNaThis."
(Wow, amazing! One after the other! #NowWeKnow.) – Rappler.com