(1st UPDATE) Two poll watchdogs are pushing for another round of voting simulation after only 11% of over 4,000 expected participants attended the election dry run in San Juan
Two election watchdogs and a former poll commissioner urged the Commission on Elections (Comelec) to consider conducting another round of voting simulation for the 2022 polls after a previous activity in Metro Manila saw an unimpressive turnout of test voters.
Only around 11% of the expected 4,235 test voters attended the October 23 mock elections in San Juan, which Comelec spokesman James Jimenez acknowledged was "very low."
For the Legal Network for Truthful Elections (Lente), the lack of enough participants during the dry run made it difficult for observers to properly assess the proposed guidelines that seek to ensure the safety of election stakeholders against COVID-19 on May 9, 2022.
"Our general recommendation is to conduct another voting simulation…due to several reasons: low voter turnout, missing election day stakeholders (poll watcher, health personnel, electoral board members), and insignificant use of the holding room area," Lente executive director Ona Caritos told Rappler on Tuesday, October 26.
Former Comelec commissioner Luie Guia agreed with Lente's initial assessment.
"[I] hope this is considered," Guia said in a tweet, referring to Lente's recommendation.
Meanwhile, the National Citizens' Movement for Free Elections (Namfrel) also expressed hope that the Comelec would hold more simulation exercises so they could adjust proposed guidelines.
"We recommend one besides the planned mock polls. This will fine-tune the crafting for the general instructions and rules of the electoral board," Namfrel secretary-general Eric Alvia told Rappler on Wednesday, October 27.
Initial observations
Jimenez, however, insisted that the mock elections over the weekend were not expected to be a high-attendance event.
"Historically, Filipinos are not bothered to attend simulation exercises," the Comelec spokesman said in a online forum organized by Democracy Watch Philippines on Tuesday.
But Jimenez noted that the poll body is eyeing more anti-coronavirus measures following Saturday's simulation activity, including the following:
Doing away with health declaration forms upon entry to the polling place to avoid congestion, but keeping the temperature screening procedure
Setting the number of voters allowed in a room at a given time depending on the size of polling place, instead of limiting it to 10
Pushing through with the installment of plastic barriers in classrooms;
selecting large rooms with adequate ventilation and windows that can be opened
Doing away with voter lists posted on classroom doors where people usually congregate, and instead installing voter assistance desks, where people could ask about their room number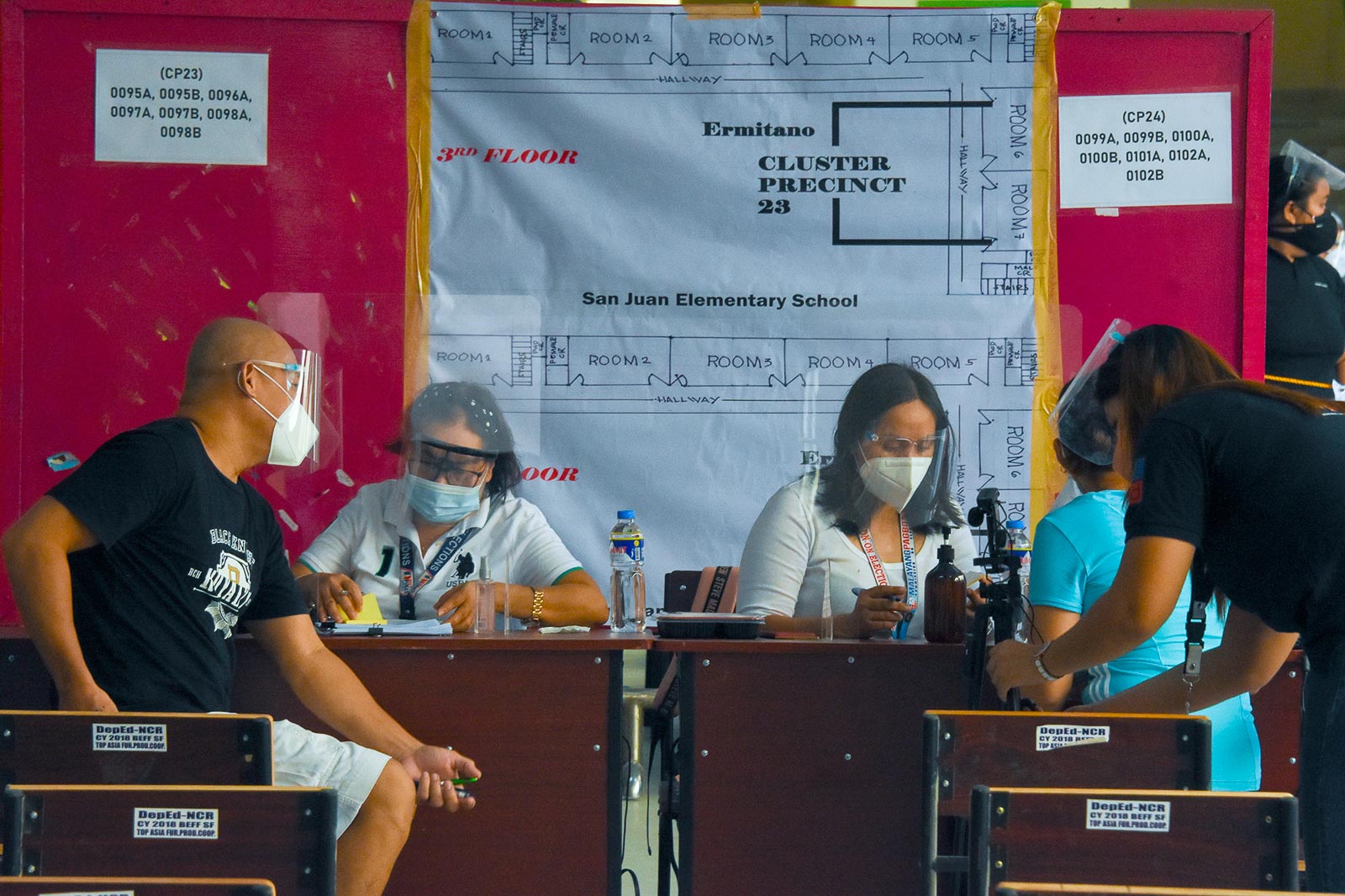 Lente, meanwhile, pointed out that there was a bottleneck in the simulation on Saturday, as some test voters were not informed in advance about their precinct number.
"[An online] precinct finder should be launched already, and the voter information system should be maximized for offline voters," Lente's Caritos said. The Comelec plans to launch an online platform for such an election tool by January 2022.
Namfrel echoed Lente on the need to provide voters with information on their assigned precincts ahead of election day to shorten their waiting time.
"To minimize face-to-face interaction during verification, the Comelec could also explore alternative ways of giving the same information, such as utilizing an SMS system in which voters request the information using their mobile phones," Namfrel national chairman Augusto Lagman said in a letter to the poll body on Wednesday.
Lente also underscored the need for additional support staff that would control the crowds, and man emergency accessible polling places and isolation polling places, where voters with flu-like symptoms would be redirected.
The Parish Pastoral Council for Responsible Voting (PPCRV), which shared Lente's sentiment on the need for additional support staff on election day, also suggested longer voting hours, and a holding area.
"We [would] also [like the Comelec] to extend the voting hours if possible, from 6 am to end at anywhere from 8 to 10 pm," PPCRV chairperson Myla Villanueva said during a seminar organized by the Management Association of the Philippines on Monday, October 25.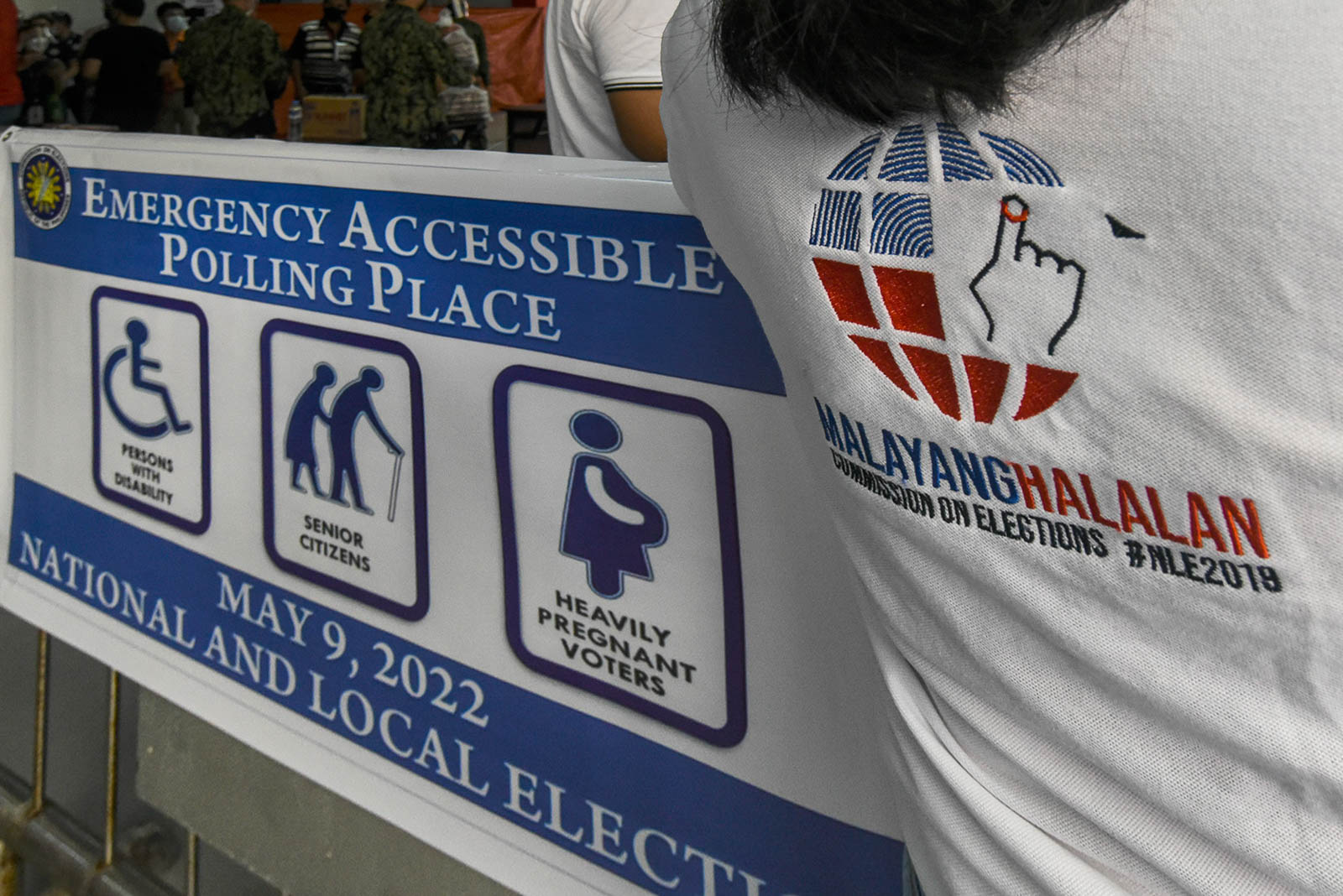 'COVID-proofing' the polls
The simulation exercises are part of the Comelec's efforts to minimize COVID-19 risks on election day in 2022, the first major electoral exercise to be conducted in the Philippines against the backdrop of a global health crisis.
As of Tuesday, active coronavirus cases in the country topped 50,000. While health authorities have noted a decrease in recorded infections, the Philippines has, in the past, grappled with repeated virus surges that hampered the government's efforts to full economic recovery.
The threat of a low voter turnout on election day also continues to haunt the election body, after a survey conducted in June revealed that 46% of Filipino voters would rather skip election day should COVID-19 cases remain high at the time.
The Comelec has sought a budget of nearly P42 billion for 2022, more than double of what it received in the last presidential election year in 2016, in a bid to make voting safer despite the virus threat.
The Duterte administration, however, only proposed over P26 billion to Congress, which is still bigger compared to Comelec's budget in election years 2016 and 2019. – Rappler.com