This is AI generated summarization, which may have errors. For context, always refer to the full article.
'We believe in their cause. That's why we want to rally behind that,' says artist AG Saño
The pink-clad crowd gathered in one corner of the busy Katipunan Avenue in Quezon City cheered as the 60-foot mural of presidential aspirant and Vice President Leni Robredo and her running mate Senator Kiko Pangilinan was unveiled on Saturday, November 27.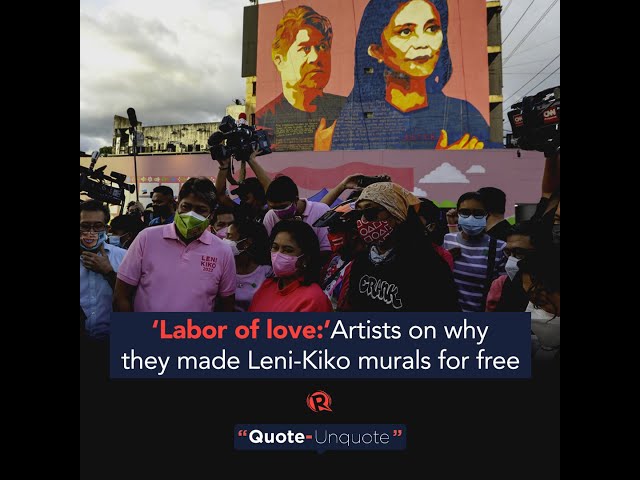 "Leni-Kiko! Leni-Kiko!" chanted the crowd as they watched three people wearing identical pink uniforms rappel down a building to reveal the mural depicting Robredo and Pangilinan looking to the east, each with the right hand on their chest as if they were about to sing the national anthem.
In the painting, the tandem's clothes were filled with phrases from the 1987 Constitution and their quotes about upholding truth, justice, and their vision for the Philippines should they become the next top leaders of the country.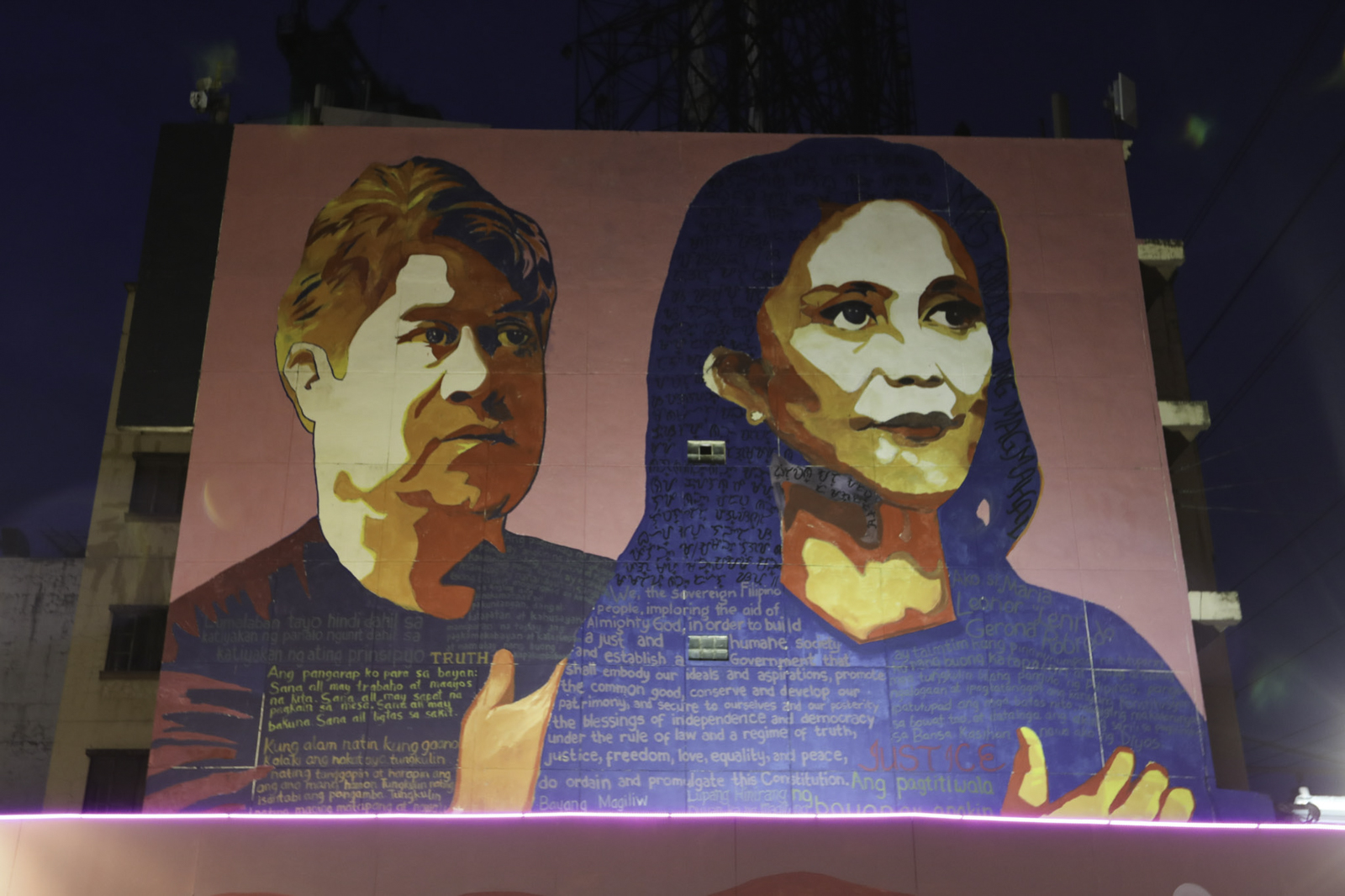 Among the sea of pink stood artist AG Saño, who designed the eye-catching mural; and interior designer Ina Esquivel, who helped organize the artists who volunteered to paint vibrant murals all over the Leni-Kiko Volunteer Center's compound.
Saño and Esquivel joined Robredo and Pangilinan during the ribbon-cutting ceremony that signaled the opening of the headquarters for the opposition tandem's campaign volunteers.
Both artists told Rappler in separate interviews that the murals are a "labor of love" not just for the Leni-Kiko tandem, but for the change they hope to see in the country after the 2022 elections.
"We chose to do this as a labor of love, like specifically and deliberately, absolutely, labor of love for them and their cause because we believe in their cause. That's why we want to rally behind that. No amount could match the love that we have for their cause," Saño said.
Over 20 artists came together to work on the murals in the volunteer center. They worked for about two weeks, usually at night to avoid the heat of the sun, and they all did it free of charge.
Other supporters of the tandem volunteered to help them paint, including an 11-year-old boy.
"Some of them would even sleep over at night just to finish the different murals. So everything here is purely a voluntary act. There's no compensation. It's really just out of, it's really a labor of love, I think, for our country, and for the message that VP Leni and Senator Kiko have for the campaign," said Esquivel.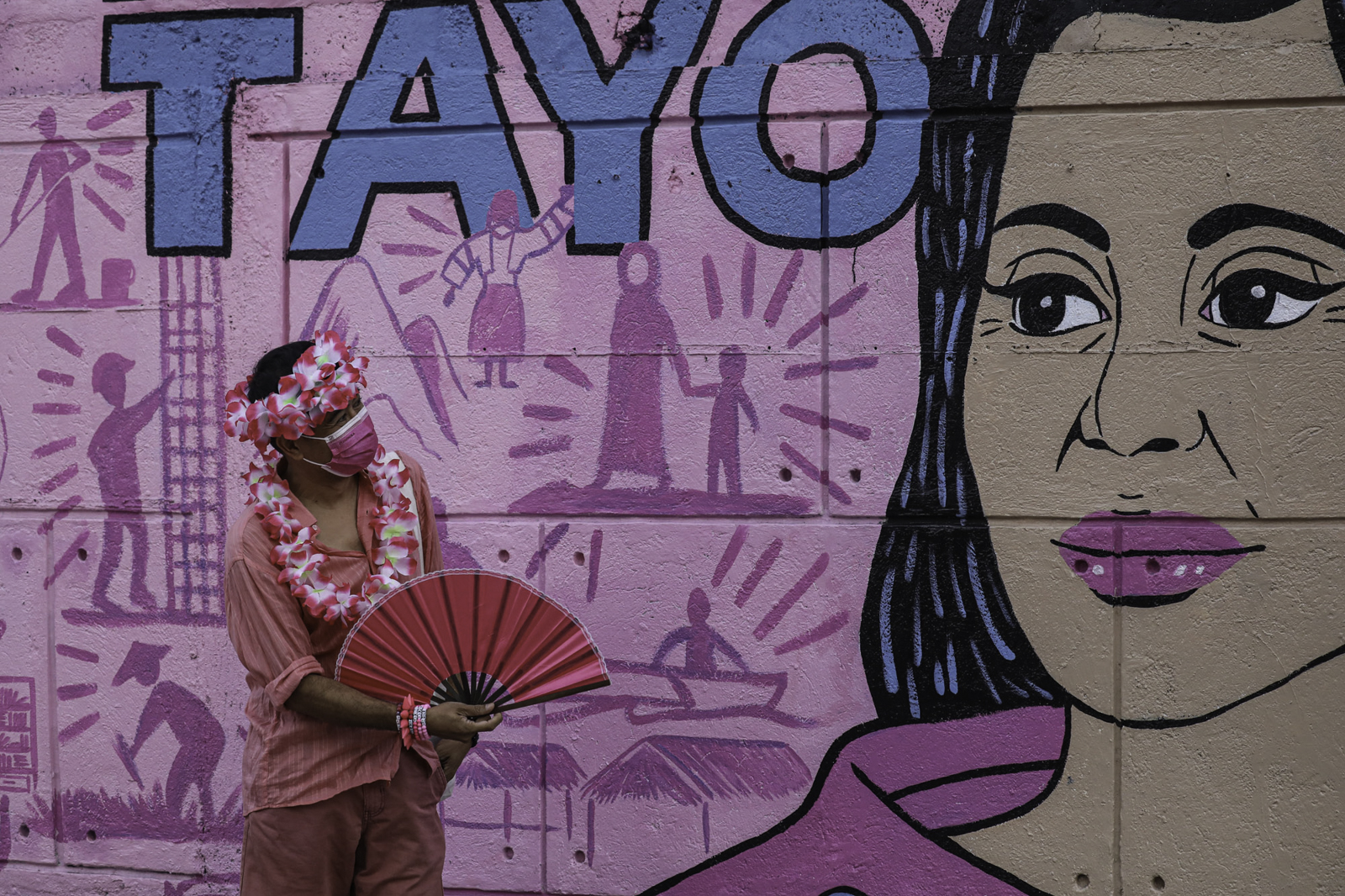 She said each of the artists had been given free reign on their artworks, a majority of which featured a smiling Robredo and Pangilinan done in different illustration styles. The color pink, now a symbol of Robredo's 2022 bid for the presidency, was a stand out in the compound.
Esquivel herself took charge of painting the corner walls of one structure inside the volunteer center, including the pink jeepney designed by Papemelroti's Robert Alejandro.
In this artwork, the jeepney passengers are waving the Philippine flag. Painted on the jeepney is the phrase, "Bumoto nang tama para sa bata (Vote correctly for the sake of the children)."
Apart from Saño, Esquivel, and their respective teams, the other artists who breathed life into the Leni-Kiko Volunteer Center are as follows:
Glendford Lumbao and team
Reena Gabriel
Albert Raqueño
Gabe Naguiat and Jan Sunday
Kyla Gancayco
Lee Caces
Melissa and Mark Canteras
Bet Lazatin
Didi Lopa
Ysa Da Silva, Nathan Sarcia, and Celline Mercado
Sam Bumanlag and team
Elena Moran
Architects for Leni
Joel Fabonan, Noel Martin, and Marga San Juan and team
Cristina Arrobio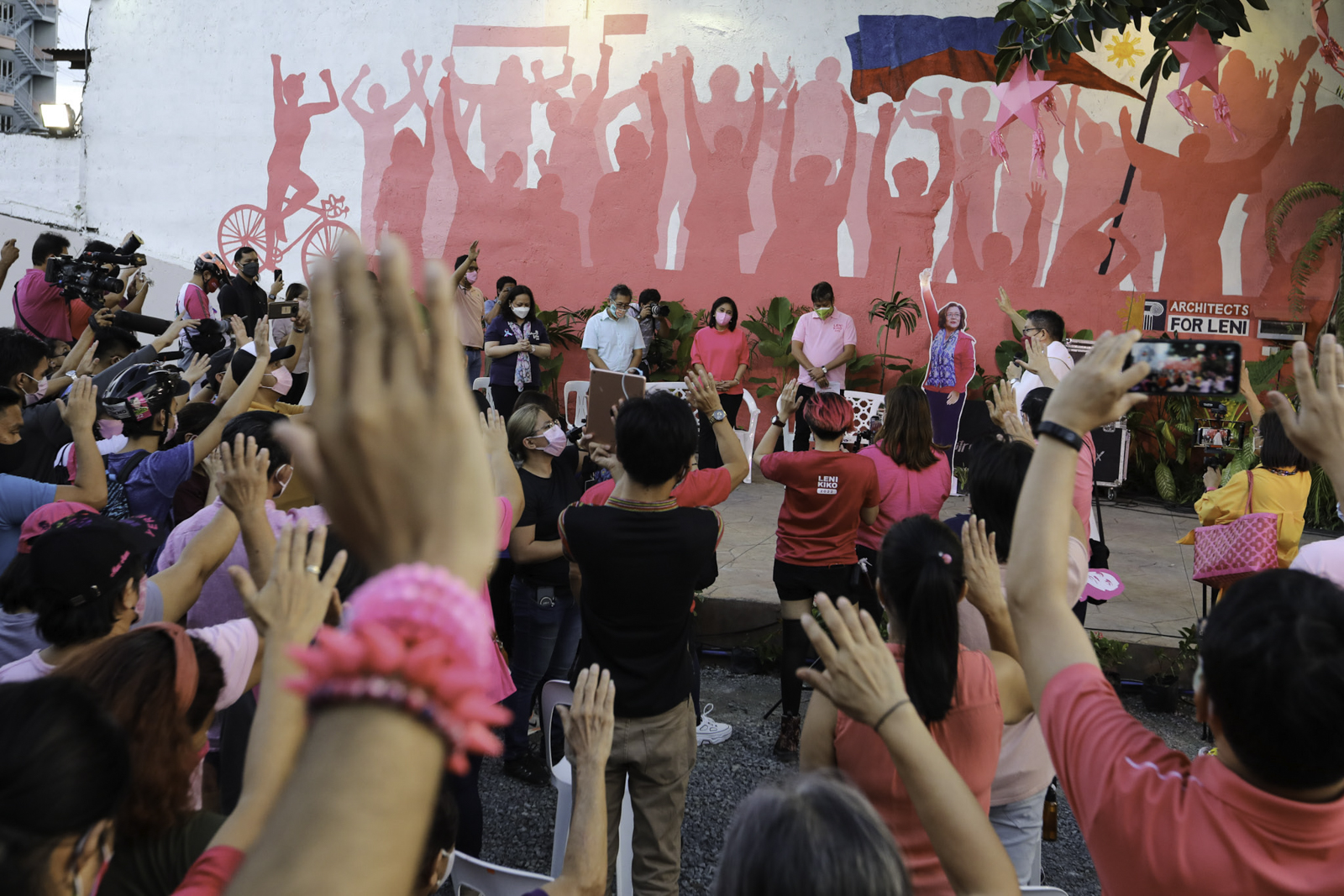 Robredo: 'They represent what this campaign is all about'
Robredo was awed by the dedication of the artists. She called each of them by name during the program on Saturday and asked the artists to share the stage with her.
For the Vice President, these volunteer-artists are symbolic of the "people's campaign" that she and Pangilinan are pushing for in 2022.
"Our volunteer artists, gusto ko silang bigyan ng honor ngayong gabi, kasi sila talaga 'yung nagre-represent what this campaign is all about, 'di ba?" said Robredo.
(I want to give honor to our volunteer artists tonight, because they truly represent what this campaign is all about, right?)
"'Yung kampanyang ito is not about is. Pero ito is about all of us, all wanting to contribute to make our country better, 'di ba? Kaya't maraming salamat sa inyo. Maraming salamat. Sobrang privileged kami, sobrang honored with your work. Sana pagpalain kayo ng Maykapal," added the grateful presidential bet.
(This campaign is not about us. It is about all of us, all wanting to contribute to make our country better, right? So thank you so much. Thank you. We are so privileged, so honored with your work. May God bless you.)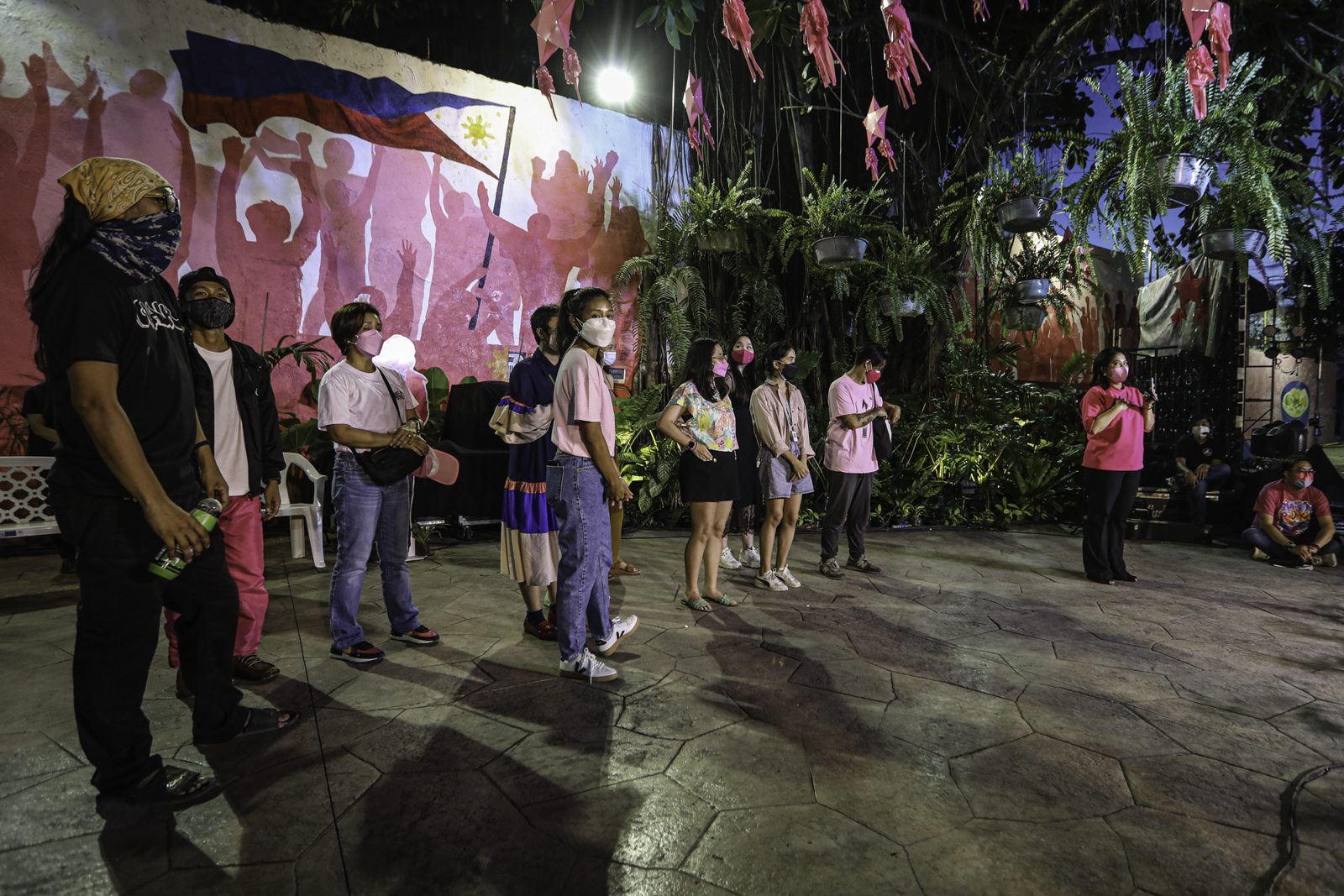 Robredo and Pangilinan were joined by human rights lawyer Chel Diokno and a representative of detained reelectionist senator Leila de Lima on Saturday. Both are running under their Senate slate.
Jesuit priest Father Jose Ramon Villarin blessed the Leni-Kiko Volunteer Center, which stands just across the Ateneo de Manila University where Villarin used to be president.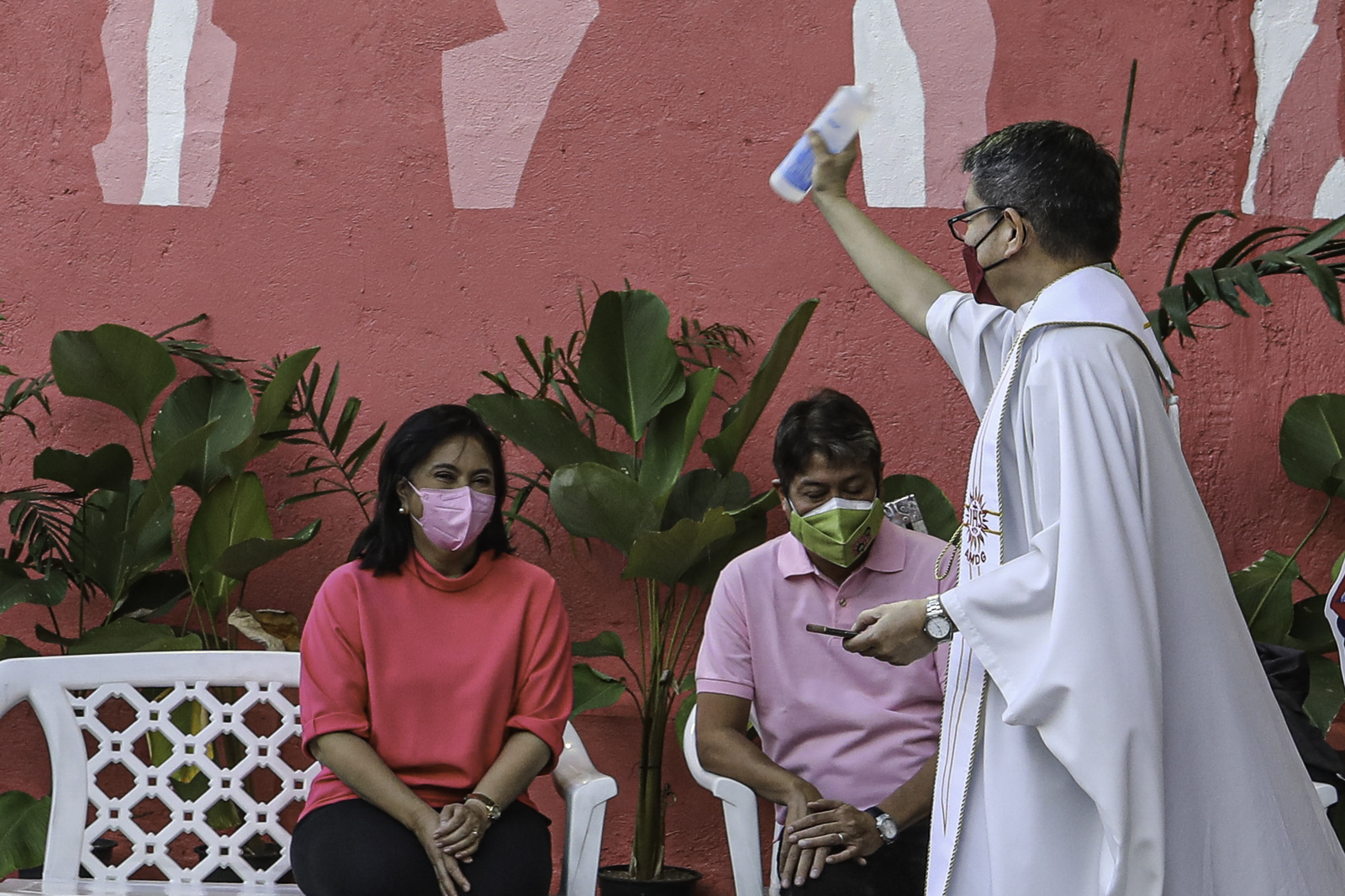 Singer Noel Cabangon played his song "Ako'y Isang Mabuting Pilipino," while Bituin Escalante performed a rendition of "Bayan Ko."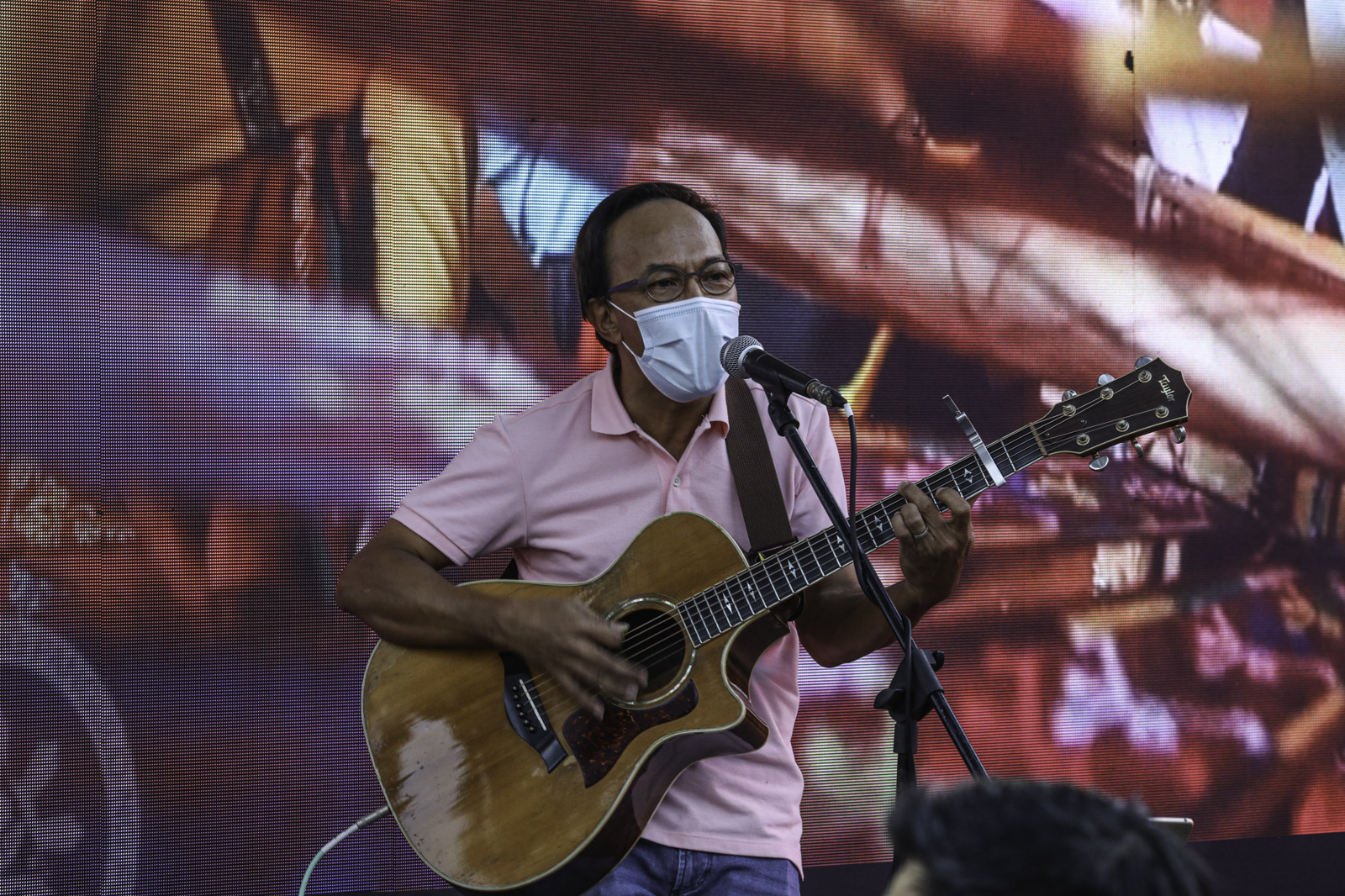 Robredo's supporters, who now call themselves "Kakampinks," have so far been proud of what is turning out to be a bottom-up, volunteer-led movement backing the Philippine opposition leader's bid for the presidency in 2022. – Rappler.com