(1st UPDATE) Samira Gutoc takes a second shot at the Senate, this time as part of Isko Moreno's senatorial slate
Samira Gutoc, Mindanao civic leader and former opposition senatorial bet, filed her candidacy for senator for the 2022 elections, this time under the party led by presidential candidate Isko Moreno.
Gutoc filed her certificate of candidacy (COC) before the Commission on Elections (Comelec) on Sunday, October 3, some 10 minutes after the 5 pm closing time set by the poll body.
Comelec spokesman James Jimenez said the Comelec accomodated her out of courtesy.
Gutoc arrived in Sofitel premises at around 3 pm but only entered the area for COC-filing minutes past 5 pm. The cause of the delay, according to Gutoc in a message to Rappler, were COVID-19 antigen test results.
Candidates filing COCs are required to present a negative COVID-19 test result from a test taken 24 hours before for them to be allowed to enter the COC-filing premises. Gutoc took an antigen test onsite.
Asked by reporters at the Comelec tent, Gutoc said the delay was because she had to correct her first and last name in her COC which she had interchanged in the form. "I had to come back and forth to wait for a replacement of the document… As a former Namfrel (National Citizens' Movement for Free Elections) volunteer, alam ko pag isang letra magkamali, so talagang isa-isa, baka nanerbyos ako (I know that if even one letter is wrong, so I looked at it one by one, but maybe I was nervous)," she said.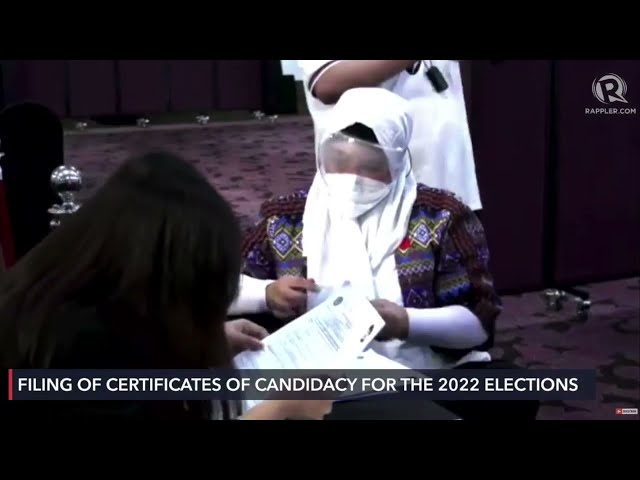 Gutoc is the first candidate under Moreno's senatorial slate to file her COC. She joined his party, Aksyon Demokratiko, in August. Her decision to join Moreno's slate is in contrast with her decision in 2019 to run under the Liberal Party-allied Otso Diretso though it remains to be seen if Gutoc will join other slates and coalitions as a guest candidate.
Gutoc said she would bring her experience as a "crisis worker" in the poorest parts of the country to her work in legislation, should she win a Senate seat.
"From the Marawi siege 2017 to now, my motivation was strengthened further by the pandemic crisis I learned that the key lessons are legislation, oversight, transparency, accountability is what is needed," she said.
Why Moreno?
She acknowledged that she is running under a different senatorial slate in next year's elections. "I owe much of who I am as a political personality to Vice President Leni [Robredo] and the Liberal Party," said Gutoc as she faced reporters at the Comelec tent.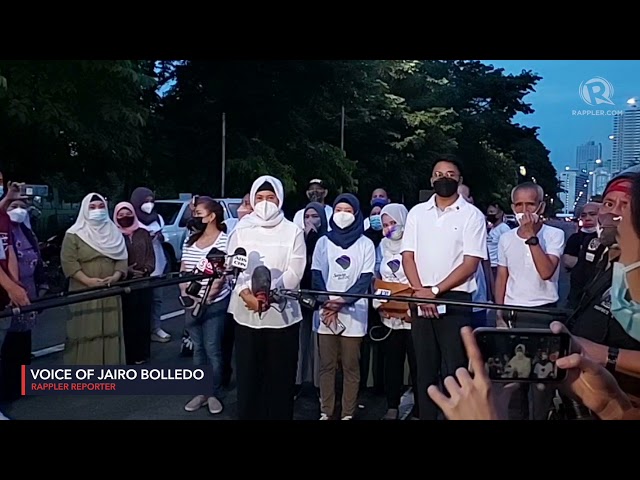 She explained why she decided to ally herself with Moreno this time around. "Manila being the location of almost 10 barangays from the Southern Philippines, we got to work together on outreach programs, humanitarian [programs]… I felt that our closeness on the issues of stranded [persons], the displaced, workers who lost their jobs, teachers who need gadgets, that really resonated with me," said Gutoc.
Gutoc is known for being an outspoken critic of the Duterte administration's efforts to rehabilitate Marawi City, her hometown. She helped lead a group of volunteers who helped civilians evacuate during the 2017 Marawi Siege and was also former representative for the women sector in the Autonomous Region in Muslim Mindanao Regional Assembly from 2012 to 2013.
She was once an appointee of President Rodrigo Duterte's, serving as a member of the Bangsamoro Transition Commission in 2017. But she resigned over Duterte's joke about soldiers raping women during the martial law he declared over Mindanao. – Rappler.com