This is AI generated summarization, which may have errors. For context, always refer to the full article.
'We both agreed only one of us will run for a national position in 2022,' says the Davao City mayor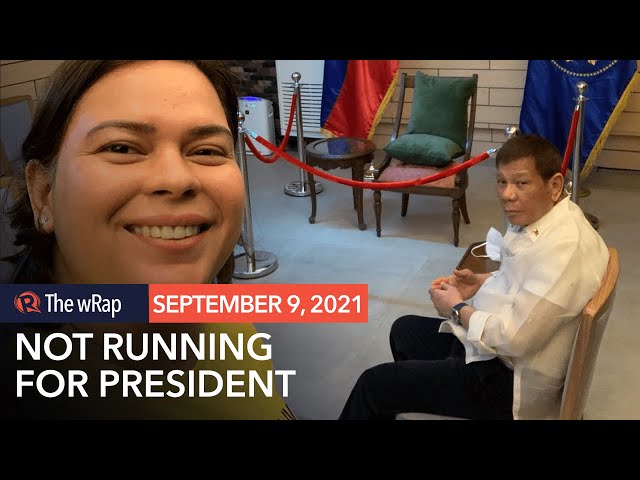 Davao City Mayor Sara Duterte says she has decided not to run for president in the 2022 elections.
"I am not running for a national position as we (President Rodrigo Duterte and Mayor Sara) both agreed only one of us will run for a national position in 2022," said the younger Duterte through her spokesperson Liloan Mayor Christina Frasco, in a text to Rappler on Thursday, September 9.
Sara, however, still has a month to reconsider since the filing of certificates of candidacy for elections is from October 1 to 7 yet.
Two weeks ago, Malacañang had already said that President Duterte had firmed up his plan to run for vice president because he believed Sara had decided not to gun for the presidency.
Sara's reasoning on Thursday was the other way around. She said it was her father's acceptance of PDP-Laban's nomination for him to run as their vice-presidential bet that convinced her not to run for president.
Duterte, on August 24, had said "only one Duterte" should run for the two top elective posts of the land because optics would not be good if both father and daughter were to run.
If Duterte withdraws from his vice-presidential bid, would Sara reconsider running for president or vice president?
Frasco said, "Probably best not to delve into the hypothetical and take Mayor Sara's answer for what it is."
PDP-Laban has formally nominated Senator Bong Go, Duterte's longtime aide, to run as president with Duterte as running mate but Go declined the nomination.
Sara has said Duterte had initially asked her to either take in Go as her running mate should she seek the presidency, or support his tandem with Go. Sara has been consistently topping pre-election surveys on preferred presidential candidates. – Rappler.com