Senators pass a short and straightforward bill that would move the deadline for voter registration to October 31, 2021
Senators are putting more pressure on the Commission on Elections (Comelec) after they passed a bill extending voter registration for the 2022 elections by a month or until October 31.
A total of 23 out of 24 senators voted to pass Senate Bill (SB) No. 2408 on third and final reading on Monday, September 27. Only opposition senator Leila de Lima, who is detained over multiple drug charges, was unable to cast her vote. 
SB 2408 is a short and straightforward bill that simply states the registration of voters for the 2022 national and local elections is "hereby extended to October 31, 2021."
The Comelec already announced in August that it would not extend voter registration, set to end on Thursday, September 30, despite calls for an extension from lawmakers, youth organizers, and even former poll officials. 
To exert more pressure on the poll body to give Filipinos additional time to register, senators unanimously passed a resolution urging the Comelec to move the deadline to October 31. 
The Senate finance panel even deferred action on the Comelec's proposed budget in 2022 until the commission en banc reconsiders their appeal to move the registration deadline.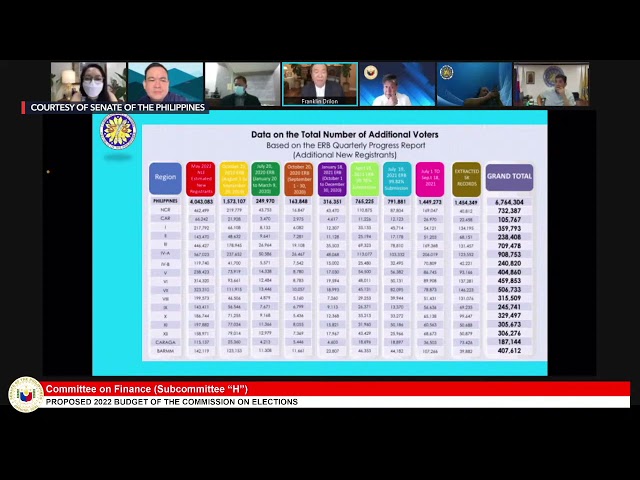 Comelec spokesman James Jimenez said the poll body's management committee already met on Monday to discuss the calls to extend voter registration. 
"We're preparing the recommendations now, and it will be submitted to the en banc on Wednesday (September 29)," said Jimenez. 
To allow more Filipinos to register before the September 30 deadline, the Comelec had extended voter registration hours and opened registration sites at shopping malls.
But advocates insist these measures aren't enough. The Philippine Statistics Authority's projected voting population in 2022 is 73 million, and groups fear that the Comelec's decision not to move the deadline would disenfranchise millions of voters. – Rappler.com