More buzzer-beaters are expected on the last day of substitution, from senatorial hopefuls filing their papers, to President Rodrigo Duterte potentially formalizing his vice presidential bid
Monday, November 15, marks the last day of substitution for political aspirants who are voluntarily withdrawing from the 2022 elections.
In the run-up to Monday, the main office of the Commission on Elections (Comelec) in Intramuros, Manila, already witnessed a string of political dramas. Among the most notable are the decision of Davao City Mayor Sara Duterte to run for vice president, and Senator Bong Go's withdrawal of his vice presidential bid, in order to substitute for an obscure personality who originally filed his candidacy for president.
Go's party mate in the ruling PDP-Laban, Senator Ronald "Bato" dela Rosa, also withdrew his presidential bid. In October, the former police chief pushed back against criticism that he was making a mockery of the election process when he filed his candidacy allegedly to be a placeholder for someone else.
The election season drama will drag on even after Monday, but the substitution theatrics will come to an end.
Here are some of the things to watch out for on the last day of substitution.
Will Duterte run for vice president?
Presidential Communications Secretary Martin Andanar dropped a bombshell on Saturday, November 13, when he said President Rodrigo Duterte would file his substitution papers for vice president on Monday.
"The President will return on Monday to file," Andanar told reporters during Go's filing of substitution papers.
Duterte also confirmed Andanar's claim moments later, but appeared clueless when asked whether that meant he will be running against his daughter Sara, who filed her papers for vice president through an authorized representative hours earlier.
"I don't know…. Iyong anak ko nag-file ba (Did my daughter file)?" Duterte had said.
Critics already raised constitutional questions when Duterte first floated his vice presidential bid earlier in 2021, although conversations faded after the President said in October that he was retiring from politics after 2022.
Energy Secretary Alfonso Cusi, a PDP-Laban stalwart, and Pederalismo ng Dugong Dakilang Samahan founder Greco Belgica have been mum about Duterte's plans on Monday. PDDS is the vehicle that Go will use for his Malacañang bid.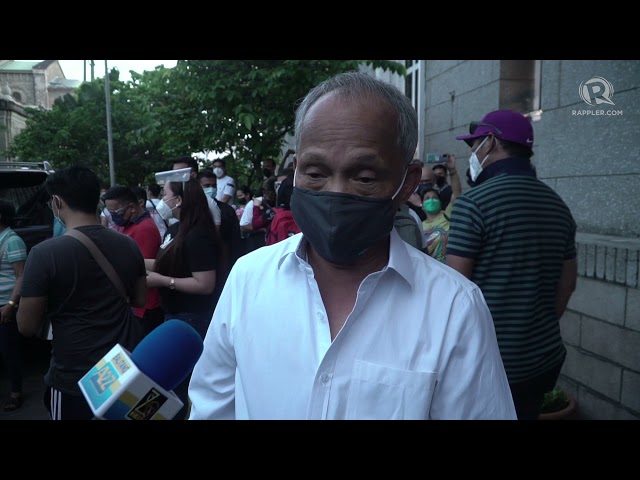 Another potential scenario: Duterte could seek a Senate seat instead, as the Palace previously confirmed that the President was entertaining such an idea.
Eleazar to run for Senate
Senator and presidential aspirant Panfilo Lacson confirmed on Saturday that former Philippine National Police chief Guillermo Eleazar will run for senator under the banner of Partido Reporma.
He will replace media practitioner Paolo Capino, who filed his candidacy for senator in October.
Capino, who is also an advocate for the rights of persons with disabilities, will file his withdrawal papers on Monday.
What will Parlade, Bello do?
When aspirants for elective posts file their withdrawal papers, they can indicate the name of the person who will replace them, if they do have a substitute.
Because of this, the names of former National Task Force to End Local Communist Armed Conflict spokesman Antonio Parlade Jr. and Labor Secretary Silvestre Bello III came up.
Parlade was listed as the substitute of Antonio Valdes, who filed his candidacy for president in October. Valdes is a member of the Katipunan ng Demokratikong Pilipino, but the Comelec tagged him as an independent aspirant in its tentative list of candidates.
Under the law, substitutes are not allowed for independent aspirants.
Meanwhile, former labor chief Marianito Roque withdrew his candidacy for senator under Lakas-CMD. He told reporters he did not know who will be his substitute, even though the Comelec later said Bello's name was written as his replacement in the papers he filed.
Bello has not ruled out a senatorial bid, but if he indeed throws his hat in the race for the upper chamber, it remains to be seen which party he will run under.
His brother Bello Jr., a perceived placeholder by some observers, filed his candidacy for senator under PDP-Laban in October.
Will Harry Roque run for senator?
While Presidential Spokesperson Harry Roque may still be reeling from his failure to clinch a seat at the United Nations International Law Commission (ILC), he only has until Monday to decide whether he will run for the Senate.
Roque said earlier in November he "found the resolve to run" for the Senate after some Filipino groups in New York conducted a protest against his ILC bid. He also claimed in the past that he would only seek a seat in the upper chamber if Sara Duterte runs for president.
An end to the substitution saga
As the public awaits whether President Duterte will formalize his vice presidential bid on Monday, it remains to be seen whether his daughter Sara will make another move on the last day of substitution.
There are also no hints as to whether camps identified with the opposition will make a move.
Beginning Tuesday, November 16, only candidates who died or were disqualified by final judgment may be replaced by substitutes, according to the Comelec calendar. – Rappler.com