Some former allies and supporters of President Rodrigo Duterte change their tune, beginning to criticize as the election season approaches
When he became President, Duterte brought his friends with him to Malacañang – whether they are fellow Davaoeños or college fraternity brothers. As Duterte enjoyed high popularity throughout his term, he attracted others to support him and his priorities, such as his bloody war on drugs.
Some of these allies included Senate President Vicente Sotto III, senators Manny Pacquiao and Panfilo Lacson, and Manila Mayor Isko Moreno.
Pacquiao, Lacson, and Moreno are all hoping to take Duterte's job in 2022. Sotto is Lacson's running mate.
These politicians have changed their tune about the President through the years – initially showing support for him in one way or another, and then turning against him just as talks about the 2022 national elections started this year.
At the same time, they veer away from being labeled as "opposition" as they carry on their electoral campaigns.
Here are three timelines of how the former Duterte supporters began showing signs of disapproval.
Manny Pacquiao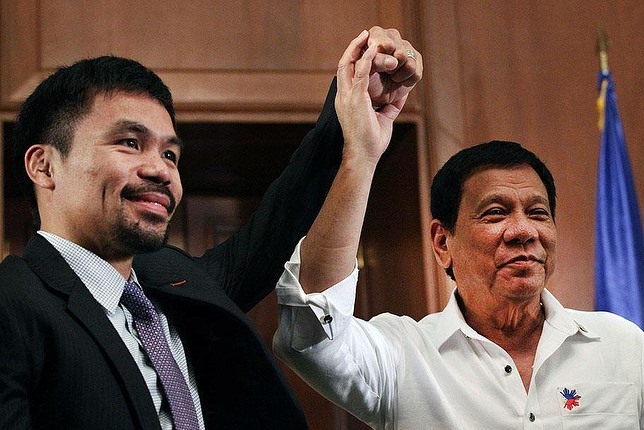 August 2016
Pacquiao, a neophyte senator, expresses full support for Duterte's war on drugs despite allegations of extrajudicial killings. Pacquiao defends Duterte and the Philippine National Police from allegations, saying they are stewards of the law. Duterte himself has repeatedly threatened death to Filipinos involved in drugs.
Pacquiao points his finger at drug lords being responsible for the killings and not the police.
"Si President at kapulisan natin ay ayaw nila lumabag sa batas. Sinusunod nila ang due process…. Alam 'nyo 'yung iba kasi, may ibang mga drug lord pinapatay na rin nila 'yung mga tao nila dahil baka magsumbong. 'Yun ang nangyayari," Pacquiao tells reporters on August 2.
(President Duterte and our policemen do not want to violate the law. They follow due process…. You know, there are some drug lords who kill their men because their men might squeal on them. That's what is happening.)
November 2016
Pacquiao goes to Malacañang for a courtesy call on Duterte. The President greets Pacquiao by raising the boxing champion's hand in a gesture of victory and saying, "For president na 'to, ha? (He's for president!)" in front of media.
January 2017
Pacquiao defends the proposal to reimpose the death penalty in drug cases. "Even Jesus Christ was sentenced to death by the government," Pacquiao, who is also a pastor, tells reporters.
The controversial push to reinstate the death penalty for heinous crimes is one of Duterte's priority measures.
October 2018
Pacquiao is set to run the 2019 senatorial campaign of Duterte's Partido Demokratiko Pilipino-Lakas ng Bayan (PDP-Laban), says the party's president, Senator Aquilino Pimentel III.
March 2019
In a Rappler Talk interview, Pacquiao says too much democracy is bad for the Philippines. He cites Duterte's strategy of peace and order to "discipline" Filipinos.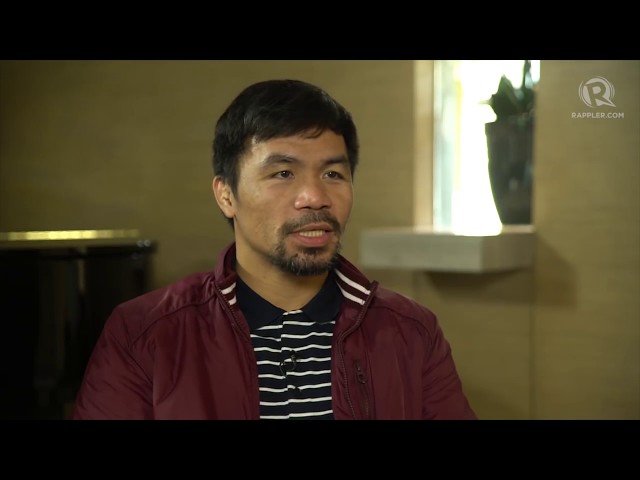 He shields the President from accountability in the drug war killings after being asked if this was his way of disciplining the people.
"May conviction na ba na si President nagpapatay? Wala naman eh. Kumbaga, tayo lang tao judgmental kaya ganyan tayo mag-isip. In fact, kung titingnan natin, ilan daan-daang pulis natanggal sa trabaho," says Pacquiao.
(Has the President been convicted of killing? Never. It's just us people who are being judgmental, that's why we think this way. In fact, if we look at it, hundreds of cops have been dismissed from service.)
August 2020
Pacquiao defends the Duterte government's COVID-19 response after Senator Risa Hontiveros criticized it.
December 2020
Pacquiao is named PDP-Laban's new president.
At this point, Pacquiao is rumored to be gunning for the presidency in the 2022 elections.
May to June 2021
Pacquiao criticizes Duterte for his "lacking" response to Chinese aggression in the West Philippine Sea.
"Sa akin, nakukulangan ako. Nakukulangan ako kumpara doon sa bago pa siya tumakbo, nag-eeleksiyon pa lang. Dapat ipatuloy niya 'yun para magkaroon din naman tayo ng respeto," Pacquiao says on May 3.
(For me, I find it lacking. I find it lacking if compared to what he said before he ran, during elections. He should have continued that so we earn some respect.)
Reacting more than a month later, Duterte says Pacquiao should study first before making such a statement.
PDP-Laban is reported to have internal rifts. PDP-Laban members earlier convened in an assembly organized with Duterte's blessing, but Pacquiao did not attend.
Political analysts say the rift in Duterte's party is likely connected to the 2022 elections.
On June 22, Pacquiao says that if he were to run for the presidency, he would declare a "war against corruption" because of "systemic" corruption in the country. Duterte is irked by this remark. Five days later, Duterte dares Pacquiao to name the corrupt officials, or else he would campaign against Pacquiao.
In a press conference on June 29, Presidential Spokesperson Harry Roque says, "I think it's rather obvious that the relationship between the President and Senator Pacquiao is not as cordial as it was."
July 2021
On July 3, Pacquiao accuses the Department of Social Welfare and Development (DSWD) of multibillion corruption in pandemic aid.
On July 15, the senator files a resolution formally calling for a probe into the alleged P10.4 billion worth of missing emergency subsidies.
Pacquiao says there is a "web of corruption" in the DSWD that needs to be untangled. DSWD had entered into an agreement with e-wallet app Starpay to disburse emergency subsidy funds to beneficiaries.
On July 17, members of PDP-Laban oust Pacquiao as party president.
September 2021
Despite Pacquiao's ouster, there are two factions of PDP-Laban now: the one led by Energy Secretary Alfonso Cusi and backed by Duterte, and the other led by Pacquiao and PDP-Laban chairman Senator Pimentel.
The Cusi faction asks the Commission on Elections to declare Pacquiao's faction as "illegitimate."
Meanwhile, the Pacquiao faction says it will not support Duterte's vice presidential bid, saying he no longer represents their values.
On September 19, Pacquiao accepts PDP-Laban's nomination to be its presidential candidate for the 2022 elections.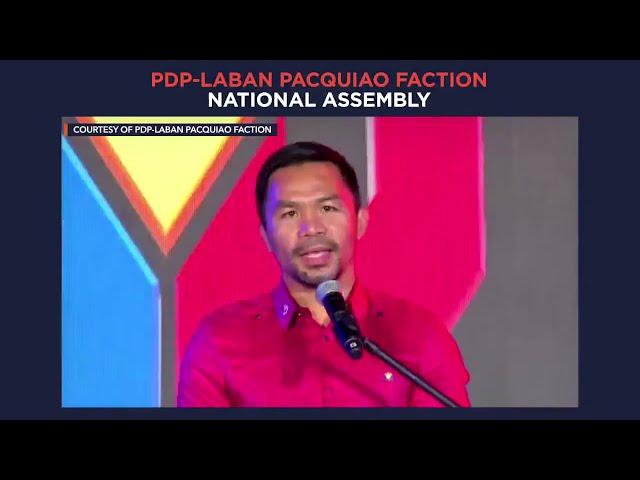 October 2021
In a move seen by PDP-Laban secretary-general Melvin Matibag as "abandonment" of the party, Pacquiao files his certificate of candidacy for president under the Cebu-based Progressive Movement for the Devolution of Initiatives or PROMDI.
Panfilo Lacson and Vicente Sotto III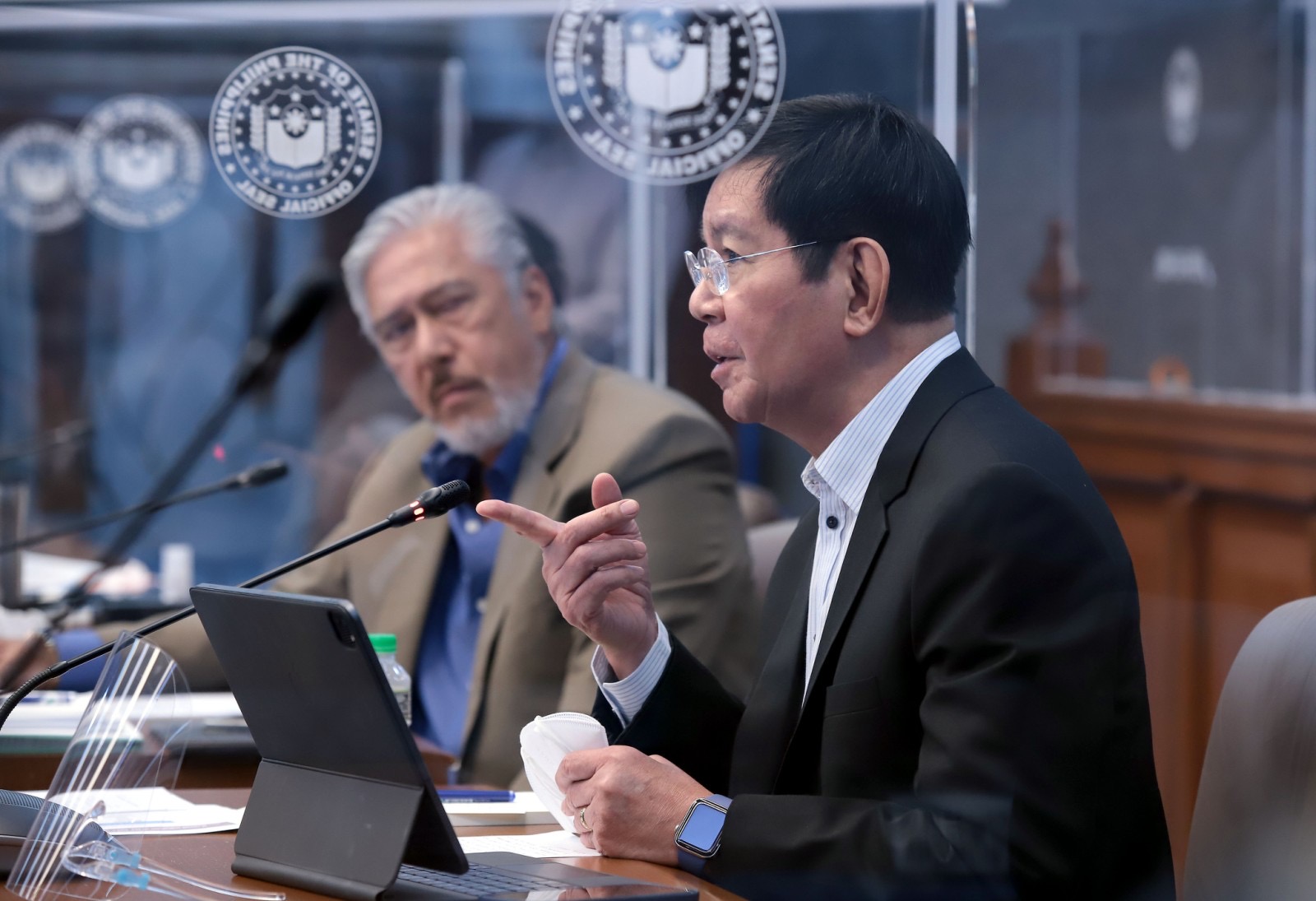 July 2016
Lacson, who chairs the Senate committee on public order and dangerous drugs, opposes a resolution filed by opposition Senator Leila de Lima, calling for an investigation into the rising incidents of unexplained killings of suspected drug personalities.
Sotto also opposes the resolution. They say such an inquiry is premature.
February to March 2017
The Senate reopens an investigation into alleged operations of the so-called Davao Death Squad under Duterte when he was mayor of Davao City. This is in light of veteran Davao policeman Arturo Lascañas' confessions of his involvement in the DDS.
Lacson says on March 6 that Lascañas' testimony is still not enough proof to pin down Duterte's role in the Davao City killings.
Senate Majority Leader Sotto dismisses the chamber's investigation into the DDS killings as something of mere "entertainment value," especially for those against Duterte.
Lacson promptly ends the investigation after one hearing. (TIMELINE: Probing into the Davao Death Squad)
September 2017
Paolo Duterte and Panfilo "Pampi" Lacson Jr., sons of the President and senator, are accused of involvement in smuggling. The senator commiserates with the President over the allegedly false accusations against their sons.
May 2018
Sotto is elected Senate president. Sotto acknowledges his decades-long friendship with Duterte, and is optimistic they can work with each other as they have the same advocacy against illegal drugs.
Sotto says the Senate does not need to condemn the rising number of extrajudicial killings because there is a need to look at context first. He also says the data from critics and international groups are questionable.
June 2019
Lacson, together with other senators, express disappointment over Duterte's first statement on Philippine fishing boat Gem-Ver that was sunk and abandoned by a Chinese vessel in the West Philippine Sea. Lacson says Duterte's downplaying of the incident has left Filipinos "heartbroken."
August to September 2019
Lacson, a former national police chief, criticizes Duterte for telling cops they can accept gifts and ignore anti-graft laws.
Duterte reacts by saying he thinks Lacson will run for president.
June 2020
The controversial anti-terrorism bill nears Duterte's signature. The bill, certified by Duterte as urgent, is perceived by critics to be an instrument to crack down on dissent. Lacson defends the bill, and insists there are safeguards.
Sotto shares Lacson's sentiments. "I suggest they read the bill first before reacting. Terrorists or their supporters are the only ones who will be afraid of the bill," Sotto says in a separate statement.
September 2020
Lacson and Sotto criticize Duterte for clearing Health Secretary Francisco Duque III of involvement in alleged P15 billion worth of anomalies at the Philippine Health Insurance Corporation (PhilHealth).
December 2020
Lacson calls out Duterte for "blackmailing" the United States with termination of the Visiting Forces Agreement if Washington fails to ensure the supply of at least 20 million COVID-19 vaccine doses to the Philippines.
March 2021
Sotto shields Duterte from criticism over the government's pandemic response. ​​
"I could not imagine any other President in the past [who] would be able to handle this pandemic, yes, in the ideal way that we would want it to be…. I will not go to that extent of saying that the problem we're in now is because of the President. I don't think so," Sotto says in a Rappler Talk interview.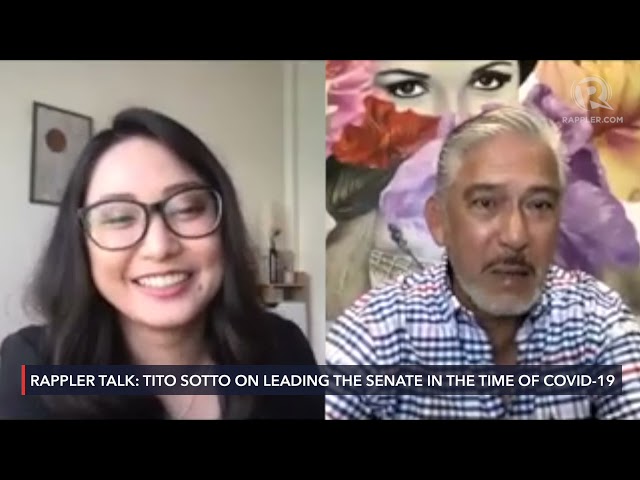 August 2021
The Senate investigates questionable COVID-19 contracts of the Department of Budget and Management's Procurement Service (PS-DBM) as multibillion-peso contracts are awarded to Pharmally Pharmaceutical Corporation. Pharmally, which has become the government's biggest pandemic supplier despite being a new company, is revealed to have ties to Duterte's friend and ex-economic adviser Michael Yang.
Duterte defends Yang and the company, while Lacson does not hesitate to claim that there could be large-scale corruption.
September 2021
Lacson and Sotto launch their campaign for president and vice president, respectively, on September 8. Their message is that they've had enough of President Duterte.
"Tama na. Kailangan na nating tumugon. Kailangan nating umaksiyon. Kailangan na nating magsanib-puwersa upang mapigilan at maitama ang mali. Ito na ang simula," said Sotto in his campaign speech.
(Enough. We need to respond now. We need to act. We need to join forces to stop and to correct the wrong things. This is the beginning.)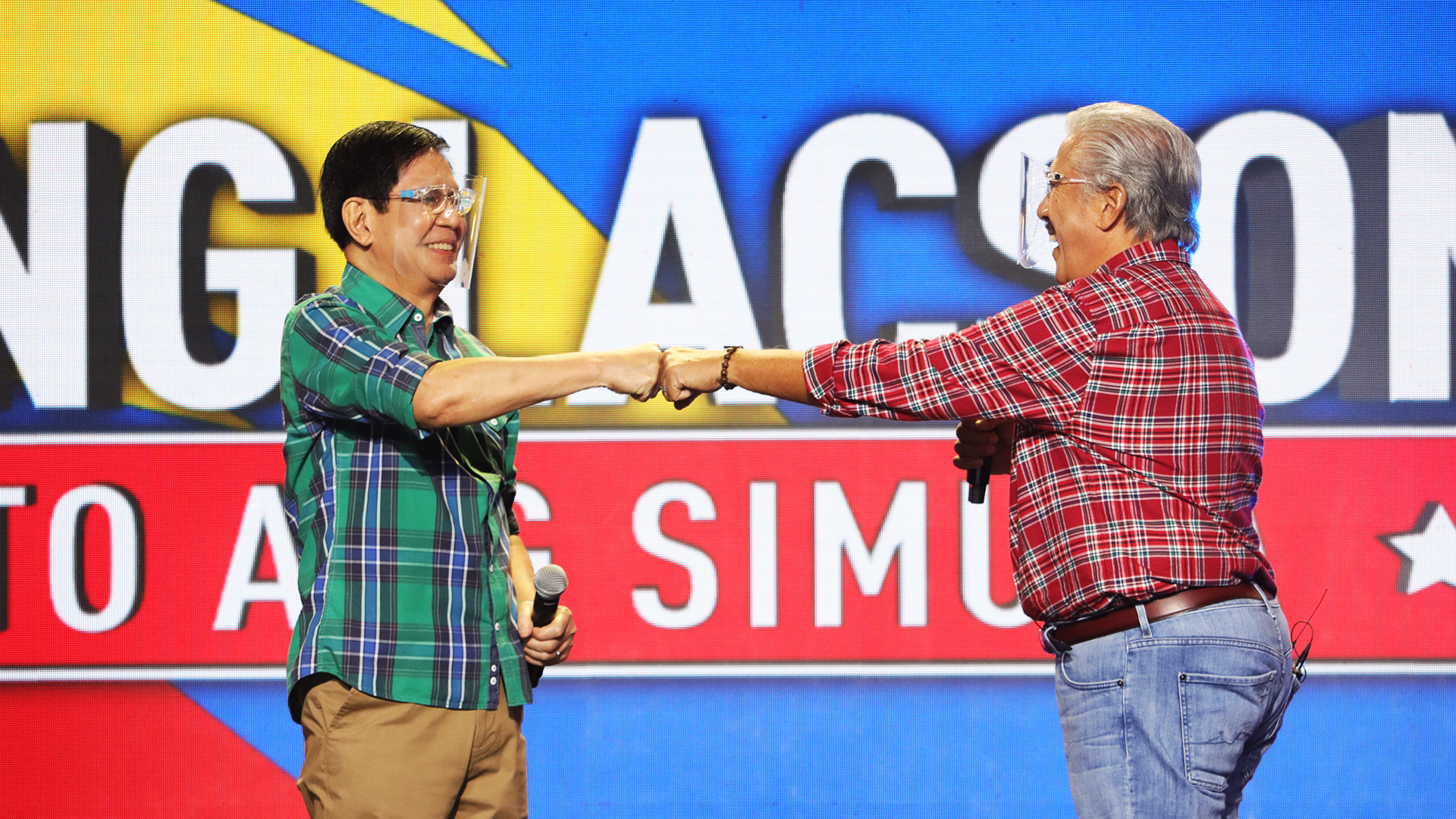 The Senate continues its investigation of the government's pandemic contracts – which Duterte says will "destroy the government." Sotto disputes this, saying he doesn't see a reason to stop it.
October 2021
As they file their certificates of candidacy on October 6, Lacson and Sotto refuse to call themselves opposition, and say they believe there is no united opposition as far as they are concerned.
"We don't want to identify ourselves on any side of the fence. We'd rather be on the side of the Filipino people," Sotto says.
Isko Moreno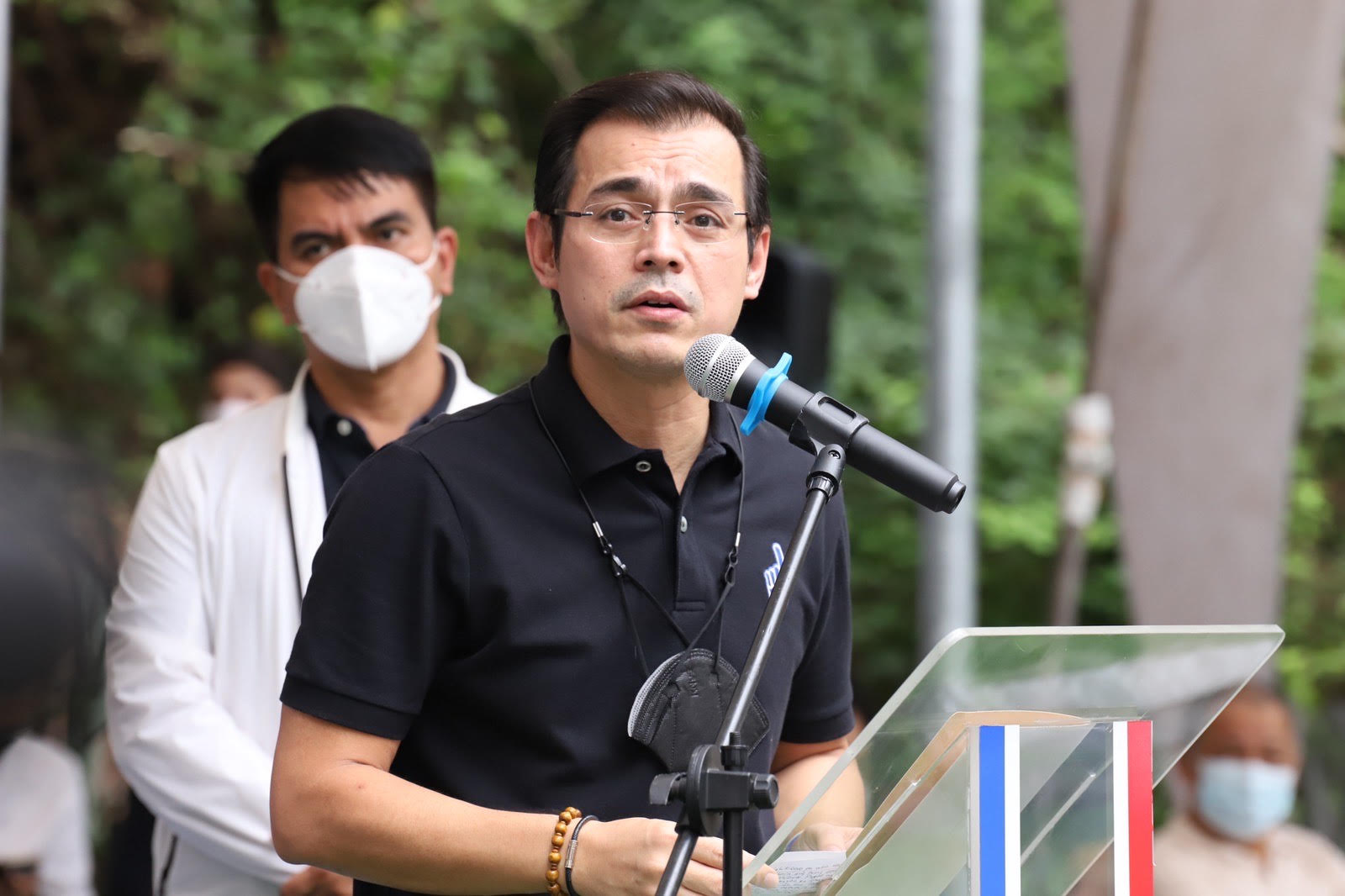 September 2019
Manila Mayor Isko Moreno and Duterte share mutual admiration in their governance.
Duterte praises the mayor, who is in the first months of his first term as chief of the national capital.
"Bilib ako sa kanya. Kaya nanonood ako noong nagsasalita siya. Mas mahusay siya kaysa sa akin, sa totoo lang," Duterte says in an interview with Malacañang reporters. (I believe in him. I was watching him speak. He is better than me, truth be told.)
Moreno thanks the President, saying, "To be really honest, isa po kayo sa mga naging inspirasyon ko sa kung ano mang klase ng liderato na mayroon kami (You are one of my inspirations for the kind of leadership we have now)."
December 2019
In the relaunching event of the Pasig River ferry service, Moreno is seen in photos with other government officials doing Duterte's signature fist bump pose.
July 2021
Moreno places second among preferred potential presidential and vice presidential candidates for the 2022 elections behind Sara Duterte and the President, respectively.
Without naming Moreno, Duterte says in his final State of the Nation Address he disagrees with people being made to line up for COVID-19 vaccinations in flooded streets – photos of which he saw on the news and in a pandemic task force meeting. The photo shown to Duterte was of the vaccine queue in San Andres Sports Complex, which is in Moreno's jurisdiction in Manila.
Moreno makes a succeeding statement, also without mentioning Duterte, saying vaccinations in his city will continue through storms and floods.
The mayor says certain people are making remarks just to distract the public from their "incompetence."
August 2021
Without mentioning Moreno's name again, Duterte rants about a certain local chief executive's sexy photos from the past, and supposed "disorder" at the mayor's vaccination sites.
Moreno is the only Metro Manila mayor whose past as an actor in sexy roles is public knowledge.
Duterte also orders that Manila be prohibited from distributing aid to citizens coming from the national government, citing the "disorganized mind" of the mayor.
September 2021
On September 8, a month before the filing of the certificates of candidacy begins, Moreno brings a barrage of criticisms upon Duterte and his government's COVID-19 pandemic response.
He says they'll "face off in October."
On September 22, Moreno announces his presidential bid. In a Rappler Talk Newsmaker recorded the day before, Moreno cuts Duterte some slack, saying, "Wala namang perpektong tao (There is no perfect person)."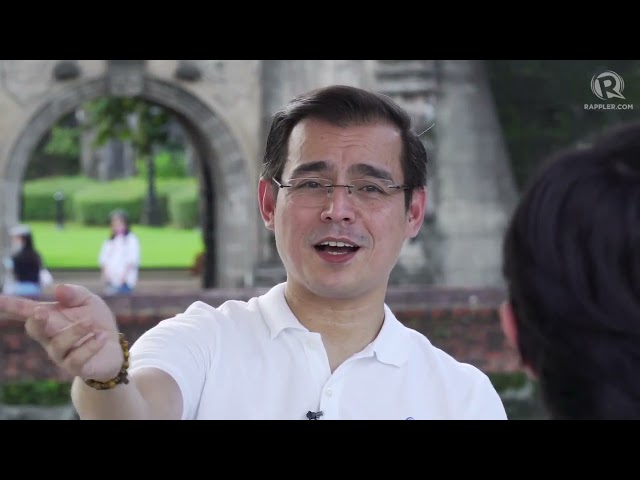 – Rappler.com