But Vice President Leni Robredo's spokesperson says it's 'extremely premature' for former senator Antonio Trillanes IV to assume she is giving way to anyone in 2022
Ex-senator Antonio Trillanes IV warned Vice President Leni Robredo that his Magdalo party would abandon her if she gave way to Senator Panfilo Lacson in the 2022 presidential race, casting a dark cloud over the shaky opposition alliance.
In a tweet Wednesday, July 28, Trillanes was frank about how he felt upon hearing of Robredo's recent meeting with Lacson and his running mate, Senate President Vicente Sotto III.
"VP Leni, I hope this is not true. Pero kung totoo ito, pasensya na po pero the Magdalo Group would not join you and LP kung mag give way kayo para kay Senator Lacson," Trillanes tweeted.
(VP Leni, I hope this is not true. But if it is, then I'm sorry but the Magdalo Group would not join you and LP if you would give way to Senator Lacson.)
The Magdalo political organization of Trillanes, composed of retired members of the Armed Forces of the Philippines, has long been allied with the once-ruling Liberal Party (LP), where Robredo is chairperson. 
Stalwarts of both the LP and Magdalo are some of the staunchest critics of President Rodrigo Duterte, making them a primary target of his propagandists and trolls. 
Trillanes' warning was a huge blow to the tenuous opposition alliance which is struggling to forge a united front for the high-stakes polls that would elect President Rodrigo Duterte's successor. 
Despite the opposition's call to unite and stand behind only one standard-bearer in 2022, Trillanes bared in his tweet his "Robredo or bust" mindset. In fact, he said in May that he would run for president only if Robredo opts out of the race. 
In contrast, Robredo has been saying: that the opposition must get out of their own echo chambers and be open to possible alliances even with politicians and sectors they have not worked with in the past. 
Robredo is still mulling over her own presidential bid.
Because she backed the cause to unite the opposition, Robredo said she was open to the possibility that probably the best candidate to defeat the Duterte regime in 2022 may not even be her.
The Vice President has been in talks with potential presidential contenders like Lacson: to explore possible areas of partnership without necessarily talking of endorsements or giving way to the other just yet. 
For Trillanes, though, the Vice President should not be looking into an alliance with Lacson, as the latter previously said there was supposedly strong evidence against jailed senator Leila de Lima of LP.
De Lima has been in jail the past four years due to what she has described as trumped-up drug charges against her.
"May I remind you also na si Senator Lacson ay isa sa nagtulak sa unjust imprisonment of your party mate, Senator De Lima," said Trillanes.
(May I remind that that Senator Lacson was among those who pushed for the unjust imprisonment of your party mate, Senator De Lima.)
But Robredo's spokesperson Barry Gutierrez  said it was "extremely premature" for Trillanes to assume Robredo was already giving way to Lacson.
He said the meeting was just part of the Vice President's efforts to "forge the broadest possible unity" in 2022. Robredo has also met with Senator Richard Gordon and Manila Mayor Isko Moreno.
"It is extremely premature to talk of 'giving way' when VP Leni has not yet made a definitive announcement regarding her candidacy for president. What she has said before stands: she remains open to running for president, and will announce her decision at the appropriate time," said Gutierrez.
Trillanes doubting Robredo's unity efforts?
Sources told Rappler that Robredo and LP were in constant discussions with Trillanes and Magdalo for their 2022 prospects.
And yet, this was not the first time that Trillanes showed his disdain in the attempts of the Liberals to reach out to other politicians and groups. 
On June 29, Trillanes railed against the disclosure of LP president and Senator Kiko Pangilinan that the party has been sending feelers to the likes of Moreno and Senator Manny Pacquiao, also rumored to be running for president next year.
"Last week, nag-announce ang LP na bukas sila sa pagtulak kina Isko at Pacquiao bilang kandidato para sa 2022. Meron ba itong basbas ni VP? Five years tayong nag-sakripisyong labanan ang mga kasamaan ni Duterte tapos mauuwi lang tayo sa mga pro-Duts candidates? 'Di ito katanggap-tanggap!" said Trillanes.
(Last week, LP announced that they are open to push Isko and Pacquiao to be candidates for 2022. Does this have the blessing of the VP? For five years, we sacrificed in our fight against the evils of Duterte, then we would end up with pro-Duts candidates? This is unacceptable!)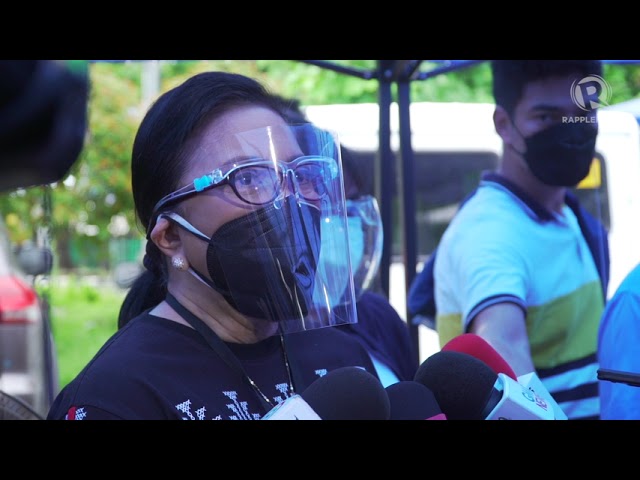 Robredo said her discussions with potential presidential bets have so far just revolved on their "commonalities" or the positions on certain issues they could possibly agree on, like corruption and human rights. 
"Hindi pa nga common candidate eh. Wala pa tayo doon eh. Pero mas i-explore pa lang. Marami ba tayong, iyong mga sa mas mahahalagang bagay ba nagkakaintindihan tayo?" Robredo said in a chance interview in Manila on July 20.
(We haven't discussed who would be our common candidate. We're not yet there. We're in exploratory talks. Do we have an understanding on the most important issues?)
Robredo and Trillanes were among the six nominees for president and vice president of the 1Sambayan opposition coalition, which is aiming to endorse a single slate of national candidates for the opposition in 2022. – Rappler.com