(1st UPDATE) 'The endorsement is premised on the broad desire to defeat the Marcos-Duterte alliance and on significant points of unities on people's issues,' says the UP Diliman University Student Council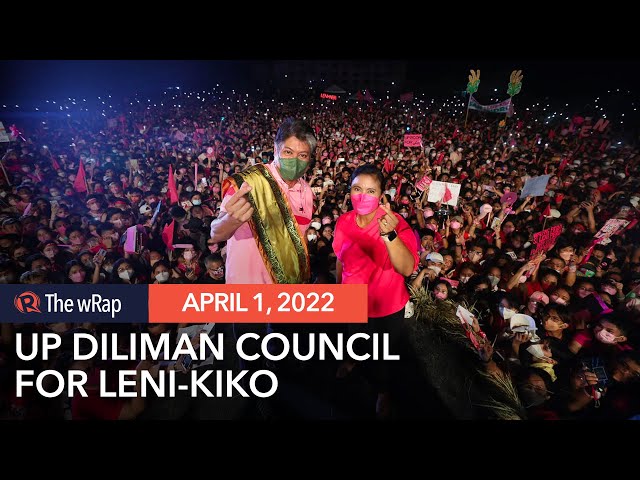 MANILA, Philippines – The University of the Philippines Diliman University Student Council has endorsed the tandem of Vice President Leni Robredo and Senator Kiko Pangilinan.
In a Facebook post, the UP Diliman student council announced that it has passed Resolution No. 2022-03 to endorse the bid of the tandem.
"The endorsement is premised on the broad desire to defeat the Marcos-Duterte alliance and on significant points of unities on people's issues," said the student council, the latest group to back the tandem.
Robredo and Pangilinan, who are running on a platform anchored on fighting corruption and poverty, are both UP graduates. The Vice President obtained her economics degree at the premiere state university in 1986, while Pangilinan finished his Bachelor of Arts in English, Major in Comparative Literature also at UP Diliman.
Other groups and personalities have endorsed the tandem, including former government, military, and police officials; religious leaders; and academic institutions.
UP is regarded as the bastion of the student activism in the Philippines.
In October 2021, all seven UP university student councils opposed the presidential bid of dictator's son Ferdinand Marcos Jr., who is leading in pre-election surveys on presidential candidates, with Robredo at a distant second place. They said this was part of the "longstanding fight of our nation to hold the Marcoses accountable for their atrocities during one of the darkest times of the nation's history."
In the 2016 elections, UP Diliman political parties had banded together to oppose the vice presidential bid of Marcos Jr.
UP Student Council alumni back Leni-Kiko
Less than two weeks before the elections, over a thousand former members of different UP Diliman student councils expressed their support for the Robredo-Pangilinan tandem.
"As fellow UP alumni, Vice President Robredo from the School of Economics and Senator Kiko Pangilinan from the College of Arts and Letters and the College of Law, both exemplify this common creed of Iskolars ng Bayan. In our fight against injustice and incompetence in public service, we need President Robredo and Vice President Pangilinan at the helm," they said in a statement on Thursday, April 28.
"We come from different generations and political affiliations, yet we now stand united because we are bound by a movement born and shaped by our continuing struggle for justice and democracy. With this, we will not allow the gains after the fall of the Marcos dictatorship to be erased. This is why we have come together to support a Robredo-Pangilinan victory in the coming elections," they added.
The signatories came from different generations of UP student leaders, who were either affiliated with political parties or independents, including alumni who served in the student council from way back in the 1950s up to the 2020s.
– With reports from Bonz Magsambol/Rappler.com