The Nagueños closest to Vice President Leni Robredo paint a picture of a woman whose sense of duty is unparalleled
MANILA, Philippines – When she was working at the Sentro ng Alternatibong Lingap Panligal (Saligan), Leni Robredo and her fellow lawyers had to travel to Ragay town in Camarines Sur to give a legal seminar to residents of the coastal community.
Her colleagues tried to dissuade her from taking the 68-kilometer trip from Naga City to Ragay. This was in 1999 – the terrain then was rough, too dangerous for Robredo who was pregnant with her youngest daughter Jillian.
Robredo suffered cramps and was slightly bleeding on the day of the trip, but she insisted on going. Each member of the team was assigned different topics during the seminar. If she didn't go, no one could fill in for her.
"When she got back, she was profusely bleeding already. But that's who she is: when there's the need to work, then she will work," said Gerardo Borja, Robredo's close friend and former Saligan boss.
"Even if she feels physically unstable, if she still could do it, she would do it. That's really her character," Borja told Rappler.
An alternative lawyer and economist by profession, Robredo initially worked at the Public Attorney's Office before applying for a job at the Bicol chapter of Saligan. Her colleagues said that not once did Robredo make them feel that she was the wife of longtime Naga City mayor Jesse Robredo.
Vice President Robredo's penchant to go the extra mile even if she didn't have to was already apparent when she was still in her hometown Naga City in Camarines Sur, long before she aspired to be the next Philippine president.
When Robredo talks about "resibo" – receipts or proof of what she has done – she does not only draw from her experience as vice president and former congresswoman of Camarines Sur's 3rd District. Much of who Robredo is as a person and the principles she stands for as a public servant were shaped in Naga City.
This is where she grew up, the eldest of three children raised by a teacher and a regional trial court judge. This is the place where she met her soulmate. This is her home, where she and Jesse built a life together with their daughters Aika, Tricia, and Jillian.
For decades, Robredo was the quiet strength behind Jesse, helping her husband manage the city away from the limelight. When she was not busy being a no-drama tiger mom to her daughters, Robredo would be out on the field representing abused women and farmers in court.
When she became congresswoman in 2013, she championed bills seeking greater transparency and accountability in government. One such measure was the people empowerment measure, which would have replicated the "People's Councils" that Jesse institutionalized in Naga so ordinary folk could be a part of policy-making.
When she was elected vice president in 2016, Robredo was able to run effective anti-poverty and pandemic relief drives despite the meager budget of her office.
These days, on the presidential campaign trail, even reporters following the indefatigable Robredo across provinces can hardly keep up with her. Some newsrooms end up deploying two teams just to cover all of Robredo's daily campaign activities, which start early in the morning and could last until midnight.
"We're tripling our efforts on the ground," tweeted Robredo after visiting far-flung Lubang Island in Occidental Mindoro on April 26. "All corners of the Philippines are valuable to us."
Robredo was always the reluctant candidate, never harboring any childhood dreams of becoming president. But she has repeatedly responded to calls for her to step up, from the 2013 congressional race in Camarines Sur to the 2016 vice presidential contest, and now the battle for Malacañang in 2022.
The day Jesse died in a plane crash, Leni had to be strong – for her daughters, for Naga, for a nation mourning the loss of a man who touched the lives of many. She was the grieving widow, and yet many of the people whom Jesse left behind held on to her for strength and stability.
"That's when I was truly awed by her. After the tragedy in 2012, that's when I realized Leni was good at what she does," said Camarines Sur 3rd District Representative Gabriel Bordado, a dear friend of the Robredos. "Leni was virtually giving us the strength we needed. I said Leni can do it. She can be a leader of our community."
Lighting the path for women
Naga City Vice Mayor Nene de Asis, another close friend of Robredo, credited her for helping encourage more women to be more involved in local policy-making in Naga.
Robredo founded Lakas ng Kababaihan in 1992 and later became president of the Naga City Council for Women from 2008 to 2010. She was also a member of Bantay Familia, an organization working to prevent cases of domestic abuse.
De Asis said membership in organizations was once ceremonial for women in Naga, but she saw how Robredo worked to change that.
"When she sat in the Naga City Council of Women, it's like she changed the mindset that women's organizations just gather together when there's an occasion, an induction ceremony," said De Asis. "Like Jesse, she showed us that women should be involved, that they should craft programs that benefit others."
In Naga, Robredo took on cases of abused women and children, cases that saw her going against influential figures in her own city.
De Asis remembered some cases where parties involved included people whom the Robredos personally knew – and yet that did not stop Leni from representing the victims.
"I said then she could have just opted to become a private lawyer who earns a lot of money, but she isn't like that," said De Asis. "She'd rather serve the people who are truly in need."
Growing up in Naga
Robredo was quite shy and reserved during her childhood years in Naga, her best friend Sieg Borromeo told Rappler.
Robredo was always by the side of her mother Sally Gerona, who used to teach at the Universidad de Sta. Isabel (USI), where Robredo finished grade school and high school. Her late father Antonio Gerona Sr. was a presiding judge at the Camarines Sur Regional Trial Court. She was close to her younger siblings Maria Lourdes and Antonio Jr., and helped her parents watch over them.
Robredo followed a strict schedule even after school: she had piano lessons and theater and ballet classes that she always attended on time.
As a friend, Robredo was always eager to share her things and chat, as little girls often too. The Geronas then were among the first in their circle to have their own Betamax, and the young Leni would invite her friends to come over and watch. Their favorite tapes were animated stories from the Bible.
Robredo and Borromeo were so close growing up, they were like twins who never left each other's side. They played street games like dodge ball and agawan base. They sported the same hairstyle during their First Communion. Both excelled in academics and extra-curricular activities.
Robredo may be quiet, but Borromeo said her friend caught the eye of many of their male school mates then. One even tried to woo both of them using the same love letter, but the two friends easily caught on.
"The love letter he gave to her was the same love letter he gave me. Of course, we showed to each other the love letters we got in high school. We noticed how even the way the papers were folded was the same. So we both rejected him," Borromeo said with a smile.
The two were inseparable even in college. Robredo and Borromeo both attended the University of the Philippines Diliman, taking economics and engineering courses, respectively. It was the first time for the two probinsyanas to leave home and study in a co-ed school. They were dormmates at the Kalayaan Residence Hall, forming a close-knit relationship with other Nagueños in their dormitory.
Robredo continues to stay in touch with Borromeo and her USI batch mates. They are now among her most dedicated campaigners, some even traveling across provinces to join house-to-house efforts or to help out in the rallies.
Facing her Batch 1982 friends and other Isabelinas during her homecoming at USI on the eve of the start of the campaign period last February 7, Robredo said she was humbled by their support.
"Please know that I am very, very grateful. I have said that so many people are doing something for me, but when it's you doing it, it's like an affirmation that I am doing something right," said Robredo.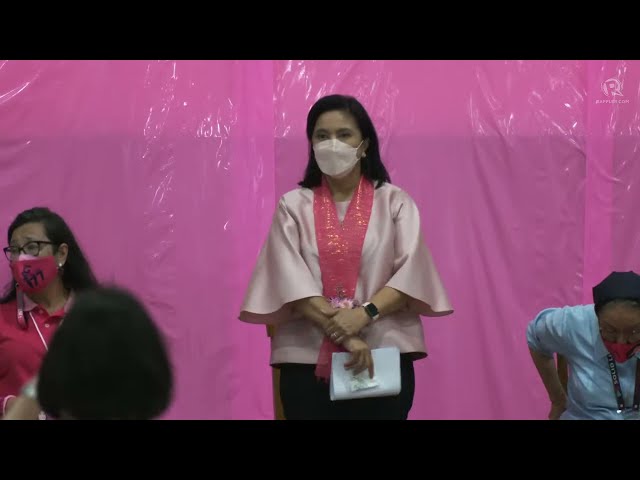 Robredo's 'happy place'
Those closest to Robredo also speak of a woman who is at her most comfortable in the company of her friends.
Nanz Mapa Robles, a local hairdresser from Naga City, beamed with pride when she told Rappler that she had been styling Robredo's hair for the past two decades. Her favorite client isn't vain, she said, as Robredo would always just ask for a trim and basic cleaning of her nails.
"She would just get a foot spa on her birthday. That's how thrifty she is," said Robles. She and Robredo would often talk about their crushes, a secret between friends.
Robles' parlor along Magsaysay Avenue is nothing fancy, just the first floor of an apartment converted into your friendly neighborhood salon. But Robredo calls it her "must-go-to happy place" whenever she's back home.
Robles has since moved her parlor to a street on the border of Naga City and Camaligan town, yet Robredo still seeks her out. The day before Robredo officially kicked off her presidential campaign, she invited Robles to her house to help her prepare for the big day.
While Robles gave the lone female presidential candidate a haircut, Robredo was on her laptop, doing last minute edits on her speech.
For Robles, it's a no-brainer that Robredo is qualified to be president.
"Well, we can see for ourselves why she deserves it, right? She's a lawyer. She's an expert on many things, and in the services that she does, she's hands-on, unlike the others," said Robles. "That's why she's the only one qualified."
Jesse's guiding light
Long before becoming a politician, Robredo was already living out in Naga the tsinelas leadership or the accessible and people-centered brand of governance that her husband Jesse had been known for.
Perhaps, it's the reason why Leni and Jesse were meant for each other – because their core values had always been aligned. For all the leadership accolades Jesse received when he was alive, he would always credit Leni for being his guiding light.
"My wife serves as my conscience," Jesse said when he received the prestigious Ramon Magsaysay Award for Government Service in 2000. "We led a clean political life because it was the influence of my wife. She constantly guides me to walk the difficult, but right path, almost all the time."
Leni does the same thing for Jesse today. Whenever Robredo goes on stage and promises to lead a clean and honest government that includes the last, the least, and the lost, it is a homage to the legacy of her husband.
It was Jesse's death that changed the course of Robredo's life forever. It was also the day Nagueños – and the rest of the nation – saw for themselves what Jesse had been saying all along: that Leni could lead, Leni could govern, Leni could bring people together. – Rappler.com