WHAT YOU NEED TO KNOW
From October 1 to 8, 2021, aspirants for local positions will be filing their certificates of candidacy (COCs) for the 2022 Philippine elections. More than 18,000 positions in the provincial down to the municipal governments will be up for grabs across the country.
In Luzon, which includes the National Capital Region, they are running in 38 provinces, 74 cities, and 697 municipalities.
Bookmark and refresh this page for real-time news, photos, videos, and context and analyses during the COC filing week in Luzon.
LATEST UPDATES
ILOCOS SUR: Former Vigan City mayor Eva Medina running vs uncle in comeback bid
On the last day of the filing of certificates of candidacy, Eva Marie Singson-Medina filed her candidacy as mayor of Vigan City, Ilocos Sur. Running under the hometown Bileg Party, she came with a full slate and all of them wore white.
She will be pitted against her uncle, Jose "Bonito" Singson, who filed his candidacy on October 1 together with elder brother Luis "Chavit" Singson.
Read more here.
ILOCOS SUR: Singsons file COCs for 2nd District rep, Candon mayor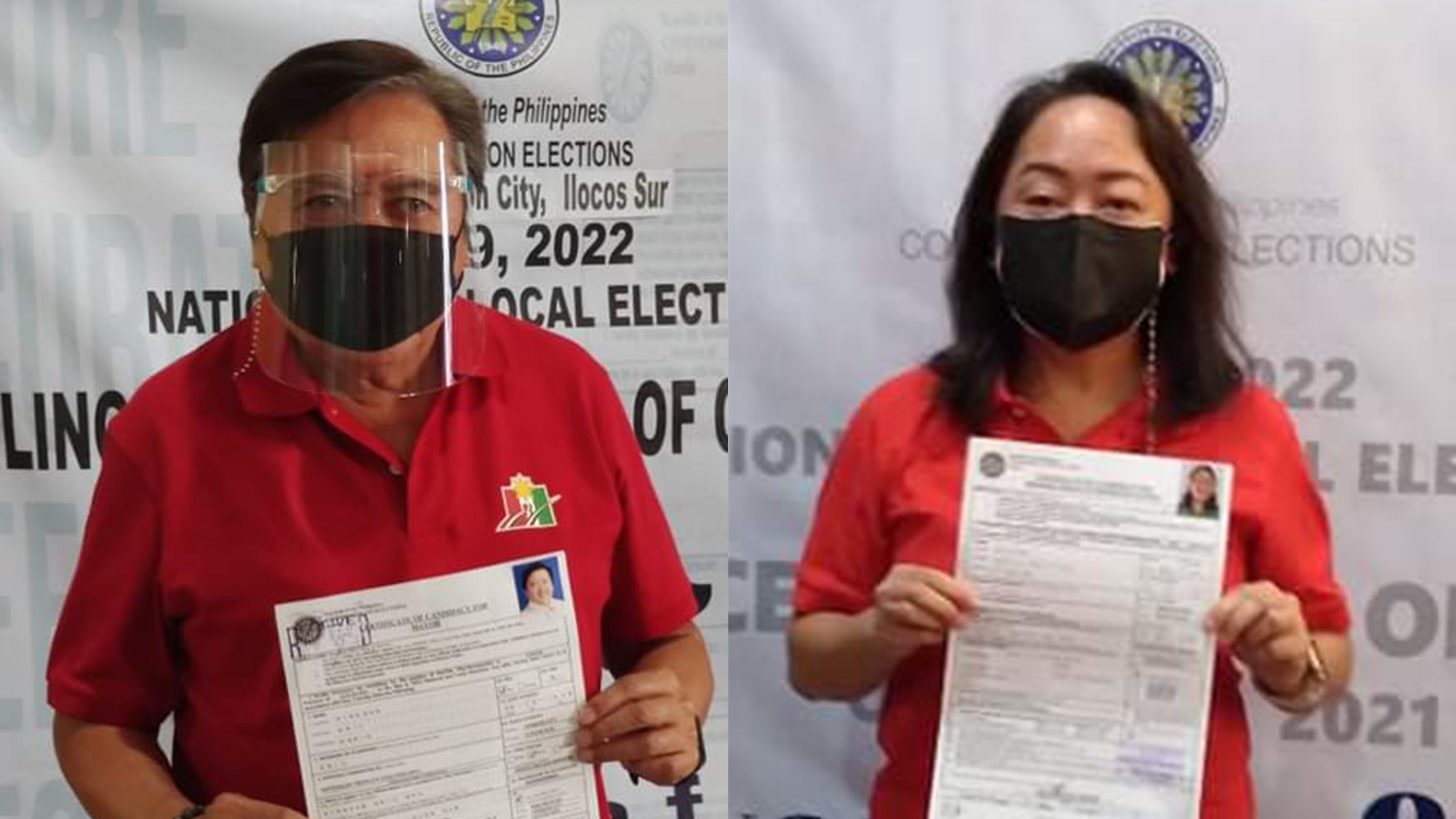 Ilocos Sur 2nd District Representative Kristine Singson filed her certificate of candidacy (COC) for a second term on Friday, October 8.
Former deputy speaker Eric Singson filed his COC for mayor for Candon City.
CAVITE: Revilla siblings file COC as Bacoor mayor and vice mayor
Cavite 2nd District (Bacoor) Representative Strike Revilla and Bacoor Councilor Rowena Bautista-Mendiola filed their certificates of candidacy (COC) as mayor and vice mayor of the city on Friday, October 8.
Strike is switching positions with his sister in law, Mayor Leni Mercado, who filed her COC for congresswoman on the same day.
Revilla is currently among the 32 deputy speakers in the House of Representatives. He has been representing Bacoor since 2016. Before this, he was the mayor of the city from 2007 to 2016.
Mendiola has been a councilor since 2013 and previously for from 1988 to 1991, making her the first child of the late actor-turned-senator Ramon Revilla Sr. to enter politics.
Their other brother is Senator Ramon "Bong" Revilla Jr., whose sons are Vice Governor Jolo Revilla and actor Bryan Revilla. Jolo filed his COC to represent the 1st District on October 7, while Bryan filed his COC for 2nd District board member on October 8.
RIZAL: Morong barangay captain Harold Ramos files COC for vice-mayor
The current barangay captain of Barangay Maybancal in Morong, Rizal, Harold "Tulisan" Ramos, filed his certificate of candidacy for vice-mayor on Friday, October 8.
Ramos will team up with mayoral hopeful Joseph "Jojo" Buenaventura, who lost the race for mayor in the 2016 elections and didn't run in 2019.
This will be the first time for Ramos to seek a higher position in Morong, Rizal.
– Jake de Silva
RIZAL: Elen Nieto, wife of incumbent Cainta mayor, files COC for the position
Elen Nieto, the wife of incumbent Cainta mayor Johnielle "Kit" Nieto, filed her certificate of candidacy for mayor on Friday, October 8.
She is a lawyer who has been actively helping her husband for the past nine years in service. The incumbent Cainta mayor is on his last term. 
Elen Nieto's running mate is incumbent vice-mayor Ace Bernardo Servillon. She will face the PBA legend Alvin Patrimonio, who filed his COC on Wednesday, October 6.
– Jake De Silva
PANGASINAN: Ex-PBB housemate seeks to replace husband as Bayambang mayor
Niña Jose-Quiambao, a former housemate of Bahay ni Kuya, will try her luck at politics as she filed her certificate of candidacy at the Bayambang Commission on Elections office on Thursday, October 7.
She is running for Bayambang mayor, a position currently held by her husband Cezar Quiambao, who is on his final term.
Her running mate is incumbent Vice Mayor Raul Sabangan.
The Quiambaos are allied with Team Aguila, a coalition between Ramon "Monmon" Guico III and incumbent Vice Governor Mark Lambino.
The team is also joined by various political bigwigs in the province such as the Celestes of western Pangasinan, and Mark Cojuangco, who is now vying to become the province's 2nd District representative.
RIZAL: Pililla mayor seeks reelection
Pililla Mayor Dan Masinsin filed his certificate of candidacy (COC) for reelection on Friday, October 8.
On a Facebook Live post, Masinsin introduced the Team Better Pililla under Partido Demokratiko Pilipino – Lakas ng Bayan (PDP-Laban). This will be his last term, if he is elected.
His running mate is the incumbent vice-mayor, Rafael "Paeng" Carpio.
– Jake De Silva
BULACAN: Former city mayor Reynaldo San Pedro gunning for congressional seat
Ex-mayor Reynaldo San Pedro filed his certificate of candidacy (COC) for the representative of the lone district of San Jose Del Monte City on Friday, October 8.
San Pedro, once the vice mayor of San Jose Del Monte City, was accused of usurpation of official functions defined and penalized under Article 177 of the Revised Penal Code after he discharged the duties and functions of a city from September to October 2009 "without being lawfully entitled to do so" because of a mayoralty elections dispute between Angelito M. Sarmiento and Eduardo V. Roquero.
On August 25, 2009, San Pedro succeeded as the City Mayor, while co-accused city councilor, Nolly D. Concepcion, succeeded as the city's vice mayor.
However, in a court decision penned by Associate Justice Georgina Hidalgo, San Pedro and Concepcion were acquitted from administrative charges.
"The compilation of evidence also points to the fact that accused San Pedro and Concepcion held on to their respective positions in good faith. In jurisprudence, good faith is an accepted defense in the criminal prosecution of usurpation of official functions", the court ruled.
The decision was promulgated by Sandiganbayan last February 19, 2021.
– Ivy Marie Silang
PAMPANGA: Porac mayor, councilor team up for reelection bid in 2022
Porac's incumbent Mayor, Jaime "Jing" Capil, and incumbent Councilor Francis "Budoy" Tamayo filed their certificates of candidacy (COC) on Friday, October 8, as running mates.
Arriving at the same time in the local Commission on Elections office, Mayor Capil seeks to start a second term in office while Councilor Tamayo is gunning for the vice-mayor position.
Earlier this year, Mayor Capil faced plunder charges and administrative cases filed by a resident of Porac. This is due to an alleged unaccounted P138.5 million in expenditures from 2019 to 2020, and his unexplained wealth. Capil responded to the allegation, saying this was the product of imagination and was used to taint his image.
Meanwhile, Councilor Tamayo received much support from local groups, such as village councilmen and transportation leaders in Porac, to file a COC for the Vice Mayor position. Tamayo started his political career in 2007 as Palat's Sangguniang Kabataan Chairman and went from being a village councilman to a councilor in the current term.
– Jeff Winxin Colldado
RIZAL: Taytay local village councilor seeks municipal councilor post
Barangay Sta. Ana councilor John Tobit Cruz filed his certificate of candidacy (COC) for municipal councilor on Friday, October 8.
Cruz decided to run as an independent after offers from different local parties. He was one of the petitioners in the campaign to save Taytay's town hall after the decision of the local government to demolish it despite the ruling of the National Historical Commission of the Philippines.
On his Facebook post, he shared his intentions to run despite being independent. He is currently looking for volunteers to help him with the campaigns.
– Jake de Silva