WHAT YOU NEED TO KNOW
From October 1 to 8, 2021, aspirants for local positions will be filing their certificates of candidacy (COCs) for the 2022 Philippine elections. More than 18,000 positions in the provincial down to the municipal governments will be up for grabs across the country. 
In the Visayas, they are running in 16 provinces, 39 cities, and 369 municipalities.
Bookmark and refresh this page for real-time news, photos, videos, and context and analyses during the COC filing week in the Visayas.
LATEST UPDATES
ILOILO CITY: Nava wants to return as councilor
Former Iloilo City councilor Plaridel Nava filed his certificate of candidacy for city councilor on Friday, October 8.
Running under the banner of PROMDI, Nava is also the Iloilo City chairman of the Manny Pacquiao for President Movement.
In 2020, he threatened Francis Allan Angelo, editor in chief of the local Daily Guardian newspaper, after it published the Supreme Court decision disbarring the ex-city councilor for violations of the Code of Professional Responsibility. 
AKLAN: 2022 hopefuls a mix of veteran and neophyte politicians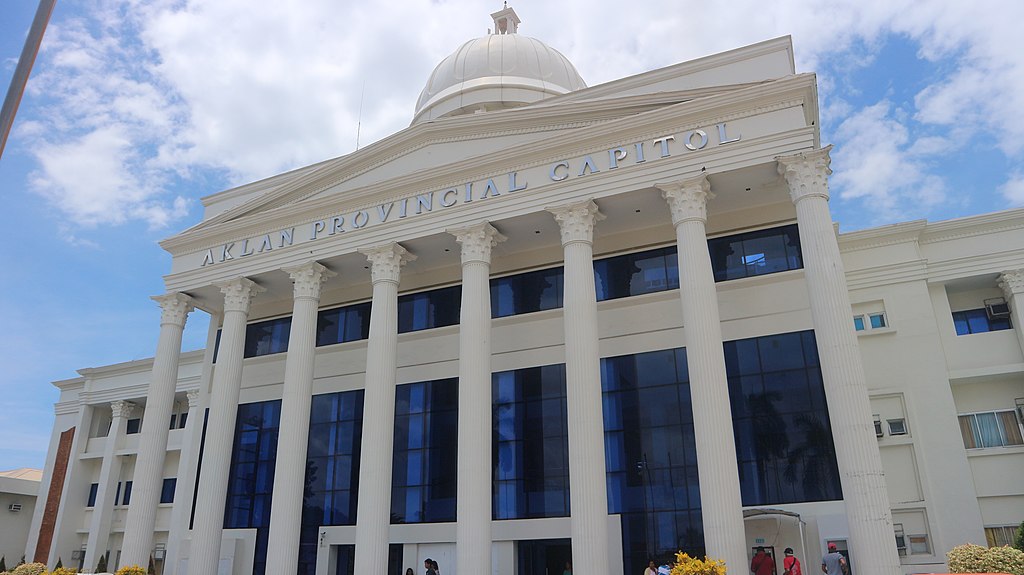 The 2022 elections in Aklan will be a battle between veterans and newcomers or rising young politicians.
Read more.
LEYTE: Representative Carl Cari seeks reelection
Leyte 5th District Representative Carl Cari filed his certificate of candidacy (COC) for reelection on Friday, October 8.
Carl was accompanied by his wife, National Youth Commission (NYC) Executive Director Christine Joy Escober, at the Commission on Elections office in Tacloban City.
The Cari political clan has been in power for decades, with Cari's grandmother Carmen having served as mayor of Baybay City for six terms and as representative of the 5th District of Leyte for three terms.
His father, incumbent Baybay City Mayor Jose Carlos Cari, is seeking another term as chief executive of Baybay.
Under the leadership of the Caris, Baybay City has been recognized as one of the cleanest cities in the Philippines.
ILOILO CITY: Veteran broadcaster joins mayoral race
Veteran local broadcaster Jun Capulot filed his certificate of candidacy for Iloilo City mayor on Friday, October 8.
Running under the banner of the People's Reform Party, Capulot will challenge Mayor Jerry Treñas of the National Unity Party/Uswag Ilonggo Party.
He made headlines in local media in 2020 when he stated during a radio program that call center agents "lacked brain cells."

LEYTE: Former DOE chief Jericho Petilla seeks comeback as governor
Former energy secretary Jericho "Icot" Petilla filed his certificate of candidacy for Leyte governor on Friday, October 8.
Sandy Javier, former Javier town mayor and founder of Andok's food chain, will be his vice gubernatorial candidate.
Petilla served as Leyte governor from 2004 to 2012 before joining the Benigno Aquino III Cabinet from 2012 to 2015. He ran for senator but lost in the 2016 elections. His brother, Governor Leopoldo Dominico "Mic" Petilla, is on his third consecutive term.
Petilla's wife is Palo Mayor Ann Petilla. His mother, former governor Remedios Petilla, filed her certificate of candidacy for Palo mayor also on Friday.
ILOILO: 1st District Board Member Serag files for reelection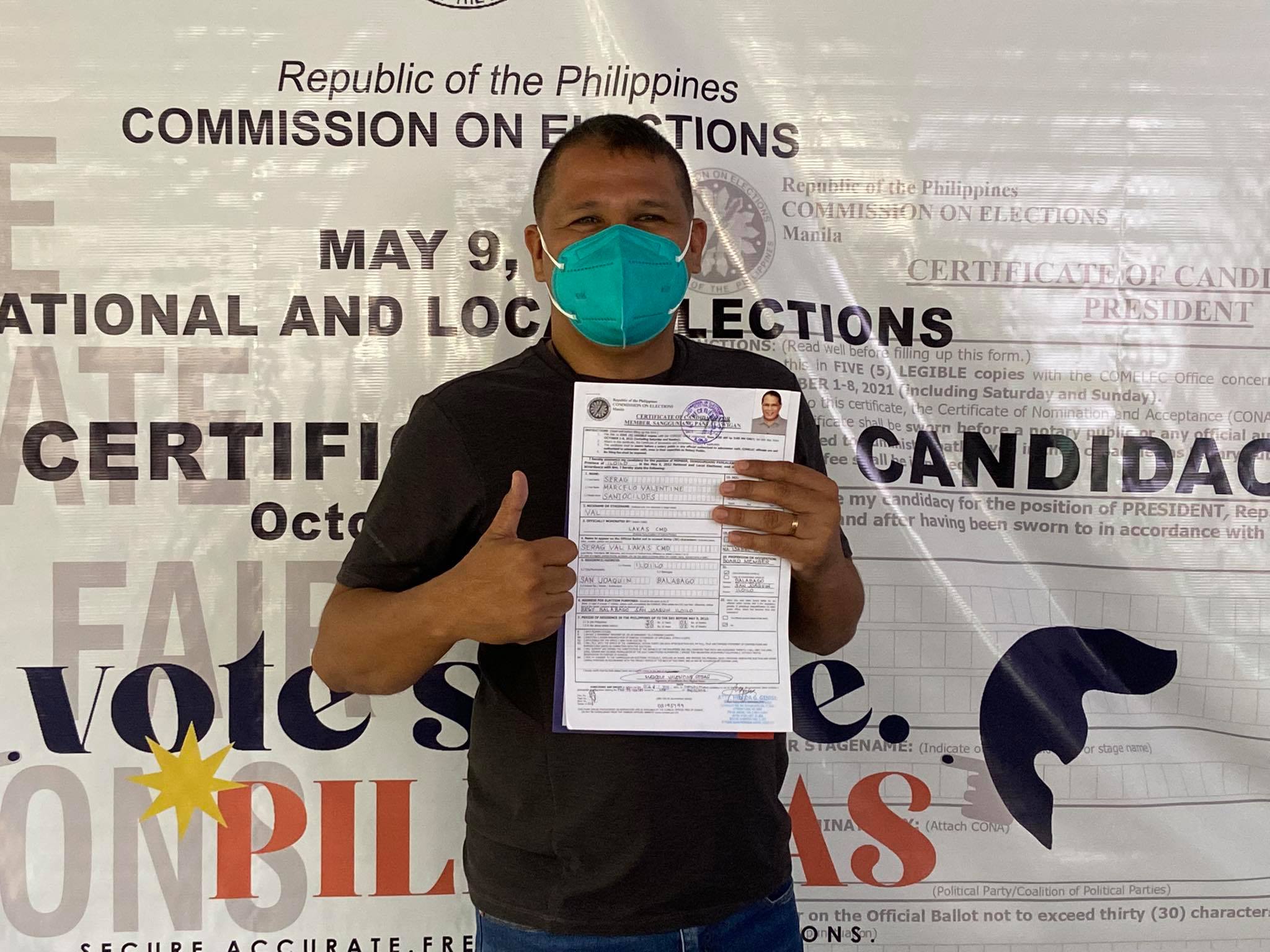 Iloilo 1st District Board Member Marcelo Valentine "Val" Serag filed his certificate candidacy for reelection on Friday, October 8.
Serag will run under the banner of Lakas-CMD, jumping ship from the Nacionalista Party. He first entered the provincial board in 2016 as a Liberal Party member.
EASTERN SAMAR: Congresswoman Fe Abunda seeks second term
Eastern Samar Representative Fe Abunda is seeking a second term in the House of Representatives as she filed her certificate of candidacy on Friday, October 8. 
Abunda, the sister of Boy Abunda, was mayor of Borongan City prior to serving as congresswoman.
EASTERN SAMAR: Ben Evardone seeks reelection as governor
Governor Ben Evardone filed his candidacy for reelection on Friday, October 8. 
In a Facebook post, Evardone shared his plans should he be reelected as governor of Eastern Samar. "With God's grace, I will continue to focus on health services especially the poor and other social services, and the development of far-flung areas," he said. 
SAMAR: Son of slain Calbayog mayor Aquino runs for vice mayor
Clarence Aquino, the son of slain Calbayog mayor Ronaldo Aquino, filed his certificate of candidacy for vice mayor on Friday, October 8.
Clarence, a physician, was accompanied by his mother Marcelina at the Commission on Elections office in Calbayog City.
The Aquino family was thrust into the national spotlight following the murder of Mayor Aquino in what Samar police claimed to be a "shootout" – contrary to the findings of the National Bureau of Investigation in Eastern Visayas that Aquino was ambushed and killed by the cops.
Read more.
CEBU: Newcomer Theresa 'Doc Tess' Heyrosa runs for vice governor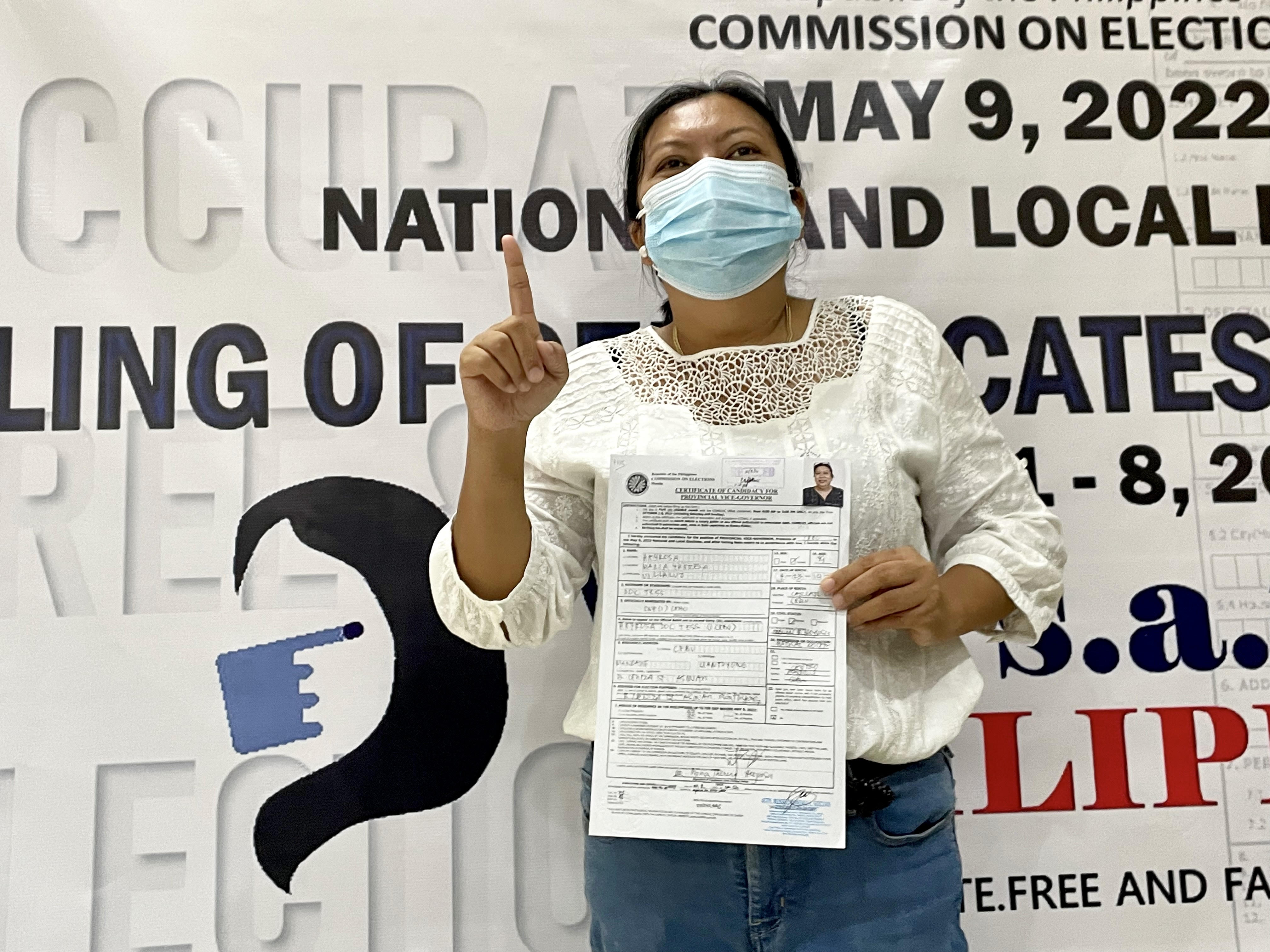 In a surprise move, Theresa "Doc Tess" Heyrosa, a physician, is chosen as the running mate of incumbent governor Gwen Garcia for vice governor in the 2022 election. Heyrosa said her only political experience previously was when she was Sanggunian Kabataan chairperson in her barangay in the 1990s.
"We chose Doc Tess because number one, it's time for a fresh face in Cebu politics, and number two, the number one challenge we are facing as a province is the health crisis brought about by the pandemic," One Cebu's Secretary General PJ Garcia, Cebu's 3rd District representative, told reporters. Gwen Garcia, who filed her candidacy for reelection earlier the same day, has been criticized for allegedly downplaying the pandemic.
Heyrosa said she hopes she could "guide" the governor in leading the province through the COVID-19 crisis. Garcia and Heyrosa will face former tourism secretary Ace Durano and incumbent Vice Governor Hilario Davide III in the election.