'If you have something new to ask me, mahirap naman if we will be talking about the same conversation I've been having for 35 years,' says Bongbong Marcos, on questions of abuses during his father's Martial Law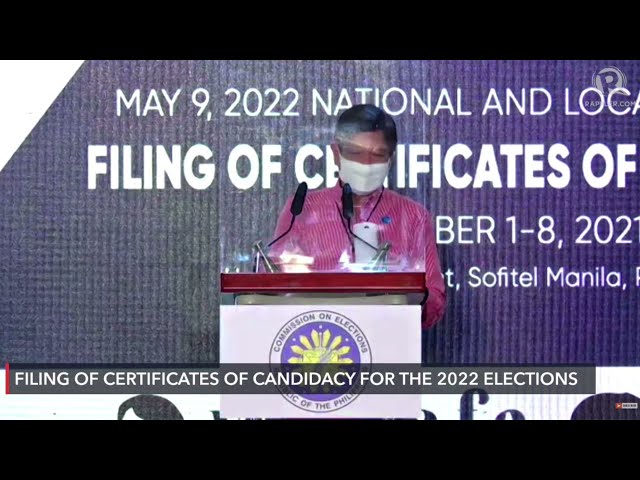 Dictator's son Ferdinand "Bongbong" Marcos Jr would prefer to talk about his mother's graft conviction another time, another place, and not when he had just filed his certificate of candidacy (COC) for president in the 2022 elections.
"Not here and now, I'm here for filing," Marcos said, ending a series of questions from Rappler's Comelec reporter Dwight de Leon, who had begun to ask about Imelda Marcos' conviction for seven counts of graft in 2018.
De Leon first asked if Marcos would now be more open to media interviews where he can be asked about his father's dictatorship under Martial Law. That dark period in Philippine history plunged the nation in deep debt and resulted in the killing of an estimated 3,000 people.
"I have never refused any interview on any basis whatsover, I don't know where that's coming from, when have I refused to answer questions about anything?" Marcos said.
Marcos carefully chooses whom he grants a sit-down interview with, his latest pick being celebrity-turned-vlogger Toni Gonzaga where the faintest reference to Martial Law had the interviewer saying, "to some people, he was the worst president," and Marcos likening the people power revolution 35 years ago to "enemies coming for us."
In the 2016 elections, Marcos skipped the vice presidential debate organized by ABS-CBN – a network closed down during his father's Martial Law – after he was grilled on corruption and human rights violations in a previous debate. Marcos said then that it was because of a conflict of schedule.
"So if we asked an interview with you, would you say yes?" De Leon asked.
"Well, my comment to a lot of people is always – if you have something new to ask me, mahirap naman (it would be difficult) if we will be talking about the same conversation I've been having for 35 years, but of course I have never – I do not know where that comes from – I have never turned down an interview, I have never specified the subjects which we have to talk about," said Marcos.
De Leon followed that answer with, "if we were to ask you, for instance, the conviction of your mother…"
But Marcos cut him and said: "I misunderstood, not here and now, I'm here for filing."
The rest of the question would have been: "In the conviction of your mother for seven counts of graft, you and your siblings were named beneficiaries of two illegal Swiss foundations, are the funds from that foundation still existing?"
His sister, Senator Imee Marcos, was asked this same question when she was running for the Senate in 2019, but Imee said: "I'm not able to answer because the case is pending in court. It's best that our lawyers respond to your question."
Marcos' presidency bid is opposed by many groups, especially those who witnessed or were victimized by the human rights abuses of martial law. In his announcement, Marcos said he seeks to be a unifying leader.
"How can you be a unifying leader if there are still these questions?" asked TV5 reporter Greg Gregorio.
"In my view, those questions have all been answered, we unify now in the face of the COVID crisis, in the face of economic crisis, that is what I mean when I talked about a unifying leadership," said Marcos.
In a statement after Marcos' announcement, the Campaign Against the Return of the Marcoses and Martial Law (CARMMA) said: "His refusal to apologize to the victims of Martial Law, dismissing them as merely seeking monetary compensation and washing his hands of any involvement in the military rule that allowed the Marcos family to run roughshod over the Filipino people with abandon, completes Bongbong's self-centered image and blind focus on restoring the stature of the Marcos family to their former glory."
Imelda is enjoying temporary liberty after she was extended humanitarian consideration by the Sandiganbayan because of old age, and was granted the usual post-conviction bail.
People convicted for bailable offenses like graft are entitled to post-conviction bail while they appeal, but Imelda's absence during the promulgation was a violation that could have revoked that privilege.
Imelda's conviction is on appeal at the Supreme Court. – Rappler.com