While it's easy to assume the popular President can deliver the province to his successor on a silver platter, local observers say it's more complicated than that
A significant part of President Rodrigo Duterte's 2016 strategy was to highlight his Cebuano roots.
Duterte's Bisaya branding strategy, along with constant exploitation of hurt feelings of voters in the regions who felt left out by an "imperial Manila," was effective enough to get him a huge number of votes – 1.1 million to be exact – in the country's most vote-rich province.
"I go back to the saying by historian Alfred McCoy, 'all politics is local,'" said political observer Ryv Ryla, who teaches political science at a Cebu university.
Cebu truly remains to be a province to keep an eye on in this election cycle. According to latest Commission on Elections data, Cebu still has the most number of voters outside Metro Manila with over three million registered voters as of 2019.
Local support
"The deciding factor is always the local units, whoever is the captain will bring the national candidate to his or her constituents," Ryla added.
The irony is, this formula was the reason why many thought Cebu would remain loyal to the late former president Benigno "Noynoy" Aquino III, who also won big in Cebu in 2010.
Aquino won overwhelmingly over Gloria Macapagal-Arroyo-backed candidate Gilbert Teodoro Jr. – he got close to one million, or 986,280 votes, compared to Teodoro's 432,132 votes in 2010.
But it did not turn out that way.
At the time, 90% of the mayors and barangay captains in Cebu's three independent cities, six component cities and 38 municipalities, were members of Aquino's Liberal Party, yet Duterte clobbered Roxas in the province. At least 1.1 million Cebuanos voted for Duterte compared to the almost 600,000 who voted for Roxas.
While some analysts tend to assume local membership in the administration party automatically translates to support, Ryla believes the ability to connect with people in the regions is more important.
"Historically, Cebu has been known to support those who are friendly in the provinces," Ryla said. "Those who can promise the best deals for the province, those are the ones who will be favored."
From being part of an LP majority before 2016, most local leaders have crossed over to the PDP-Laban banner.
Cebu was also among the stops of Duterte when he went on his federalism "listening tours" prior to deciding to run for election. It was a major reason, too, why many Cebuanos voted for him.
While Duterte retains high popularity ratings across the country, including Cebu, University of San Carlos political science instructor Niño Olayvar believes it is too early to say if Cebu will necessarily be delivered to Duterte's chosen successor on a silver platter.
"It is too early," Olayvar said. "I think there are already individuals posing themselves as opposition to the administration and that would be a major factor in terms of the demographics sa mga (in the) local government campaign," he added.
Olayvar, however, acknowledged that having the President's endorsement does have its obvious advantages in Cebu.
"[The advantage is] when it comes to campaign resources," Olayvar said. "That includes funds, that includes people, that includes existing manpower that you can mobilize on a national level. Especially with Duterte's very high ratings." He got an approval rating of 91% in Pulse Asia's survey recorded in September 2020. (READ: Duterte may cap term as most popular Philippine president. So what?)
Popularity
Balbino Guerrero, a former Cebu City tour guide, was one of those who was thrilled when Duterte became President in 2016. Guerrero helped organize events and campaigned for Duterte back then, but publicly announced his opposition to him in a 2019 viral post.
"I once dreamed of a just, peaceful and truly democratic society ruled by lasting and genuine change under the present dispensation. But instead, I was short-changed," Guerrero said.
"I once pinned my hopes on a political order that would pursue federalism to benefit the poor and in remote regions and provinces. But alas, Davao imperialism is what I got instead," he added.
Guerrero considers himself an "ex-DDS" and has since moved to Negros Oriental where he got a job working for a local government there after the coronavirus pandemic shut down almost all tourism activity in the country.
Inside the local government bureaucracy, it is even more complicated.
Even as most politicians in Cebu remain a part of the administration party PDP-Laban, it does not mean everyone within the bureaucracy is aligned with the President.
In Cebu City, Duterte's endorsement was crucial in helping Edgar Labella and Mike Rama beat political heavyweight Tomas Osmeña and his running mate Mary Ann delos Santos as mayor and vice mayor.

But their wins were not due to Duterte's endorsement alone.

More important than the endorsement itself was the material and human resources that Duterte's local allies offered to Labella to help him win his first term as mayor.
And who the Cebu City mayor and vice mayor supports does not necessarily trickle down to the city hall personnel themselves.
"There are hardcore supporters in city hall, while others who support (Duterte) aren't vocal. Some are indifferent, others oppose the current administration, but are silent in their dissent," a staff member told Rappler.
'Suberbiyo'
While Duterte – who traces his roots to Cebu City – constantly played up his Cebuano roots to appeal to voters in 2016, he often picked fights with Cebuanos when he visited the province.
Several times since 2017, he called the island "number one" in drugs without saying where he got his data.

When Cebu City coronavirus cases surged in 2020, Duterte blamed the Cebuanos by calling them "suberbiyo" (hardheaded) and attributed the surge to a refusal to follow quarantine protocols.
Several months later, Cebu City achieved among the lowest positive rates in the country and was recognized for its testing, tracing, and isolation protocols.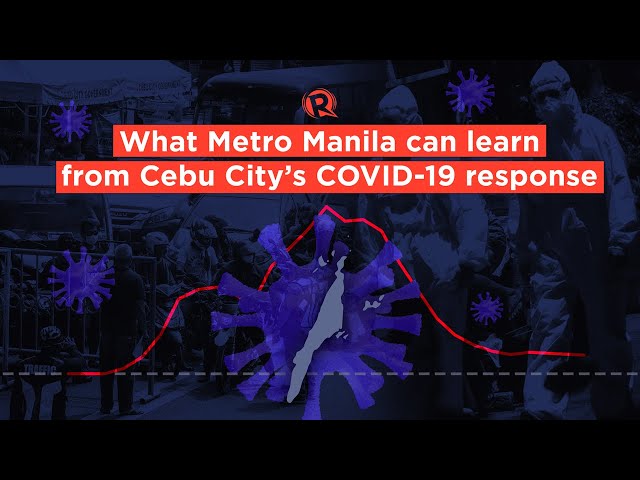 OFWs caught between Garcia, Duterte
The drug war, human rights issues, and foreign policy positions seem to not have affected Duterte's popularity among his Cebuano supporters.

But there is one issue that may – surprisingly – threaten his popularity in his stronghold: That's the national government refusing to allow Cebu to implement its own shorter hotel quarantine policy for returning residents.
"I think the airport issue will factor into elections," Ryla said. "Whatever is happening in the airport in Cebu, and what I can say, if this is a power play between Cebu and the power center of Manila…. This isn't just a matter of partisan politics but also inter-regional politics," Ryla added.
Since May, Cebu Governor Gwendolyn Garcia has implemented her own policy, passed through an executive order and provincial ordinance that only required returning overseas Filipinos (ROFs) and overseas Filipino workers (OFWs) to remain in hotel quarantine for two days, with a swab test upon arrival and another one on the seventh day.
While the Inter-Agency Task Force said this policy was to prevent the entry of the more transmissible coronavirus Delta variant, most OFWs sided with their governor on the matter, citing the heavy financial and emotional burden that OFWs have to bear when they are subjected to prolonged quarantine.
One OFW said in Filipino during a livestream of the provincial government, "We [are] pro-Duterte, but not until now! Especially, there is no word regarding the promise to shoulder the hotel accommodations for ROFS, now we know."
But it is too early to say if the OFWs and Gwen Garcia's conflict with the national government would actually make a dent in Duterte's popularity in the province.
And whether or not Duterte's chosen candidates will win Cebu will largely depend on their ability to unify local politicians and organizations in the province.
One of Duterte's strongest supporters in the province who was able to do just that in 2016 was businessman – and now Presidential Assistant for the Visayas – Mike Dino.
Dino spearheaded Duterte's 2016 run in Cebu, which used the tagline "Bisaya Napud (Bisaya Again)," and amplified Duterte's consistent campaign message of regional development and inclusive growth, pursuing the peace process, and genuine land reform.
His office has also been active in assisting local government units (LGUs) in their pandemic response and putting up more "Malasakit Centers," the healthcare pet project of Senator and Duterte aide Bong Go.
Rappler reached out to Dino's office for an interview and a more comprehensive overview of their programs, but has yet to receive a reply as of this writing.
For Olayvar, while it is important to address the needs of the provinces, representation – or choosing individuals from the Visayas or Mindanao to advocate for the regions – might not necessarily be the best way to achieve it.
"That Duterte enabled regional representation in governance, for me, is shallow," Olayvar said, "because it was unable to really address the problem of the regions and the country as a whole. Those things are complementary. Problems of the regions should never be separated from the national objectives." – Rappler.com