(1st UPDATE) Pharmally executive Mohit Dargani says a friend from Singapore had helped him book his foiled getaway flight with sister Twinkle
Mohit Dargani of the controversial Pharmally Pharmaceutical Corporation ended up crying in front of senators on Friday, November 26, as he insisted he and sister Twinkle were not trying to evade the Senate probe into their firm's pandemic deals even if they were about to fly out from the Philippines when they were arrested.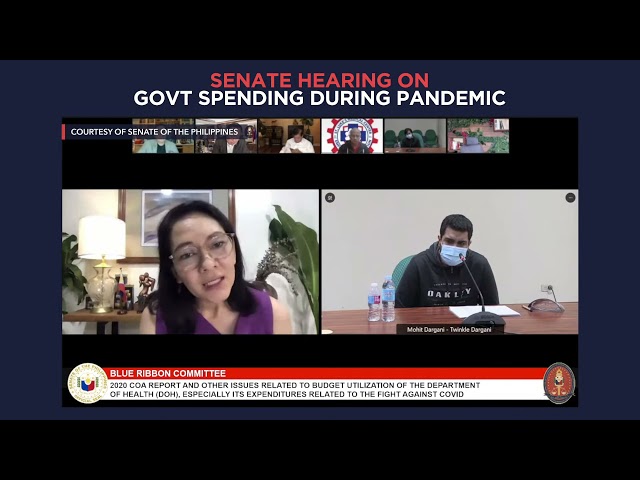 Pharmally executives Mohit and Twinkle Dargani attended the Senate blue ribbon committee hearing on Friday as detainees of the chamber, virtually speaking to senators from within the premises of the Senate.
Opposition senator Risa Hontiveros was questioning Mohit about the cost of the chartered flight he and Twinkle was supposed to take from Davao City to Malaysia when he volunteered to explain why they booked the flight in the first place.
The Dargani siblings were arrested by Senate security in Davao City, home turf of President Rodrigo Duterte, who has been attacking the Senate for digging into the Pharmaly contracts.
"Just to put it also on record that, I just want to say that we did not do this to escape or to hide from the investigations. Like I said in the last hearing that I attended, I was just asserting my rights," said Mohit.
He and Twinkle were cited in contempt and ordered arrested by the blue ribbon panel for refusing to provide documents on Pharmally's financial dealings.
Mohit insisted they had provided the documents subpoenaed by the panel under his and Twinkle's name. He said there was another set of documents being asked by senators, but the subpoena for these were not addressed to the Darganis.
Mohit disclosed that he, Twinkle, and their mother had been spending the past weeks driving around the country, reaching places like Sorsogon, Leyte, Surigao, and eventually Davao City.
Upon arriving in Davao either on November 1 or 2, the Darganis rented a condominium unit at Camella Northpoint.
He said it was "easier" for them to stay in the city because of the presence of Indian establishments and a Hindu temple.
"It felt more secure for my mom and my sister. So that's the only reason why we chose Davao," said Mohit.
When Hontiveros asked Mohit why they chose to go to Davao City, Mohit started crying and brought up the health issues that his sister and mother have been struggling with while they were "in hiding."
He said Twinkle is already suffering from mental health issues, while their elderly mother was also having a rough time.
Mohit said his family actually did not want him to come back to the Philippines from the United States, but he still went to Manila because he wanted to be with them.
"We're not hiding. I was in the States; they did not want me to come back. They wanted me there, but I came back because they're my home, they're my safe place. I needed my safe place," said Mohit.
"But, right now, when we were together, even though we were together, we couldn't be safe. We were not safe with each other. We were in hiding, moving from one place to another place," added Mohit with tears in his eyes.
The Pharmally official even raised Hontiveros' advovacy for mental health, but the senator was undeterred.
She said the blue ribbon panel empathizes with the Darganis, but the senators must do their job in getting all the facts surrounding the Pharmally scandal.
Mohit invokes right against self-incrimination
Still upon Hontiveros' questioning, Mohit disclosed that a male family friend residing overseas was the one who had paid for his and Twinkle's getaway flight.
Mohit said he was the one who canvassed for chartered flights, then he relayed all the information to this friend. They settled for the $37,000 or P1.85-million flight being offered by Seletar Jet Charter Singapore.
But when asked to give the identity of his friend, Mohit refused.
"Madam Senator, as much as I would want to answer your question, I don't have my lawyers with [me]. I might say something that may incriminate myself. I would like to humbly reequest if I could invoke my right against self-incrimination," said Mohit.
This prompted Hontiveros to warn Mohit that he could be held liable for obstruction of justice for refusing to cooperate with the investigation.
Senate blue ribbon committee chairman Richard Gordon agreed, saying Mohit may be violating Article 150 of the Revised Penal Code on the disobedience to summons issued by Congress or any of its committees.
Later on in the hearing, and upon consulting via phone with his lawyer Roy Kapunan, Mohit disclosed his friend's name is Gary Wong, an entrepreneur from Singapore.
Mohit wrote down Wong's name on a piece of paper, which was then read out during the hearing by blue ribbon committee oversight office management director-general Rodolfo Quimbo. – Rappler.com
Read the other stories from the November 26, 2021, Senate blue ribbon committee hearing, and related reports: