The researchers also note a continued decrease in COVID-19 cases in Metro Manila, where they identified several 'high-risk' areas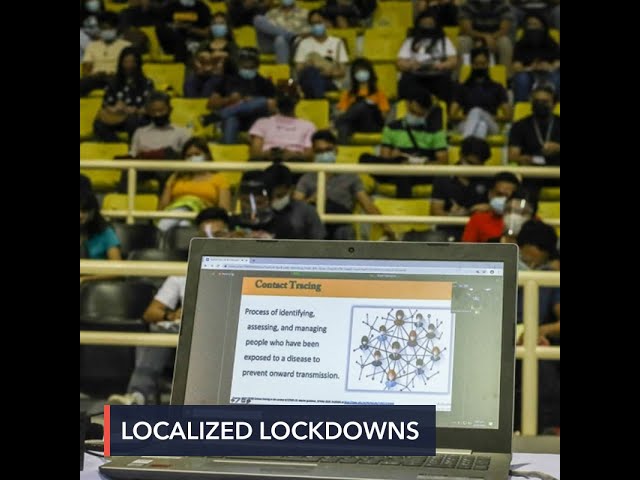 Researchers studying the coronavirus outbreak in the country urged the government to put coronavirus "high-risk" areas on "localized lockdowns with stricter border controls" to curb the further spread of the virus.
In its latest report published on Tuesday, October 20, the Octa Research Group said that a local government unit (LGU) is classified as "high-risk" if it has a high number of cases per day, high attack rate or the percentage of the population that contracts the disease in an at-risk population, and high hospital occupancy.
The researchers identified the following as LGUs of concern or high-risk areas:
Makati City
Baguio City
Mandaluyong City
Lucena City
Pasig City
Iloilo City
Pasay City
Marikina City
Ilagan City, Isabela
Batangas City
"In identified high-risk areas, the implementation of more aggressive and effective localized lockdowns with stricter border controls is urgently needed to suppress further viral transmission," the group said.
Why this matters
Authorities leading the Philippines' coronavirus response said that the country has entered "Phase 3" of the government's plan to address the coronavirus pandemic in October, a phase that would involve allowing more businesses to operate and more people to leave their homes while abiding by health protocols.
Under Phase 3, the government hoped to encourage more businesses and sectors to operate again, and at higher capacity.
On Monday, mayors comprising the Metro Manila Council (MMC) recommended that the government extend the general community quarantine (GCQ) in Metro Manila until the end of 2020.
Virus epicenter Metro Manila's current GCQ status is set to expire on October 31.
Continued decrease in cases in NCR
Meanwhile, the researchers noted a continued decrease in COVID-19 cases in Metro Manila, adding that the capital region was able to keep the coronavirus reproduction number – or the number of people that one positive case can infect – to below 1. The reproduction number in Metro Manila is now at 0.70, while the whole country is at 0.80.
The researchers, however, identified high-risk cities in Metro Manila such as Pasig, Makati, Pasay, Mandaluyong, Marikina, and Valenzuela due to their high case load and high attack rate. They warned about the hospital occupancy rate in Makati, Mandaluyong, and Muntinlupa for reaching a critical level or 70%.
As of Monday, the Philippines still has the highest number of COVID-19 infections in Southeast Asia at 359,169, despite having the longest lockdowns in the world. Of the total cases, 42,191 are active. – Rappler.com