Kin say they will continue the many outreach projects, especially medical missions, organized by the slain Donsol Councilor Helen Advincula-Garay
The family of slain Donsol Councilor Helen Advincula-Garay on Wednesday, November 17, demanded justice for her and two other companions abducted on November 11 and found dead the morning after in Daraga town, Albay.
"I wish it was just a prank," Garay's 18-year old son, Marcus Angelo, said of his mother's silence on November 11 after the councilor and three other local politicians went off to meet a still unnamed person who told them he was looking for ground coordinators for a politician running for national office. 
Police found the bodies of Garay, Kareen Averilla, and  Xavier Alim Mirasol a few hours after the lone  survivor in their group, Lalaine Amor, reported them missing around 12 am on November 12.
Angelo, who spoke during a mass at the Fatima parish church, said part of him still wanted to believe his mother would wake up and come back to the family.
Garay's family was scheduled to hand over her remains for cremation after the Mass. More than a hundred people attended the mass, with some listening outside the church due to physical distancing protocols.
'They did not deserve to die'
Fr. Romeo Cirjuales, chaplain of Bicol Regional Training and Teaching Hospital, called for immediate justice for the slain politicians and appealed to all political camps in national and local arenas to avoid violence in the  coming polls. He also offered a song for the slain politician. Other priests said Garay had sent aid to churches and seminaries in Bicol for years.
"They did not deserve to die," said former Sorsogon City Mayor Sally Lee, a close friend of Garay and a candidate for governor in the May 2022 elections.  Garay was running for vice mayor and her three companions for the council.
Lee paid tribute to the three slain politicians. She cited Garay's record of outreach projects and said Averilla and Mirasol, who were business people, were already involved in helping the community long before they decided to run for the Donsol council posts.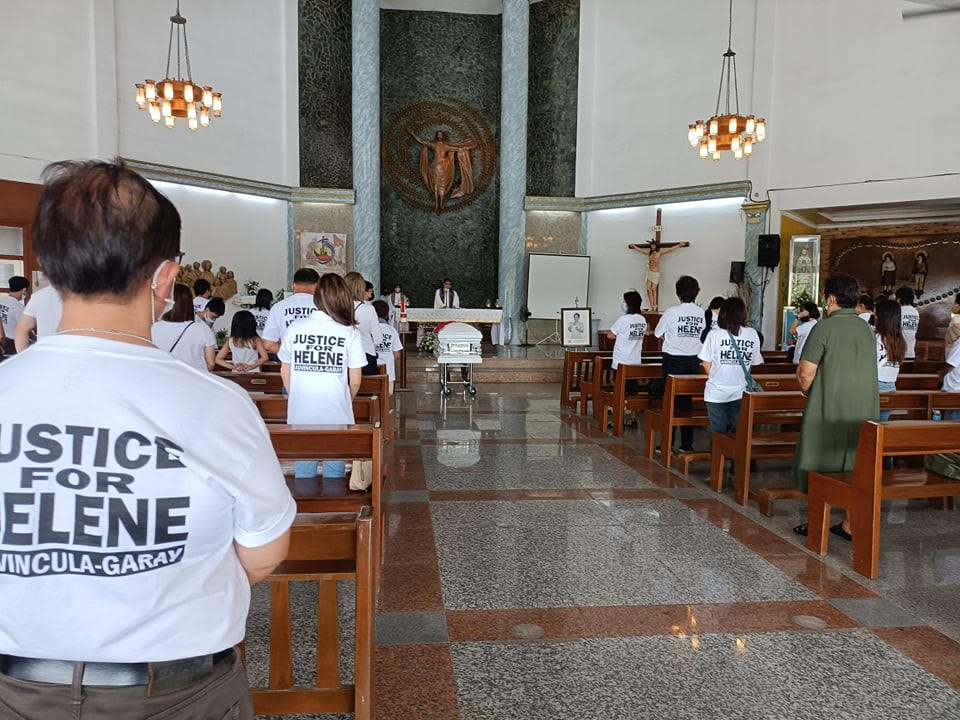 "We condemn the abduction and brutal killing of our beloved member," said Ma. Cristina Zantua, president of the Rotary Club of Legazpi North. "We express our deepest sympathies  to her bereaved  family along with the families of other slain victims who was with her during the  gruesome murder. May justice be served."
Zantua said she was thankful that Amor, who is also a member of the club, had managed to escape their abductor.
Cops arrested Peter Joemel Advincula alias Bikoy after he reported finding the bodies. Amor had identified him as the person who abducted the three slain politicians.
Amor said the person they were supposed to meet did not appear at the expected time. 
She told the Daraga police that Advincula later stopped them on a diversion road as they headed back to Donsol. He allegedly told them the person who had sought the appointment wanted to meet them separately at another place.
Amor said her companions had gone off with Advincula, one after another at two-hour intervals. By the time he got her, it was already dark. Alarmed by the turn of events, she managed to run to neighbors around a used-clothing store later identified as a rental of  Advincula's live-in partner. That was where cops found the bodies the morning after.
Grieving husband
Garay's husband, Lito, broke down and did not finish his talk. 
Amor had said Lito was supposed to follow Garay's vehicle on the day of her disappearance, but the politician told him to stay behind in Legazpi City and supervise their businesses and young adult children.
Their oldest son, Marc, a doctor, described his mother as the most jolly member of the family.
He and other young doctors promised to continue with the medical missions originally organized by the councilor.
The Daraga police said they were still continuing with the investigation and would only release further details on the crime in order not to preempt operations.
On Tuesday, November 16, police investigators were still scouring the premises of the clothing store at the C & E building for additional evidence.
A witness told Rappler on November 12 that she sheltered Amor when she appealed for help past 9 pm on November 11. The same witness said Advincula had tried to drag Amor away, gesturing to make her believe the woman was suffering from mental problems. – Rappler.com