Despite COVID-19, Cebu Archbishop Jose Palma tells Santo Niño devotees to banish fear: 'He is small but powerful'
No chants, no greetings, no crowded streets. But the fiesta goes on this year.
Cebu, the Philippines' busiest megacity outside Metro Manila, marked its biggest Catholic feast on Sunday, January 17, in a most restrained manner. The traditional fiesta Mass led by the archbishop, in fact, was celebrated for the first time without a physical crowd.
The Santo Niño de Cebu, an icon of the Child Jesus given by Portuguese explorer Ferdinand Magellan to Cebu's Queen Juana in 1521, is central to the faith of Cebuanos. For all Filipinos, it is also a symbol of Christianity's arrival in the country exactly 500 years ago this year.
So important is the Santo Niño that his annual feast day, the third Sunday of January, draws crowds of 2 to 3 million to Cebu – not only for the Masses but also for the cultural celebration called Sinulog.
The Santo Niño feast is muted this year, however, as COVID-19 cases in Cebu City rose after Christmas. Unlike in Manila where physical Masses pushed through for the recent Feast of the Black Nazarene, even in-person Masses in days leading to Cebu's fiesta were canceled.
"We would have wanted to participate in the joyful Sinulog, where millions of people would have come, but there is none," said Cebu Archbishop Jose Palma said during his homily on Sunday.
Still, Palma said, there is no reason to despair.
"Perhaps because of COVID you might say, 'It's difficult.' 'Because of COVID, our business is crumbling, our plans are far from being realized.' 'Sickness has affected our family.' Whatever it may be, come to the Niño. When we come, the Niño will bring us to the Father. The Niño tells us to have faith rather than fear. He is small but powerful," said Palma in a mix of English and Cebuano.
Despite empty church pews, Palma added, "The Santo Niño is also in the basilica, he's on our altars, and yes, he's in our hearts."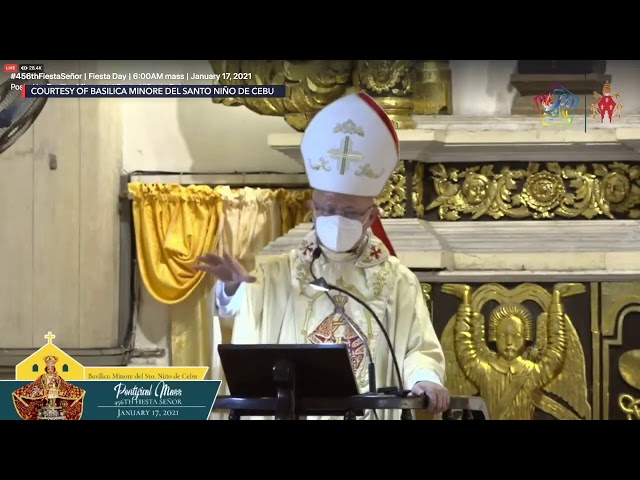 Hundreds of thousands of views
In place of a physical crowd, hundreds of thousands joined Palma's fiesta Mass via livestream. The Mass was held at the Basilica Minore del Santo Niño de Cebu, which houses the original Santo Niño de Cebu image given by Magellan.
The views of the livestream Mass proved the fiesta's importance to Cebuanos around the world.
Palma's fiesta Mass, as of posting time, has drawn more than 560,000 views on the basilica's Facebook page alone – excluding the views from platforms like Rappler that also aired the celebration.

The first 5 days of the novena had limited in-person attendance, but the Augustinian friars of the basilica decided to cancel them as the city's post-holiday COVID-19 cases began to surge.
Palma himself was recently hospitalized after showing COVID-19 symptoms, but was discharged on Saturday, January 16.

The Cebu Archdiocese would not confirm if Palma took a COVID-19 swab test while he was hospitalized but said the archbishop was in "good health."

"He was not feeling well because he was lacking sleep and was busy, that's why he got checked up," archdiocese spokesperson Monsignor Joseph Tan said in a group message to local media.
Despite the cancellation of physical events this year, city officials are hoping to move the Sinulog competition to April, when activities for the 500th year of Christianity in the Philippines are scheduled to take place.
It's still unclear, however, if the in-person events of the quincentennial will still happen. It depends if the local government is unable to contain the COVID-19 surge by that time.
In his homily on Sunday, Palma reminded Cebuanos to focus on values – such as helping the poor – that go beyond any celebration.
"The image of the Niño is a reminder that in our society, there are many who may be called little," Palma said. "They may be called little children, or people with little dignity, you might say – persons in the periphery, those slum dwellers and the poor and sick, those who are marginalized." – Rappler.com