'I thought I had it in the bag at that moment because, Filipinos and pork, it's definitely our animal,' says Chef Denevin Miranda
This story is published in partnership with SoJannelleTV, a magazine show about Filipinos in North America
The moment Chef Denevin Miranda heard that his episode of "Chopped" would be pork-themed, his confidence rose. At that point, his upbringing was his greatest asset.
"I thought I had it in the bag at that moment because, Filipinos and pork, it's definitely our animal," said newly-crowned Chopped Champion, Miranda, in an interview with Filipino-American media pioneer Jannelle So-Perkins for the latter's So Jannelle TV show.
Aside from the title, the New York-born chef wound up taking home the $10,000 "Meat Fight" grand prize on the Food Network show, which aired in February.
Growing up in a Filipino household in New York, Miranda tells So-Perkins that food was always a major topic. Long before "farm to table" became an en vogue phrase, Miranda recalls that his grandmother would grow ampalaya, upo, and Japanese eggplants in their backyard garden, bringing the Filipino culture to their home.
"It's definitely amazing and you can't even replicate the flavors that you get just from growing your own vegetables," said Miranda, whose food is featured at The Osprey and Harriet's Rooftop Lounge and Bar, which are located inside 1 Hotel Brooklyn Bridge in Brooklyn, N.Y.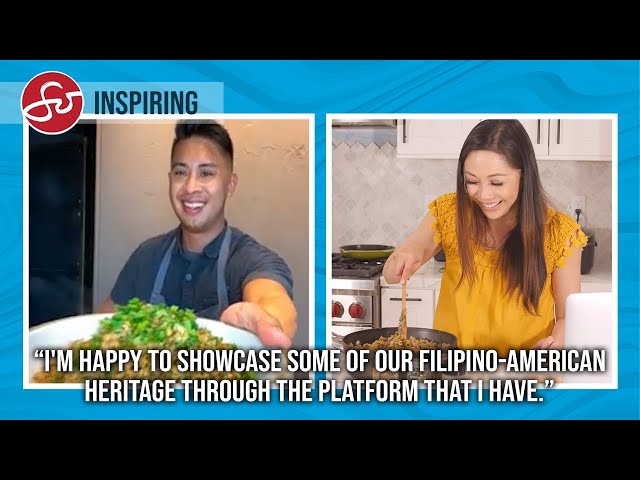 He says his love for cooking began in high school, when he was excused from physical education classes due to his poor fitness and asthma. Instead, he was placed into home economics class, which planted the seeds for his future career. He eventually graduated from Johnson & Wales University in Miami with a culinary arts degree.
Just as cooking found him, The Food Network sought him out as well. After participating in food and wine festivals sponsored by the television network, representatives from The Food Network called the restaurant where he was working at.
"I don't think I ever thought about going into TV," admits Miranda, and adds that made him feel more purposeful about the platform is how the COVID-19 pandemic has impacted the restaurant industry, and any boost was much appreciated.
"Ted Allen, the host, he said that being a platform to showcase these voices of people who work in restaurants and chefs is absolutely the right move because of how it so drastically impacted the industries," Miranda shared. "So he reassured us that this is a great move to showcase talents in this industry and bring those forward so that we can again rebuild."
In the same interview, Miranda shares that some of his Filipino-inspired dishes will be on display for the upcoming summer menu at his restaurants. They are partnering with Dock to Dish, a community of fisherman in Long Island who deliver fresh seafood to restaurants.
"We're gonna do some boodle fight kamayan inspired food with all the fresh seafood that we're going to serve directly on the tables," he said. "So those are the exciting kind of pop up experiences we're going to be doing this summer."
Miranda and So-Perkins cap off the interview by showing viewers how to make Miranda's dirty rice side dish using old rice that's common in Filipino households, chicken liver and the triumvirate of cajun cooking – onions, bell peppers and celery. – Jannelle So Productions | Rappler.com
Check out the full episode and more stories on So Jannelle TV daily for stories that make you pause, reflect, and appreciate who we are and what we are as a people.
Fridays, 5 pm on KSCITV-LA18
Saturdays, 7:30 pm PT on ANC
Sundays, 4:30 pm PT / 7:30 pm ET on TFC or the IWantTFC App
Or any time on YouTube.com/SoJannelleTV