This is AI generated summarization, which may have errors. For context, always refer to the full article.
Pamalakaya also calls on the UN to declare the recent China Coast Guard Law as null and void
Fishers group Pambansang Lakas ng Kilusang Mamamalakaya ng Pilipinas (Pamalakaya) has sent three petitions to the United Nations (UN) on Friday, April 30, to protest the continuous Chinese incursions in the West Philippine Sea.
The petitions were signed by five Pamalakaya officials and a representative from science advocacy group Agham-UP Diliman. The petitions were addressed to UN Secretary-General Antonio Guterres. 
Pamalakaya said the petitions are calling on the UN to declare China's Coast Guard Law null and void, pursue the demilitarization of the West Philippine Sea, and address the impact of the Chinese incursions on food security. 
In February, China passed a naval law that authorized its coast guard to use "all necessary means" to stop or prevent threats from foreign vessels. The law also allowed boarding and inspection of foreign vessels in "waters claimed by China," and to demolish other countries' structures built on reefs along the disputed territory.
Under the 1982 United Nation Convention on the Law of the Sea (UNCLOS), the Philippines has sovereign rights over features located within its exclusive economic zone or 12 to 200 nautical miles from the baseline of its territorial waters. 
The international law was reaffirmed by the 2016 ruling of the Permanent Court of Arbitration in the Hague, Netherlands, which favored all the claims of the Philippines in the West Philippine Sea.
Impact on food security
As of Wednesday, April 28, the National Task Force for the West Philippine Sea reported the presence of Chinese Coast Guard vessels in the following areas: three in Bajo de Masinloc off Zambales, one in the municipality of Kalayaan in Palawan, and one in Ayungin Shoal. The task force did not mention if Chinese ships were still in Julian Felipe Reef.
The task force reported earlier that a single Chinese ship can illegally fish 1,000 kilos a day. The vessels were also collecting giant clams in the vicinity of Pag-asa Islands.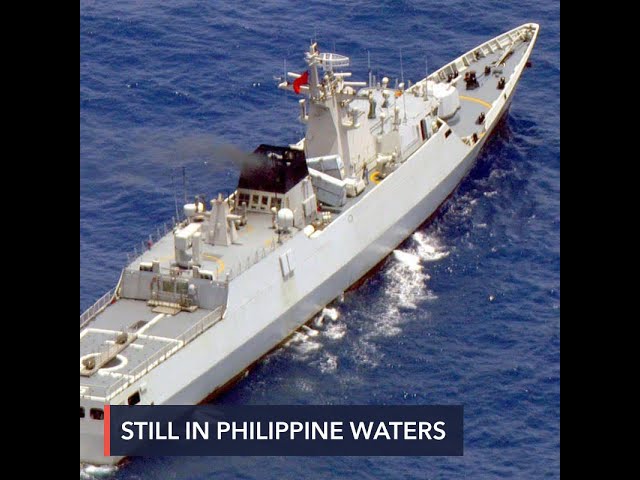 Scientists have warned that the fishing industry might collapse if China continues its aggressive illegal fishing in the South China Sea.
Aside from illegal fishing, Chinese presence in the Philippines' maritime features resulted in at least 16,000 hectares of destroyed reefs as of 2017, according to AGHAM.
The group said the damage is estimated to reach up to P33.1 billion per year if the encroachment continues. – Rappler.com