It is not the only recent case of police brutality, and Filipinos fear it won't be the last
The cold-blooded killing of mother and son Sonya and Frank Gregorio served as a reminder of one of the grim realities that the country continues to suffer: the culture of impunity.
Police Senior Master Sergeant Jonel Nuezca pulled the trigger on the mother and son outside their house in Tarlac, following a heated argument over boga, an improvised cannon commonly used during New Year. He was charged with two counts of murder.
The incident, which happened only 5 days before Christmas, was caught on video and immediately went viral on social media.
The video sparked public outrage online, with hashtags #StopTheKillingsPH, #JusticeForSonyaGregorio, and #PulisAngTerorista landing in the top Philippine Twitter trends on Monday, December 21. Filipinos decried the police brutality under the Duterte administration.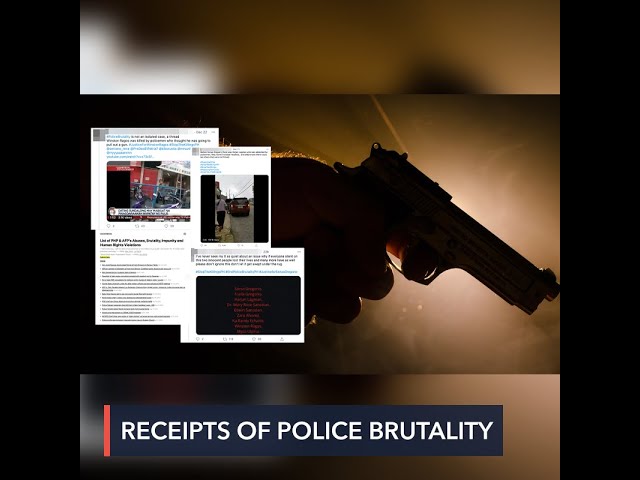 Interior Secretary Eduardo Año called the Tarlac shooting an "isolated" incident, but Filipinos knew better.
Confounded by Año's claim, many took to social media to recount the incidents of police brutality and killings in the Philippines.
A group called Hacktibista has been keeping a running list of abuses and violations by the police and the military, the latest addition to the list being the Tarlac shooting.
The list compiles news reports on various cases involving the police and military, including violent protest dispersals, rape and sexual abuses, and extrajudicial killings.
On Facebook, a 2019 post by former Cebu City mayor Tomas Osmeña was again brought to light. The post featured policemen who appeared to have repeatedly abused and assaulted civilians, including a baby, during an anti-drug operation in a barangay in Cebu.
Osmeña added that Philippine National Police chief General Debold Sinas, then the Central Visayas regional police director, "refused to identify these men."
Twitter user @BIENsays curated a thread showing that the Tarlac case was not at all isolated, and that police brutality has long persisted in the country.
This year alone, in another case that was also caught on camera, Filipinos witnessed the unjust killing of Winston Ragos by the police, who were eventually proven to have planted evidence at the crime scene.
Found in the same thread were the following stories, all of which happened just this year:
The Jolo shooting, where 4 Army intelligence officers were gunned down in broad daylight by policemen;
A group of policemen ambushed army intel officers and tampered the crime scene #StopTheKillingsPH @EstelleSelfie @guingonabart @claudiopoy @EggTarTisYummy @juanelyas @Doc4Dead @NakaupoAngTuta @JerryGracio @imkerwinking https://t.co/InLh640xtf pic.twitter.com/hheoSyTyvH

— Tea Sommelier #RegisterToVote #HoldTheLine (@BIENsays) December 22, 2020
The case of 15-year-old Fabel Pineda, who was killed after filing a molestation complaint against two cops, with her alleged molesters being the prime suspects in her killing;
Fabel Pineda was raped and killed by policemen when she filed a complaint against them. #JusticeForFabelPineda #StopTheKillingsPH @vaporwavealert @ToniSpeakEasy @IdentikitThom @MaamSyj @nelreis_ @makeapoint690 @opinenions @preenph @ricci_richy @sjon31 https://t.co/Q2j8lVVsrW pic.twitter.com/RVD6a57N0b

— Tea Sommelier #RegisterToVote #HoldTheLine (@BIENsays) December 22, 2020
And the Baguio kidnap-slay case in November, where 25-year-old Harjan Lagman was abducted and beheaded allegedly by anti-drug policemen.
Kidnap-Slay case was done by policemen. The victim was beheaded #StopTheKillingsPH @BulanArtem @ArchMobius @MorenoTetta @XiyueXiyue @LawrenzDM @shiela_mangahas @SheilaMBGomez @MyRizalPH @frontliners_ph @iAmSuperPissed @oj_arbolario @SaltAndReality https://t.co/qNWqFj44le pic.twitter.com/M0j4u0vBsc

— Tea Sommelier #RegisterToVote #HoldTheLine (@BIENsays) December 22, 2020
Others listed down the names of the victims of impunity and police brutality throughout the years, reminding the public of the horrendous fate that these Filipinos suffered in the hands of the police, the very force that was tasked to "serve and protect" them.
For these netizens, it was not so hard to see that the murder of Sonya and Frank Gregorio was no one-off case. The abuses and violations by the police, most recently the Tarlac shooting, are all telling of the systemic problem that is impunity. – Rappler.com