(1st UPDATE) The number of Filipinos surveyed who said they sometimes prefer authoritarianism began to rise during the term of former President Rodrigo Duterte
MANILA, Philippines – Most Filipinos – 89% – are satisfied with the way democracy currently exists in the Philippines, according to the Social Weather Stations 2022 annual review.
While 60% "always prefer democracy," at least 26% of Filipinos surveyed said they "sometimes" prefer authoritarianism, and 15% were indifferent.
The results were presented by SWS vice president Jay Sandoval in the Social Weather Stations annual review. Governance expert Czarina Medina-Guce, economist and Rappler columnist JC Punongbayan, and veteran human rights lawyer Chel Diokno joined the panel of reactors.
Responding to the survey findings of Filipino attitudes towards democracy, Diokno said that the term "democracy" is loaded to begin with.
"We have what we call the liberal democracy, a key component of which is the protection of individual liberties and rule of law, and you have the opposite, illiberal democracy, where those who are elected, pretty much can do anything they want," Diokno said.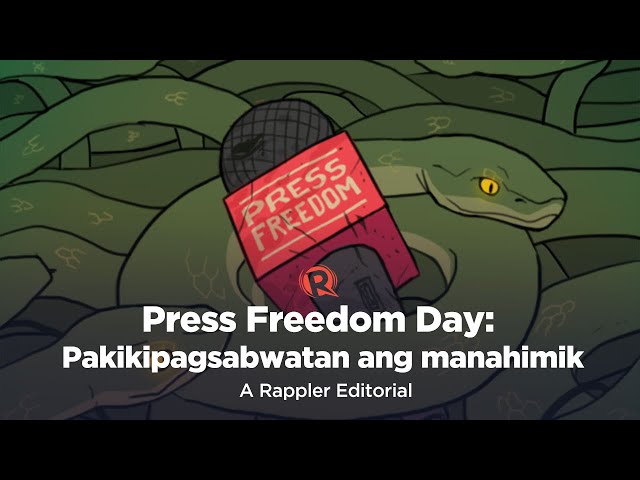 "And when we speak of illiberal democracy, where you have no rule of law, where people are above the law. I think a lot of our people would equate democracy with that because they don't really see accountability in our country. So if you consider that in the answers that were given, then it's not exactly encouraging to say that 60% approve of democracy," he added.

Former president Rodrigo Duterte repressed free expression and would often bicker with human rights and press freedom advocates who criticized his violent war on drugs during his term between 2016 and 2022.
While only 26% of those surveyed in December 2022 approved of authoritarianism, that number showed a steady increase in the last quarter of Duterte's term.
Freedom of speech
A related question was 'if Filipinos agree to the question if it is dangerous to print or broadcast anything critical of the administration.' The results showed a plurality of opinions, with 12% who said they "strongly disagree, 14% who said they somewhat disagree, 27% who were undecided, 28% said they "somewhat agree", and 19% said they "strongly agreed."
Diokno, who ran and lost as an opposition senatorial candidate in 2022, said the two surveys speak to how Filipinos view democracy.
"And if you connect that with their answer about freedom of speech, where many said that they believe though it's dangerous to speak truth to power, then I don't think they can say they were speaking of that kind of democracy where you have protection of individual liberties when they gave a high approval," Diokno said.
There were four SWS surveys in 2022 discussed in the annual review. In these polls, respondents were adults 18 years or older.
The first survey was conducted between April 19 to 27 with a sample size of 1,440 respondents. The second survey was conducted between June 26 and 29, with a sample size of 1,500 adults.
The third between September 29 and October 2, with a sample size of 1,500, and the last survey between December 10 to 14, with a 1,200 sample size.
For the 2022 fourth quarter survey, the sampling error margins are ±2.8% for whole country, ±5.7% each for Metro Manila, Balance Luzon, the Visayas, and Mindanao. – Rappler.com